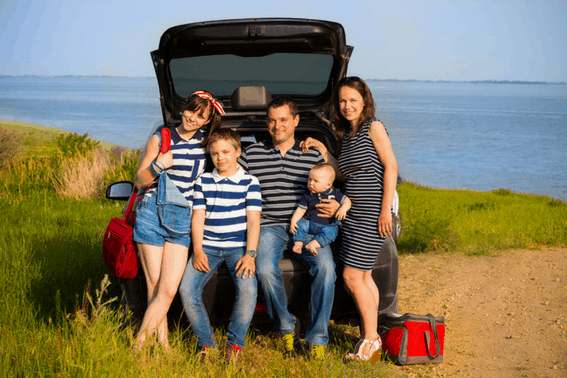 Try traveling with one kid and it's a big deal, but take three or more kids and it becomes an ordeal. Moms with three or more kids, like minnemom and 4sixsuit, are my heroines. They truly take the saying, "Have Kids, Will Travel" to a whole new level. Not only do they have to pack five or six suitcases, they have to find hotel rooms and suites that can -and will accommodate their large families.
Photo by: bigstock/Dasha Petrenko
Theresa Jorgensen (a.k.a. 4sixsuit) has decided to take on this challenge head-on and created the website, SixSuitcaseTravel. SixSuitcaseTravel is a database of over 2500 family hotel and suite listings that can accommodate families of six in over 1100 cities across the United States. Get to know Theresa and her top tips for big families:
How do you describe your family?
Like most families, we're always on the move!  My twin daughters (ages 11) and I just earned our black belts in Taekwondo. My son (age 14) already has his black belt and my youngest daughter (age 7) is on schedule to get hers next year. Throw in band and swim and there's no time to rest!
What is your favorite family travel story that you like sharing?
One trip I like to brag about is when we moved to Washington state from Wisconsin. We had four children under the age of seven. I made activity and snack backpacks for the older three. On the flight there, baby slept strapped to me, and the others happily enjoyed their back packs. When the long flight was over, several passengers told me that they had no idea there were children on board.
Top hotel recommendations for families?
Our last couple of trips have been to Nick Hotel in Orlando and Glenwood Hot Springs in Glenwood Springs, CO. The kids loved the Nick Hotel. They have so much to do there such as two pool areas with slides, a spa, mini golf course, arcade, group activities and so much more. I liked the convenience of a food court with kid friendly choices and the free shuttle to Disney or Universal Studios. The room we stayed in had a queen in the first room, a set of bunk beds with a fold out single in a second room and a sofa sleeper in the living room. A microwave and fridge were also included. I highly recommend Nick Hotel to all families.
The Glenwood Hot Springs was also a great place to stay. Our room consisted of two doubles and a sofa sleeper. The room didn't have a microwave but the staff kindly popped our popcorn for us behind the desk. Free hot breakfast and admission to the Hot Springs Pool are included with the room. The pool allows rafts and floats which is helpful with little ones.  The hotel is close to all the attractions.  We greatly enjoyed Glenwood Caverns Adventure Park. The Iron Mountain Tramway to the park is breathtaking. The Cavern tours are amazing. The Canyon Flyer, an alpine coaster, was great fun. If you're a thrill seeker they also have a giant swing shot and a bungee trampoline.
Read more about Traveling as a Family of 5 or 6 in this interview where Theresa Jorgensen answers these questions:
What about vacation home rentals?
What do you never leave home without?
Family travel traditions?
Anything else you'd like to share?
Trekaroo is a reviews website dedicated to exploring and traveling with kids.