Did last month's Ski Week get you excited for the coming ski season? We can't wait to hit the slopes! But nothing puts a downer on a family ski day faster than misplacing gear or experiencing a miserable commute from the parking lot to the ski lodge. Organize your ski and snowboard gear and enjoy hands-free carrying–from all members of your family–with Transpack backpacks. This holiday season, we've partnered with Passports with Purpose to offer four–yes, four–Transpack ski gear backpacks that you can enter to win for your skiing or snowboarding family!

Transpack Ski Gear Backpacks
My skiing family put Transpack backpacks to the test, and I'm pleased to say Transpack passed with flying colors. In fact, these packs are the most comfortable, most practical, and most well-made ski gear boot bags we've ever owned. I have a feeling we'll never own any other ski gear bag again. Transpack offers a wide variety of styles, but all bags have several things in common: all use a backpack strap carry, and most use Transpack's signature isosceles storage system. What this means: the design is such that everything fits into the bag, from full-sized helmets and outerwear to extra gloves and a sack lunch. Boots fit easily into side pockets that are angled to distribute weight, and all bags are water resistant and incredible sturdy. Read an additional review of Transpack boot bags.
Transpack is donating packs for the entire family, including: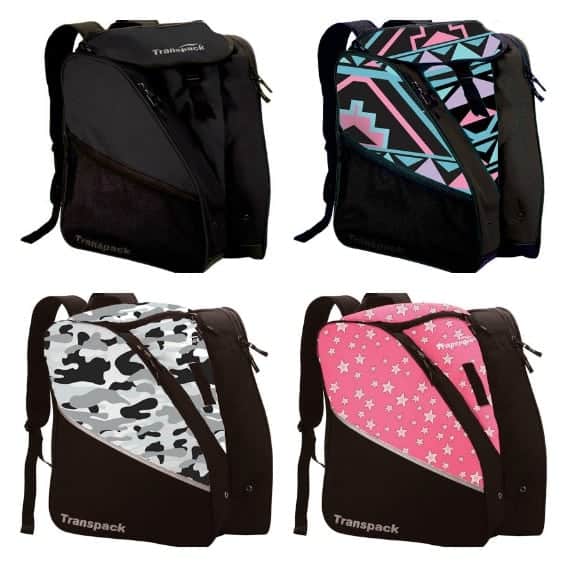 1 adult XT1 boot and gear backpack in black/multi-check for dad
1 adult XTW boot and gear backpack in Aztec print for mom
1 child's Edge Jr. boot and gear backpack in Camouflage
1 child's Edge Jr. boot and gear backpack in Silver Star
What is Passports with Purpose?

Have you heard of Passports with Purpose? This online holiday fundraiser began in 2008 as a grassroots effort by dedicated travel bloggers. It has since grown into an international charity effort backed by sponsors such as Expedia and TripIt. Every year, Passports with Purpose raises funds for a global cause.
With help from Expedia, DK Eyewitness Guides, Rough Guides, TBEX, HomeAway, HostelBookers, Go With Oh, and Eating London, Passports with Purpose harnesses the power of travel bloggers' remarkable abilities to procure complimentary travel and gives it to YOU, for the greater good of all mankind! For every $10 you donate, you will be given a "raffle ticket" to apply to any of the prizes listed on the donation page. Go to the Passports with Purpose donation page and donate!
This year, travel writers and sites all over the globe are working together to raise $115,000 to build schools with buildOn in Mali, Africa.
How can I bid to win four Transpack backpacks and other great prizes?
So glad you asked! It's very easy to enter to win prizes at Passports with Purpose. Starting November 25th, fabulous prizes–from our Transpack package to family vacations and hotel and resort gift cards–will be listed on Passports with Purpose. See the entire 2013 Catalogue and enter to win as many prizes as you like for $10 each. (Additional $10 bids increase your odds.) Yes, you could win four ski gear backpacks for $10! Once the bidding ends in mid-December, winners will be notified, and prizes will be shipped in time for the holidays. Trekaroo is also giving away a family vacation in Turks and Caicos- check it out!
Transpack Ski Gear Backpacks Prize Description:
1 adult XTW boot and gear backpack in black/multi-check
1 adult XTW boot and gear backpack in Aztec print
1 child's Edge Jr. boot and gear backpack in Camouflage
1 child's Edge Jr. boot and gear backpack in Silver Star
Restrictions:
Prize includes shipping to address located within the United States.
Prize Value:
Approximate value of prize package is $250
Rules and Guidelines:
One raffle winner will be selected.
Winners will be selected randomly and your chances of winning are based on the number of raffle tickets you applied to this raffle item against the total number of entries for any particular prize.
18 years of age and older