The Texas State Fair takes family fun to the max… literally. This is the only state fair where your family can soar into the air on one of North America's tallest Ferris wheels the 212-ft. Texas Star or meet the 52-ft. tall Big Tex, the world's tallest talking cowboy.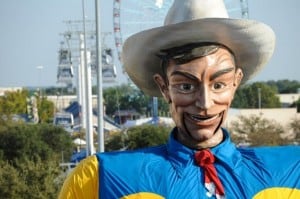 Here are some discounts and tips to consider before heading to the Texas State Fair:
Go early and avoid school field trip days
If you're able to get to the park by 10am, you'll have the whole place to yourselves since the crowds typically start pouring in around lunchtime.
Most of the local schools get a day-off from classes to visit the State Fair and it gets packed. The Dallas elementary schools are scheduled to visit the State Fair on October 1st and the secondary schools are slotted to visit on October 8th. Fort Worth State Fair Day is October 11th, which is also Columbus Day.
Pack water and lunch
Fair food can quickly add up especially if you have a big family. You can pack lunches and drinks for everyone and easily save $50-100.
Don't pay full price for admission
Big fun often comes with a price. Luckily, there are lots of ways to save on the $15 admission fee.
Save 13-20% off ticket prices by purchasing them online.
Go on a "special day"

Kroger "Three for $2" Wednesdays: Admission is $2 for each visitor bringing 3 cans of food for local area food banks.
Dr Pepper $3 Tuesdays: Every Tuesday, bring an empty Dr Pepper can and enter for $3. Most rides on those Tuesdays (excluding the Thrillway, Texas Star & selected other attractions) are 5 coupons or about $2.50 versus $4.00-5.00.
Coke $4 Thursdays: Bring an empty 20 oz. bottle of a Coca-Cola product and enter the Fair for $4 admission.

FREE Cinemark Thursdays: Bring a Cinemark Theater ticket stub on Thursdays and get free admission.
KISS-FM "Fridays at the Fair": Half-price admission and half-price rides after 5 p.m. on any Friday. Must present coupon printed from KISS-FM website for admission offer. Half-price ride wristbands will be distributed from KISS booth outside Midway Arch from 5 p.m. – 9 p.m. on Fridays only.
Dickies Day: Thursday, September 30th, wear and show your Dickies logo clothing item to the tents outside the gate and receive a voucher for FREE admission. This offer is only good for Thursday, September 30.
Any Day McDonald's Deal: Head to a participating McDonald's and pick-up a $4 off general admission coupon from one of their tray liners or bags. A free child ticket (with purchase of general admission) coupon is also distributed by McDonald's. Offer may not be combined with any other offer.
Dr Pepper $5 after 5 p.m.: Bring an empty Dr Pepper can after 5 p.m. and enter for only $5.
Take DART and avoid the hassle of parking
For $15, you get a parking spot and a long walk to the fair. Keep your $15 and take DART to the fair. There's also a DART combo ticket at participating Kroger Food Stores. For $16, you can get 1 general admission to 2009 State Fair of Texas & round-trip transportation on DART the day of your visit. The green line drops off at Fair Park's front gate and a second station is located within easy walking distance to the MLK entrance.
If you must park, you might want to swing along the park's side streets a block or two over and see if you can score a parking spot.
Here are more tips from Trekaroo families on the Texas State Fair.
Related articles:
– – – – – – – – – – – – – – – – – – – – – – – – – – – – –
Esther Lee is a contributing author on Trekaroo – a reviews site dedicated to exploring and traveling with kids.
Travel with kids to: CA | CO | DC | FL | HI | IL | MA | NC | NY | PA | TX | VA | WA
Comments
comments