Barbara Arnold is Trekaroo's European Correspondent and a mom of 3, of which the youngest is almost ready to leave his teen years behind. She raised her daughter and two sons in the historic city of Edinburgh. She has traveled extensively with her family to far flung places such as Malaysia, Australia, all of over Europe and the US.
Looking for a little more inspiration for a trip across the pond to the land of Princess Merida? Here are my top ten tips for a memorable family visit to Scotland. Most are within easy reach of Edinburgh and offer a variety of experiences including natural beauty, education and are just good places to have fun. I've done them all with my kids (with the exception of the Xscape Centre) and had a clear "thumbs up" of approval.



10. Edinburgh Military Tattoo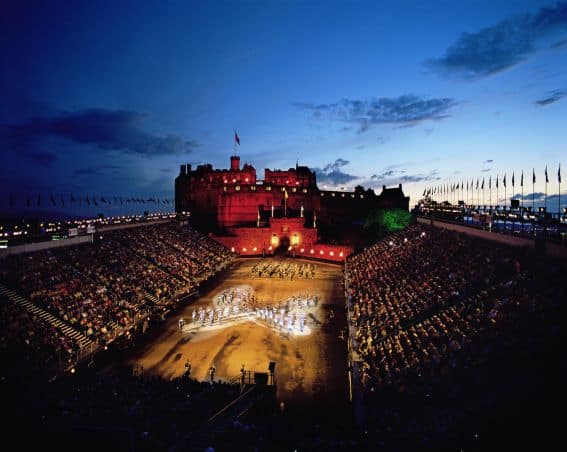 Photo copyright VisitScotland

Wow the family with a trip to the Edinburgh Military Tattoo which runs for three weeks every August! This feast of sound and light must be one of the world's most spectacular entertainment events set against the dramatic backdrop of Edinburgh Castle. As the sun sets over the battlements you will be treated to an extravaganza of international bands, dancers, pipers, and singers with over 1000 performers drawn from round the world. Ninety minutes of non-stop action culminates in the march of the Massed Pipes and Drums until finally, the noise dies away leaving the spotlight fixed on the Lone Piper high on the castle ramparts playing a farewell lament. Take a blanket and a picnic and watch those little eyes grow round with wonder at this awe-inspiring spectacle.
---
[cta id="67644″ align="none"]
---
9. Traquair House, Innerleithen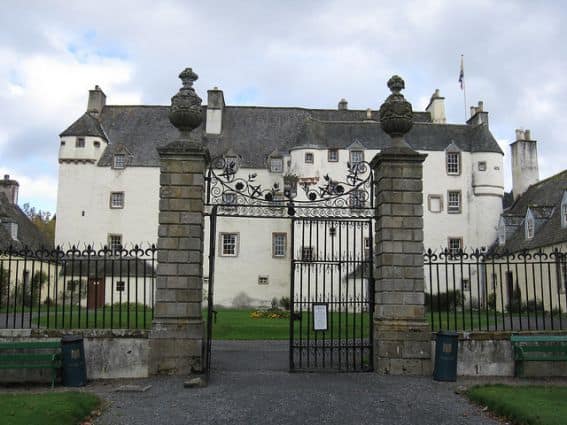 Photo by: Flickr/Bernt Rostad
This is my favorite stately home because it's a perfect, relaxing destination with the kids. Set in stunning scenery an hour from Edinburgh, Traquair House has a real maze in the garden which provides fun and thrills as you race each other to get to the centre – allow extra time to get them out again! Wander around the garden and you will meet the cashmere goats, small ponies, peacocks, and rare breeds of hens. A toddlers' play area and an adventure playground allow kids to run off spare energy before exploring the beautiful house where you can see a secret passage and Priest's Room where the resident chaplain used to live in hiding. History abounds in one of Scotland's oldest houses and the kids can marvel at the simple but beautiful dolls and toys in the museum. A spacious cafe offers home cooking and craft shops sell locally made items.
8. Blair Drummond Safari Park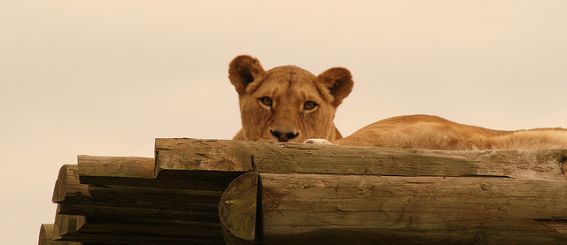 Photo by: Flickr/sandyseek
Less than an hour from Edinburgh, Blair Drummond Safari Park offers the chance to drive through a wildlife reserve seeing animals such as elephants, zebras, and giraffes before parking and walking through a Pets farm, playing in an adventure area, and watching the "Sea Lion" or "Bird of Prey" shows. There is plenty to keep the kids occupied for the day including the ever popular Astraglide, pedal boats, and face painting. It's a good value as the entrance fee includes most activities and there's enough to keep even the shortest attention spans occupied.
7. Crieff Hydro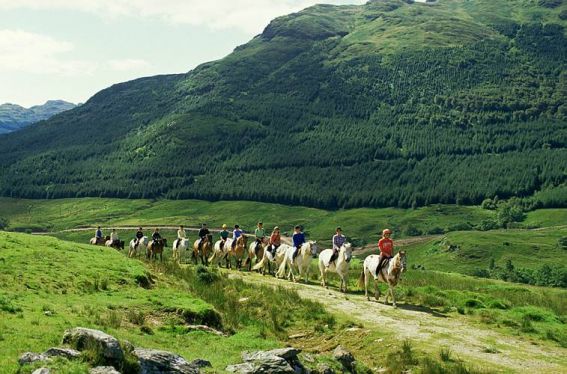 Photo copyright VisitScotland

It may seem strange to include a resort as an attraction but this must be one of the most family friendly institutions in the world. Well known as a local destination for weary parents who need some R&R whilst their kids are catered for, Crieff Hydro is a haven from city life set in glorious rolling hills about an hour and a half from Edinburgh. A dedicated kids club offers six hours of free supervised fun each day, there's a cinema and a daily entertainment programme packed with activities both indoor and outdoor. Activities range from horse riding, archery, mini golf, giant chess, biking, indoor swimming pools and tennis. This is all before you begin to explore the trails around the resort and the small town of Crieff itself. One of the great pleasures is an all age Highland Ceilidh which gives you the chance to dance with your children in the ballroom.
6. Cycle Round Loch Katrine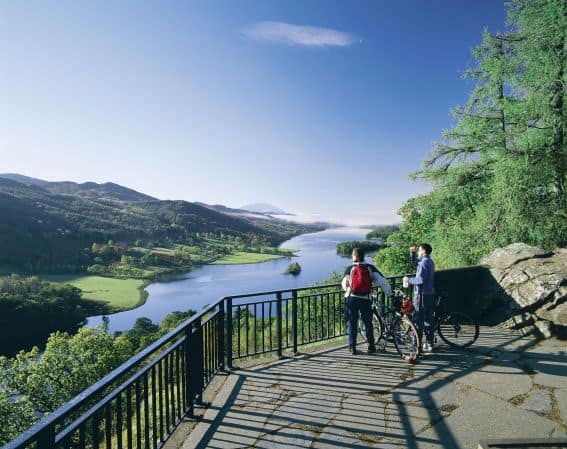 Photo Copyright VisitScotland
Nestled amidst the lovely hills of The Trossachs lies Loch Katrine, a lake whose beauty inspired Walter Scott to compose his poem "The Lady of The Lake." Bicycle rentals are available for the whole family and you can choose how long you want to cycle – anything from an hour to a full day. Tandems, electric bikes, and tag-a-longs are available. A great way to combine lazy luxury with some exercise is to load your bikes onto the historic steamship "Sir Walter Scott" and cruise up to the top of the lake before getting off and cycling back down. The kids will love the quiet road, the chance to dismount and paddle in the lake and the well-stocked ice-cream kiosk next to the pier.
---
[cta id="67644″ align="none"]
---
5. Deep Sea World Edinburgh
Photo by: Flickr/Paul Miller
Just over the magnificent Forth Road Bridge is Deep Sea World which boasts one of the longest moving underwater walkways in the world. 367 feet long, it takes visitors on an underwater safari featuring huge sand tiger sharks, conger eels, and sting rays. Brave kids between ages 8-15 can even book a shark dive and come face to face with these amazing creatures! There are rock pools where experienced presenters will introduce kids to crabs, small sharks, starfish, seals and some additional interesting exhibits. Deep Sea World is definitely an outing which combines education with wonder and pleasure.
4. Beaches, Golf (Yes, for kids!) and Castles in East Lothian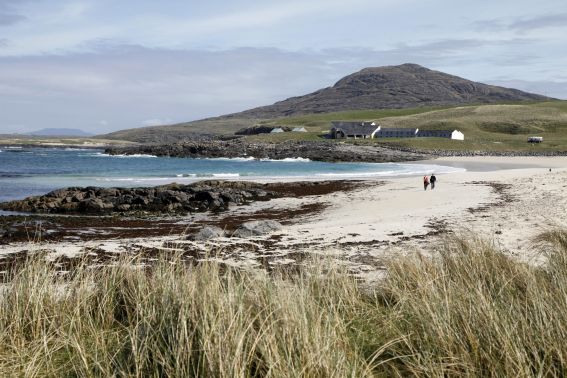 Photo Copyright VisitScotland
Along the coast from Edinburgh lie huge sandy beaches, dunes, and woodland trails which are easy to reach and have good parking. Choose between the beaches at Gullane, Yellowcraigs, or North Berwick, take your buckets and spades and enjoy a satisfying couple of hours by the sea. At Gullane and North Berwick you will find golf courses especially designed for children. Adults can only play if accompanied by a child! The golf course at Gullane sits conveniently in front of a good pub whilst the course at North Berwick has lovely sea views. At Dirleton you'll find a ruined castle and a small adventure playground in a picturesque setting around the village green. This is a very pretty coastline and easily fills a day.
3. Xscape Glasgow, Braehead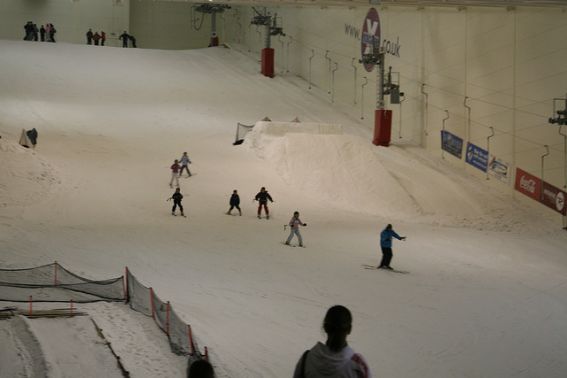 Photo by: Flickr/aballant38
Xscape Glasgow is a complete family entertainment venue whose main attraction is an amazing real indoor snow slope where you can ski, snowboard, and sled on fresh snow! A relatively new venue, it has a multi activity centre featuring a cinema, bowling lanes, rock climbing, laser tag, and adventure golf. It also connects to a shopping centre and a range of fast food outlets. This is 21st century entertainment – instant, undercover and, you know what? The kids will love it (even if you don't!)
2. Take a Trip to St. Andrews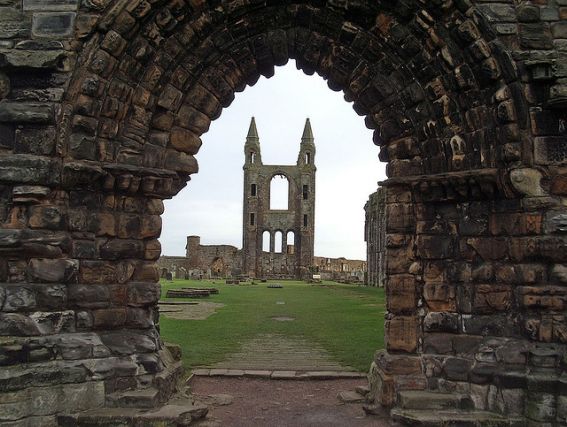 Photo by: Flickr/Charlie Dave
This gorgeous small town set by a huge beach is the home of golf, the place where Prince William and Kate Middleton attended university, and a great spot for the kids. Run free on the sands ( this is where they filmed Chariots of Fire ), improve your putting on the "Himalayas", a huge area where you can hire a putter and ball, visit the ruins of the historic Abbey, and take a tour of the small museum. Lunch at the "Doll's House" which sits right in the centre of the pedestrian friendly town and pick up an ice-cream at one of the many Italian sweetie shops. St. Andrews makes for nothereasy day with a choice of indoor and outdoor attractions.
1. Stirling Castle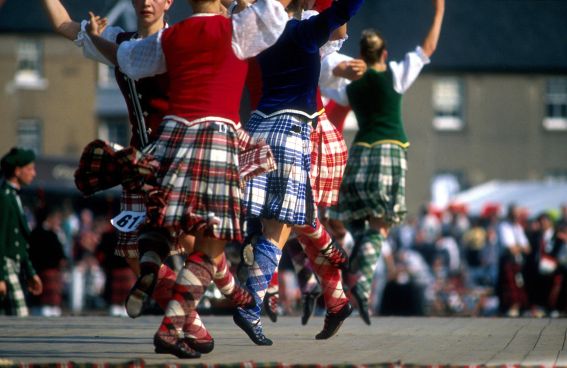 Photo copyright VisitScotland
Stirling Castle dominates the landscape around it and has a proud history of renaissance kings and queens. This carefully restored complex features rich tapestries, portraits, and weaponry, and offers special events for kids such as the chance to dress up in costume and try some renaissance dancing. Check out its website and see what's on before you choose your day. Shirling Castle has lots of space to run around and you can also fit in a visit to the Wallace Monument, a tribute to William Wallace – the real Braveheart.
Lead title image by flickr/garryullah
---
[cta id="67644″ align="none"]
---
Travel with kids to: CA |CO | DC| FL | HI | IL |MA | NC | NJ | NY | OR| PA| TN | TX | UT | VA | WA