Despite traveling regularly, I'd never considered a large-ship cruise for a family vacation. I was sure my kids (ages, 12, 10, and 7) were just too active to enjoy the laid-back atmosphere of a typical cruise, that I would be bored without sites to explore and culture to soak in, and that all of us would feel restricted by the confines of a ship.
Then we embarked on the Disney Fantasy last month, and all those misconceptions sailed (sorry about the pun) out the window. We hit the ground running every day for three days, traversing the ship from sunup to sundown, and yet even we couldn't get to everything offered onboard (let alone in port). Of what we did have time to sample, the following are my kids' picks for fun on the Fantasy:
The Pool Deck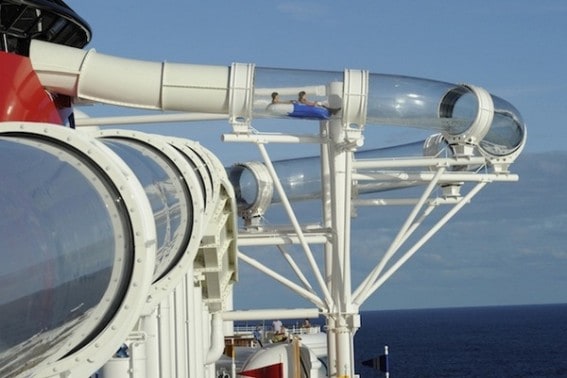 Comprised of two pools (Mickey and Donald), a water slide, a generously-sized hot tub, two water play areas, and the much-talked-about AquaDuck, the pool deck (Deck 11) was my kids' favorite place to hang. It was mine too, because from one central location (preferably a lounge chair), I could see all the action, and let my school-aged kids run amuck. In addition to all the water fun, Deck 11 is home to all the Cars' themed counter service food options (where something is always open), the drink refill station, and…best of all if you ask my boys: the EyeScream self-serve ice cream station. If kids had their own heaven, it would look like Deck 11.
Tip: Stand in the hot tub and look down. You'll see a clear pane of glass underfoot, with a view directly down to the lifeboats seven decks below!
The Sports Deck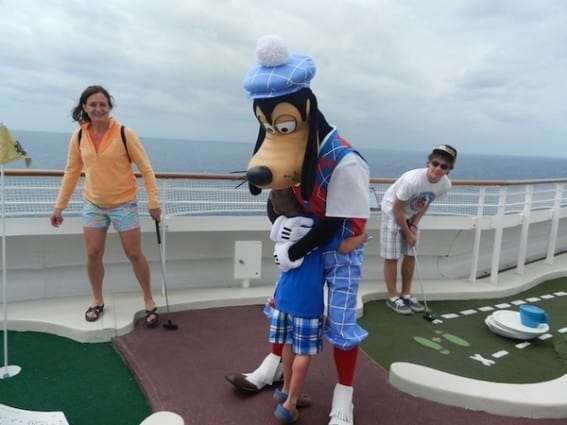 Coming in a close second to the pool deck, Goofy's Sports Deck is located a quick flight of exterior stairs from Deck 11, and houses a miniature golf course, large basketball court (netted to keep balls from flying into the Caribbean, of course) and a set of sports simulators. You'll need to make an appointment for the latter, but for $12 per half hour, your whole party can take turns facing off against a virtual Goofy in hockey, basketball, soccer, football, and more. You might just see the real Goofy hanging around, too.
The Kids' Clubs
My kids don't typically enjoy resort kids' clubs, so I was fearful that the clubs on the Fantasy would be a no-go. Though it took all three of my boys the first evening to get used to it, by our second day on the ship, I couldn't keep them from their clubs, especially after dinner when the action picked up. The Fantasy has five clubs for four different age groups, and we checked out two of them: the Oceaneer's Club and Oceaneer's Lab for kids ages 3-10, and Edge, for kids ages 11-13. (Also available are the It's a Small World Nursery for ages 3 months-3 years and Vibe, for kids 14-18.)
A few tips:
1. While kids ages 3-10 can go between the Oceaneer's Club and the Lab at will (the two spaces are connected at the back by a large art project room), we found that the planned programming and activities in the Lab were geared for the older end of the age group. Both my seven-year-old and 10-year-old quickly realized this is where they wanted to be.
2. The age guidelines are just that: guidelines. When our 10-year-old saw all the fun being had in Edge, he wanted to join his older brother there. Switching him was no problem at all: I just had to sign a waiver since he was under age 11, and officially opt him out of the Oceaneer's Lab. We were all set in under 10 minutes!
3. All the clubs we experienced were generously appointed with various video games. So much so in fact, that they outshone the arcade (Arrr-cade, located on Deck 11). After our boys (who generally love arcades) visited both, they opted not to spend more than $5 in the arcade. Save your money: the games and computer stations in the clubs are free.
The Shuffleboard 'courts'
From what I gathered while onboard, many people don't even realize these exist on the Fantasy. A throwback to cruises of yesterday, the shuffleboard spaces are located on Deck 4, next to the jogging track. It was fun to play, but even more fun to take in the view of the huge yellow lifeboats overhead and the ocean breeze. It really did feel like an old-fashioned cruise on Deck 4!
The Deck Parties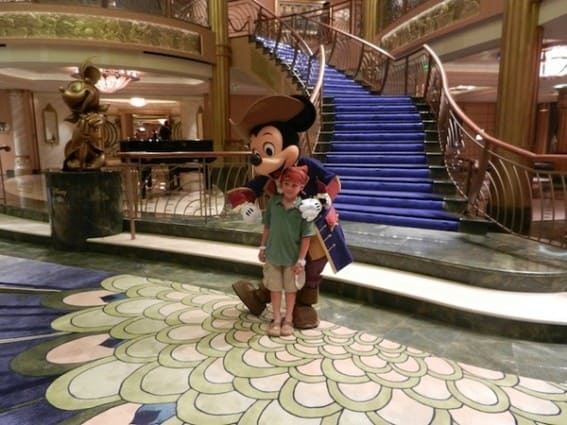 While we were sailing on the Fantasy, we experienced the Sail Away Party and the Pirate Night Party, and both got two thumbs up from the kids. It didn't hurt that I let them stay up way past their bedtime on Pirate Night! If you'd rather avoid the crowds, just leave Deck 11….the rest of the ship is nearly empty!
Tip: If your kids enjoy the characters, make sure to save time to greet them after dinner on Pirate Night. They'll be dressed in their pirate garb, as will your kids (they'll get a bandana at dinner). The photo ops are priceless!
*Picture one via Tom Anderson. Remaining pictures via Amy Whitley.
---
Amy and her family experienced the Disney Fantasy as guests of Disney and Expedia.com.