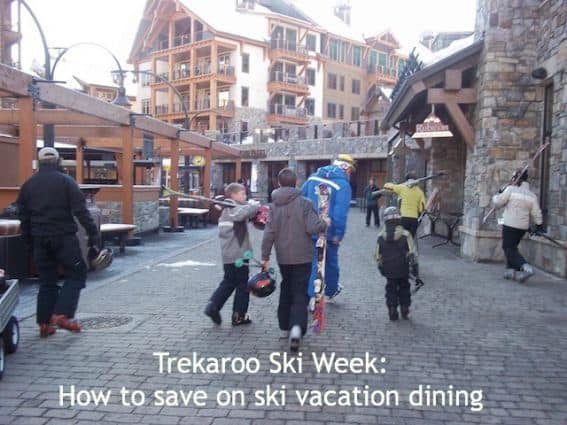 If you ask my family, no ski trip is complete without steaming chili in a bread bowl on a cold day or fresh fish tacos on a ski lodge deck on a bluebird day. (Ski resort food options sure have come along way since I was a kid!) However, on-site ski lodge dining does not come cheap. How to offset dining costs while skiing:
1. Eat in.
The most obvious solution to the high cost of prepared food is to follow our ski lodging advice…rent a vacation home or condo with a kitchen! Eating at least two meals per day in your own ski home will save hundreds of dollars, especially when a large family group splits grocery costs. We like to eat breakfast and dinner in our ski vacation home, and splurge for lunches out. Depending on your family dynamics, you might rather return to ski-in, ski-out lodging for lunch, then indulge in an apres-ski meal in the village center or breakfast adjacent to the gondola followed by an early morning hitting the slopes.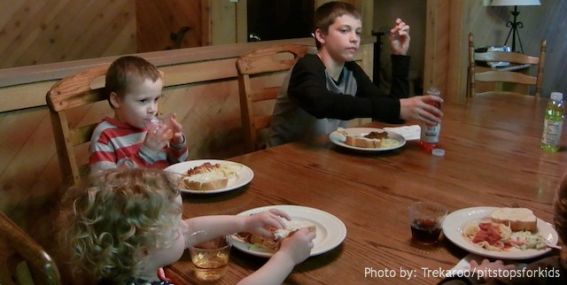 2. Pack snacks.
My kids always have a ski day snack in their jacket pocket. We love high-energy treats that won't freeze and won't slow us down, like Kate's Real Food bars. Other good options: trail mix with nuts, dried fruit, and even a candy bar (you'll burn off the calories!). Packing a snack for each person in your group reduces the need for a 10 am lodge stop for food, and offers distraction from a boring ski lift ride or two.
3. Skip drinks.
If you opt to eat lunch on the mountain, bring your own water and skip expensive bottled drinks. We like to use hydration packs while we ski for constant access to water, but parents can also pack one backpack with drinks for all skiers. You'll save at least $3 per meal per person by bringing your own drinks. (Hint: this tip saves money during all types of family travel!)
4. Order children's meals.
Many ski lodge dining venues allow anyone–not just kids–to order of the kids' menu. And in most venues, kids' meals offer quite a large serving. If you don't think it'll be quite enough food, order a side of soup or salad along with the meal. Chances are, the total cost will still be less than a full adult meal.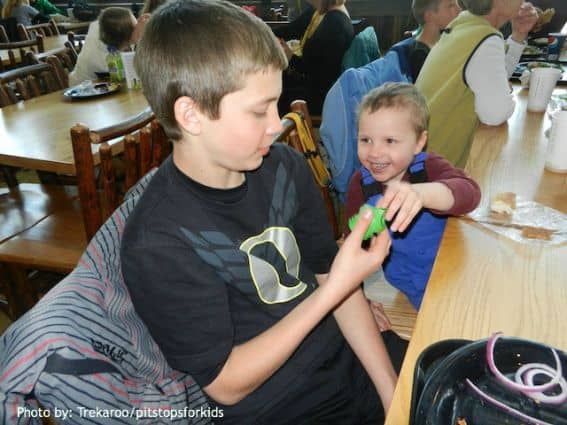 5. Look for apres ski deals.
We love the apres ski atmosphere, for adults and kids. Apres ski is a great time to kick off your boots, warm up, and compare notes on the day. Find out which base lodge-area establishments offer happy hours with drink and appetizer deals. (Many have deals on particular days of the week.) In resorts with central ski villages, apres ski can be enjoyed outside, warming up by outdoor fire pits while the kids (with their endless energy) bounce on a bungee trampoline or ice skate. During our multigenerational trip to Northstar California, the adults enjoyed a post-ski day drink while the kids skated and sipped hot chocolate. This indulgence is cheaper than eating an entire meal out, and takes less time; by the time we finished our drinks, the kids were ready to hit the hot tub.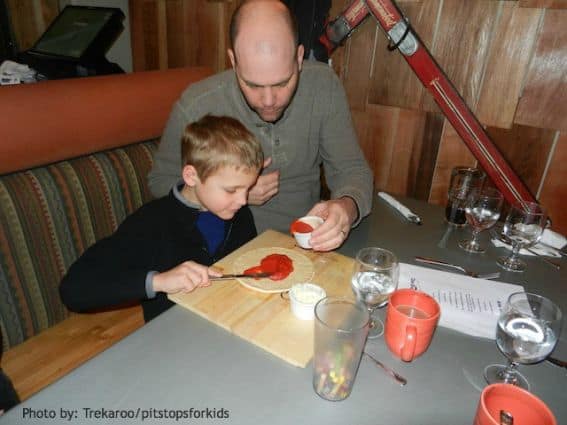 Trekaroo ski dining picks at resorts across the US:
Want a 'sure win' for your dinner out? Check out ski resort restaurant reviews from Trekaroo families!
Keystone restaurants
Northstar area restaurants
Park City restaurants
Jackson, WY restaurants
Mammoth Lakes restaurants
Big Sky restaurants
Thank you to our Ski Week sponsors, Keystone Resort, SnowPak, and MountainReservations.