Sara Fredericks is a Trekaroo Superoo.
Lake George, located in New York's Adirondacks, combines family friendly fun and natural beauty to create an ideal getaway. This past summer my husband and I had the pleasure of traveling with our four-year old daughter to this scenic locale and we all had a fantastic time experiencing what Lake George has to offer. Here are the top five activities that made our family outing memorable for all.
The Fun Spot offers go-karts, laser tag, miniature golf, roller skating, and an indoor playground, making it a great to visit with children of varied ages. My daughter enjoyed the indoor playground immensely, and my husband took great pleasure in racing the go-karts (several times!). While the go-karts and mini-golf are situated outdoors, the rest of the attractions are inside with the central air blasting, which gave my family a welcome reprieve from the hot sun. The Fun Spot features a snack bar as well as plenty of seating for family members that might want to simply observe the activities. If you plan to stay a while and try all the attractions, consider purchasing a package to save money instead of buying experiences a la carte.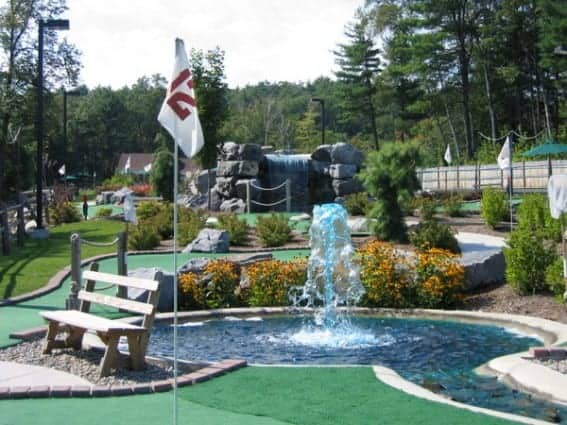 Featuring 18 holes of mini-golf with water traps and real sand hazards, Lumberjack Pass Mini Golf is a great place to take your family. The course is quite challenging but my husband and I had a great time laughing about how awful we were playing. Our four-year-old kept herself occupied with the various water misters placed throughout the course which were perfect for cooling down under in the hot summer months, and we all used the "ball-washers" quite often (designed to clean your ball if you happen to hit it into a sand trap). The ice cream at their snack bar is delicious and a perfect ending to some hole-in-one family fun.
The Moose Tooth Grill is a great place to dine with your family while on your Lake George Adventure. With an all-appealing, family-friendly menu as well as interactive animals and even a short thunder and lightning storm complete with a rainbow, everyone in your group will enjoy their dining experience. Try their homemade root beer, aptly named "Moose Wizz", or sample one of their many local draft beers. As the grand finale, order the S'mores for dessert, complete with your own campfire. My daughter is still talking about how she got to roast marshmallows at a fire indoors!
For a great meal, live music and a fabulous tour of Lake George, we recommend taking a cruise with the Lake George Steamboat Company. They offer many different cruise options, including with or without meals for lunch or dinner, as well as moonlight cruises, fireworks cruises, and even specialty cruises. Live music played throughout our meal and during the cruise, and the boat offers many different areas to enjoy the views of Lake George's various islands and shorelines. Whether you choose a cruise with or without a meal, this is a must-do if you've never been out on Lake George.
If you have children ages six and up, you cannot go wrong with a trail ride at Saddle Up Stables. Boasting attentive staff and stunning views of Lake George, your entire family will love this activity. Trail rides last about an hour and are available from 9 to 5 daily- no reservations required. Be sure to ask the trail guide to take your family's photo during your ride. the staff has no problem with this request and it makes for a great family portrait. If you have kids that are under six and still want some time in the saddle, Saddle Up Stables offers pony rides that are very generous in length and sure to put a smile on their faces.
More Great Trekaroo Resources
Top Picks for Kid-friendly North Country/Adirondacks
Kid-friendly Activities in North Country/Adirondacks
Kid-friendly Hotels in North Country/Adirondacks
---
Travel with kids to: CA |CO | DC | FL | HI | IL |MA | NC | NY | OR | PA | TN | TX | UT | VA | WA