Last Updated on
Trekaroo generates revenue from purchases made through links to our partner brands.
Military families deal with many challenges over the course of their service member's career, such as prolonged separations and frequent family moves, to name just a couple. Fortunately, many businesses realize these challenges and try to make family travel, with or without the military member, a little bit easier. Many hotels, theme parks, museums, and even restaurants, offer price breaks or special packages for military families and several unique resources exist solely for the use and comfort of military families. Prepare your military family for a fantastic vacation or local trip by exploring our top 10 tips!
Where will your military family travel to next?
10. Start with the Basics!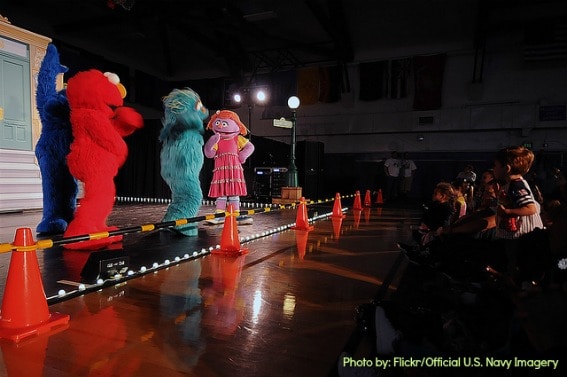 Most bases have a Ticket and Tours Office where discount tickets to local attractions, theme parks, concerts, ski resorts, sporting events, and performances are sold. They are a great first-line resource and many have e-mail lists you can sign up on to be informed of new offers and touring performances visiting the area to which you're traveling. When you are traveling, be sure to stop on a local base (don't be afraid to visit other service's bases, either) before you visit local attractions. Ticket and Tours offices may know of a military discount or package deal that area attractions may not otherwise advertise.
9. Know Where to Catch a Break!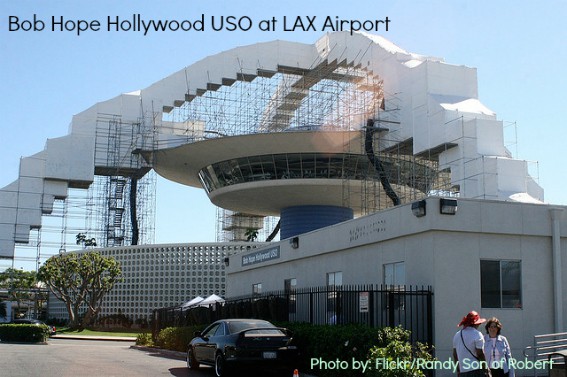 USO offices are located in airports and tourist locations worldwide, from Chicago's Navy Pier, to San Antonio's River Walk, to Okinawa, Japan. Most provide a comfortable and familiar place to rest. Grab a snack, check e-mail, and pick up local travel information and/or discounts for service members, retirees, and their family members. Some offer short-term sleeping facilities, showers, and children's play areas for those on lengthy layovers. The USO has saved the sanity of many military family travelers!
8. Relax, and Stay Awhile!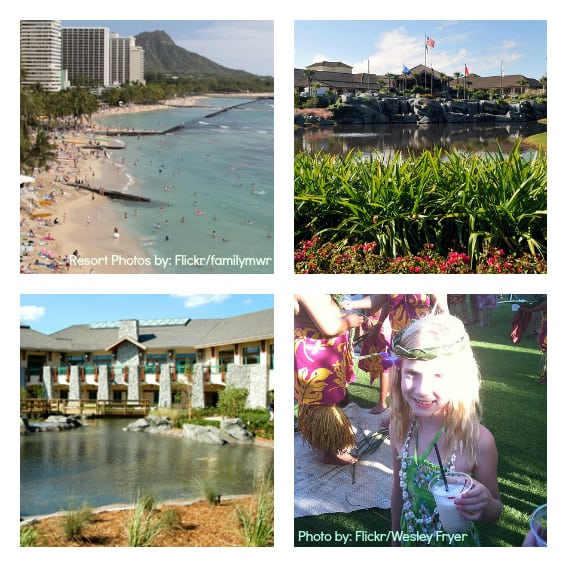 The joint services have provided four family-centered resorts in beautiful locales around the world called the Armed forces recreation center resorts. Each one offers lodging, dining, and fitness or outdoors activities, in addition to ticket offices for local attractions and a small BX/PX or commissary facility on-site.
Edelweiss Lodge and Resort is located in Garmisch-Partenkirchen, Germany, in the heart of the Bavarian Alps. The Shades of Green resort is located on the Walt Disney World Resort property, situated directly across from Disney's 'Ohana Polynesian resort in Orlando, Florida. The resort offers the best rates on Disney parks passes and has complimentary transportation on-site to each of the Disney parks, in addition to many other amenities. The Hale Koa Hotel is located on beautiful Waikiki Beach in Honolulu, Hawaii, while the Dragon Hill Lodge is located in Seoul, South Korea. The Seward Resort offers lodging and camping options in Seward, Alaska. Similarly, the Armed Forces Vacation Club has access to thousands of vacation rentals (mostly condo/apartment-style) in top locations worldwide for very reasonable rates (such as a recent special of $279 for a 7-night stay in Orlando). Sign up for their e-mail list to learn about discounts and last-minute specials.
*Tip: Reservations for these popular resorts fill up quickly during peak travel times (summer break, spring break, and Christmas/New Years), so try to book as early as possible. However, many have last-minute cancellations. So, if you can afford to travel at the drop of a hat, give them a call and see if there are any openings!
7. Stay on Base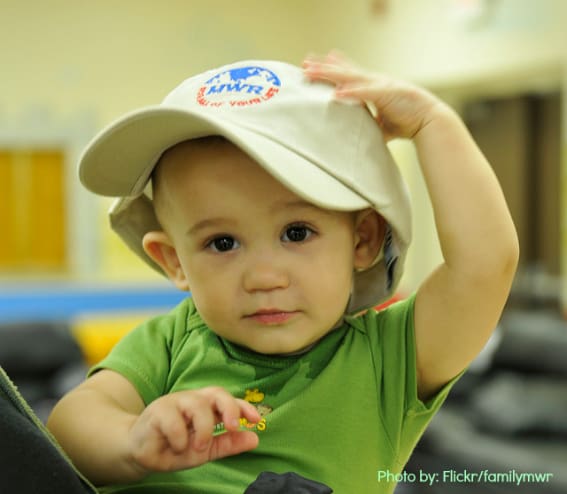 While our forces have drawn down over the past few years, each service still has bases in many desirable family travel locations such as San Diego, CA; San Antonio, TX; Honolulu, HI; Colorado Springs, CO; and Washington, D.C; among hundreds of others worldwide. If you're traveling with just a few days' notice, give a call to the lodging office at any service's base in the area around your travel destination and you might be able to score a space-available room for your family for far less than you'd pay for a hotel. Likewise, if you are bringing your accommodations with you in an RV, camper, or tent, look at the wide list of military FamCamps available across the U.S!
6. Get Cultured!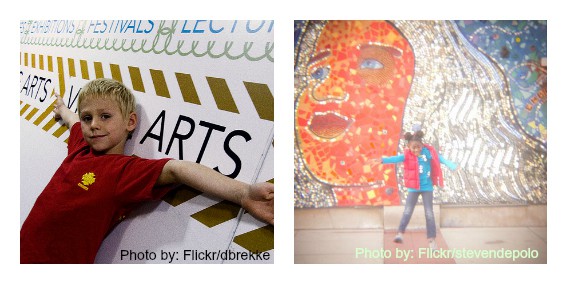 With Blue Star Museums, sponsored by the National Endowment for the Arts, Blue Star Families, Joining Forces, MetLife Foundation, and participating museums around the U.S., military family members receive free admission from Memorial Day through Labor Day each year. From hands-on children's museums such as the Austin Children's Museum, to historical museums such as the Natural History Museum of Los Angeles County, to art museums such as the Seattle Art Museum and Minneapolis' Walker Art Center, there is a huge variety to choose from across the U.S., that will enliven your summer family travels!
5. Prepare to Play!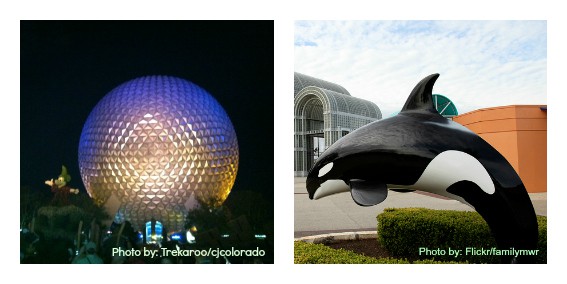 Most of the large amusement parks offer reduced prices or special incentives for military personnel and their families. The "Waves of Honor" salute to military families from Anheuser-Busch will run again through 2013. Any active duty, active or Ready Reservist, or National Guardsman is entitled to a free, one-time admission at SeaWorld (Orlando, FL; San Antonio, TX; or San Diego, CA), Busch Gardens (Tampa, FL or Williamsburg, VA), Adventure Island water park (Tampa, FL), Water Country USA (Williamsburg, VA), or Sesame Place (Langhorne, PA) for military personnel and as many as three direct dependents. Save time and click the link to register ahead of time, and be prepared to present military I.D. at the ticket counter upon your arrival.
Both Disney World and Disneyland Resorts offer special discounts on park passes and resort hotels for military families. As part of Disney's Armed Forces Salute, both parks offer reduced rate, multi-day Park Hopper passes that can be purchased ahead of time at military ticket sales outlets. These are the best rates around for such passes! Additionally, military families enjoy discounts up to 50% at Disney resorts (Disney World details / Disneyland details); however, you will need to call to book reservations with these discounts, as they cannot be made on-line.
LEGOLAND and LEGOLAND Water Park (Winter Haven, FL) are offering free admission to active military members through 2013. Local military Ticket and Tours offices also have reduced rate tickets for family members, so check there before heading to the park!
4. Ride the Rails!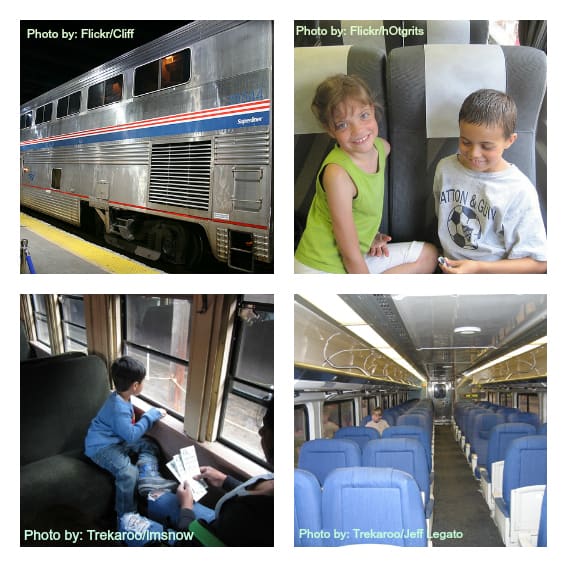 For young families, a train trip can be an adventure all its own. Another alternative is to combine a train trip with one of the other options and take the worry out of driving or flying to your destination. You can even take your car on Amtrak's "Auto Train." Amtrak offers 10% off the lowest fare on most trains and routes, and Canada Rail offers 25% off for Canadian military families! If you are stationed in or visiting Europe, Ticket & Tours (MWR) offices on base can set you up with discounted Eurail passes.
3. Do Like the Navy, and Go on a Cruise!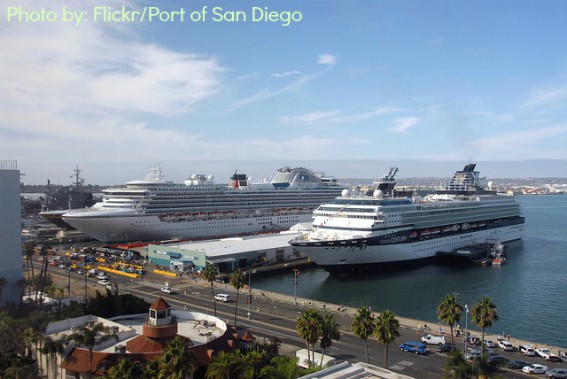 Considering a cruise? Disney, Norwegian, Royal Caribbean, Carnival, and Princess cruise lines each offer military discounts on select sailings or specials such as on-board credit for military families. Be sure to compare with other specials they may be offering as well, to see which is best. Take a look at our article, "Tips for Cruising with Kids," before packing your bags and setting sail on the seven seas!
2. Fly for Free!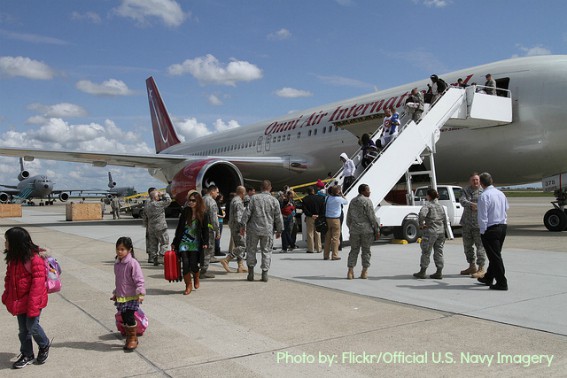 Military members, their dependents, and retirees have access to space-available travel on flights around the world. The system can be a little tricky to navigate and you have to be very flexible with your schedule (and often very patient). But, nothing beats a free (or nearly free) flight to Europe, Alaska, or Japan, right? A good place to start your research is the Air Mobility Command website or the privately ran SpaceA.net.
1. Go Take a Hike!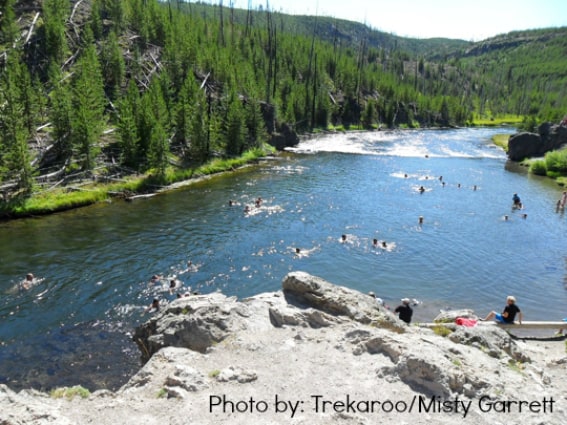 America is home to so many family friendly national parks and recreation areas all over the country. In one of the best deals out there, military members are entitled to a free annual National Parks and Federal Recreation Lands Pass simply by presenting their I.D. card at any federal recreation site. This pass allows free entry for the military member and any people in their vehicle, or the member and up to three accompanying adults (16 or older) to federal sites that charge a per-person fee. What better way is there to appreciate the land our services support and defend?
Check out these lists for discounts and deals for military families: Seattle-Tacoma, WA; Southern CA museums; Southern CA activities; Colorado; Philadelphia, PA; New England/East Coast.