A visit to Nevada can feel like stepping into a Western movie. When traveling in Nevada, it's normal to drive 50-100 miles between towns outside of the major metro areas of Las Vegas, Reno, and Carson City. Nevada's nickname is The Silver State, dating from the Nevada silver rush days of the mid 1800's when a fortune's worth of silver could literally be shoveled off the ground! Makes you want to visit Nevada, right? Before you dash out the door with your diaper bag and shovel, plan ahead and read Trekaroo's top ten things for families to do in Nevada.
Check the best deals on Family Friendly Hotels in Nevada
10. Visit Lake Mead before it goes dry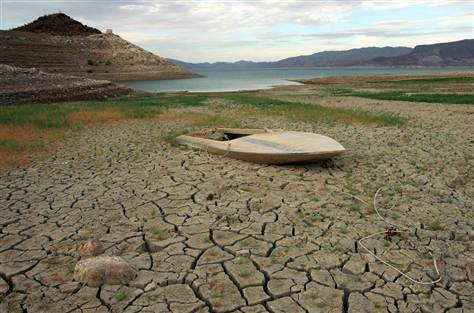 Lakes Mead and Mohave are the central focus of Lake Mead National Recreation Area, one of Nevada's most popular water sport playgrounds. The lakes offer year-round water recreation plus scenic drives, shaded picnic grounds, and National Park Service Ranger led programs throughout the year. Children can earn a Junior Ranger badge by completing activities in the Lake Mead Junior Ranger Guide book which is available for free at the Visitor Center. Tragically, Lake Mead, the source of almost all of the water in Sin City, is in the beginning stages of a crisis that if left unchecked would spell the end for Las Vegas. There is a 50% chance Lake Mead will go dry by 2021. Basically what we're saying is, quit beatin' the devil around the stump and go!
Read family reviews ofLake Mead National Recreation Area.
9. Hike Red Rock Canyon
Red Rock Canyon National Conservation Area is less than a twenty minute drive from Las Vegas. Wild burros roam the shoulders of the park's 13-mile scenic loop drive. Families will have themselves a hog-killin' time at a popular area known as The Children's Discovery Trail, a half mile "move at your own pace, learn about the desert, and enjoy the scenery" kind of hike. If you have never taken your child on a hike, this is the one to start with. There are no steep climbs and plenty of signs to make this an easy and unforgettable experience. You had me at "wild burros."
8. Stand atop Hoover Dam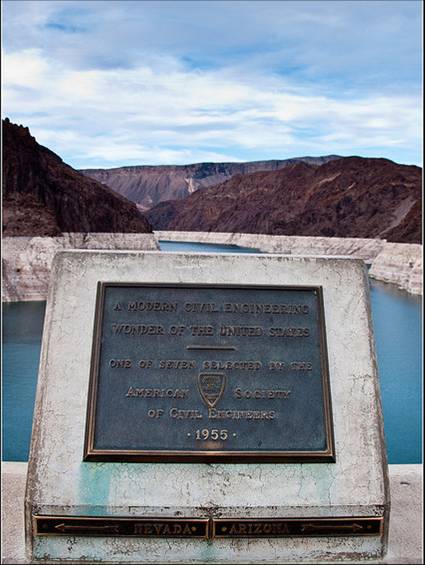 When you drink from the tap at Disneyland, Anaheim, that water is coming from the Colorado River and Lake Mead, 300 miles away. Without Hoover Dam, there would be no Vegas and until the Hoover Dam was built, much of the southwestern United States was plagued by two natural problems: parched terrain that lacked irrigation and boring bachelor parties. The Hoover Dam is on my bucket list, not because it was named one of the Top 10 Construction Achievements of the 20th Century (when it comes to engineering, folks I am at sea), but to visit the state line!  Look at me, I'm in Arizona, now I'm in Nevada, now I'm a Republican, now I'm a Democrat!
Read family reviews ofthe Hoover Dam.
7. Visit the State's Capital, Carson City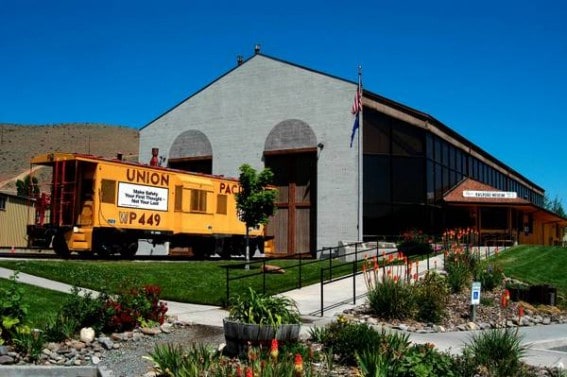 Nevada's capital city plays host to a number of year round events designed to give families a plethora of sightseeing options. My family loved the Children's Museum of Northern Nevada– the museum did a bang-up job! This hands on museum features a floor piano children can play with their feet, just like in the movie BIG. No trip to Carson City is complete without a visit to the Nevada State Railroad Museum where children can experience train and handcar rides. If you're headed north, Washoe Lake State Park is only 10 miles away.
Read family reviews of things to do in Carson City
6. Discover Reno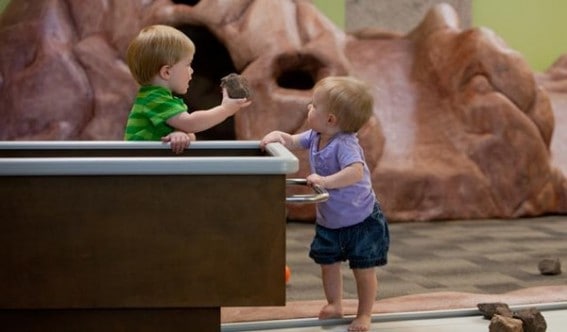 Reno's newest museum, Terry Lee Wells Nevada Discovery Museum, is a hands-on exhibit experience that caters to young minds. Just northwest of downtown Reno, cheetahs run free at Animal Ark, a 38-acre wildlife sanctuary open to the public. Catch a baseball game at the Reno Aces Ballpark or visit Sierra Safari, the largest zoo in Nevada. Later, when the young whippersnappers are hungry 'nough to eat a saddle blanket, swing by Squeeze In, where kids can write on the walls, order Teddy Bear pancakes, receive toy baskets, or sip hot cocoa piled high with whipped cream and sprinkles.
Look for the best prices on Family Friendly Hotels in Nevada
5. Valley of Fire State Park
Barely an hour outside Las Vegas,Valley of Fireis Nevada's oldest and largest state park. The valley derives its name from the intense heat which incinerates hikers. Okay, I'm kidding. The valley derives its name from the red sandstone formations of the Mojave Desert. Petroglyphs carved into the rocks are both accessible to little legs and easy to spot. If weather permits, try the short hiking circuit at the White Domes Loop Trail which passes through slot canyons with colorful sandstone walls. Unless your children are lizards I wouldn't recommend desert hiking in the summer when temperatures are usually over 100 degrees. You'll be wise to remember these two tips: Never kick a cow patty on a hot day and always take water with you!
 4. Explore Great Basin National Park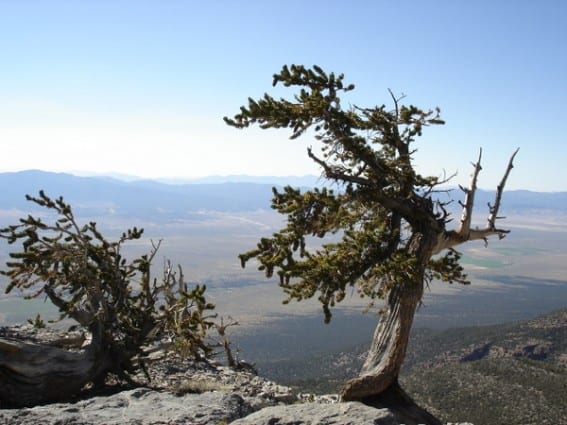 Great Basin National Parkis home to some of the world's oldest trees, bristlecone pines.The road leading to the park hosts an impromptu exhibition of quirky art sculptures placed there over the years by witty locals. Once in the park, a 12 mile road, winds up to the gentle Island Forest Trail and Wheeler Peak, the second highest mountain in Nevada which is home to the famous Lehman Caves  featuring 1.5 miles of underground passages. Family adventure daypacks filled with goodies to create excitement while exploring the park are available for check-out free of charge at the Lehman Caves Visitor Center. Only out on the range can you find yourself.
3. Berlin-Ichthyosaur State Park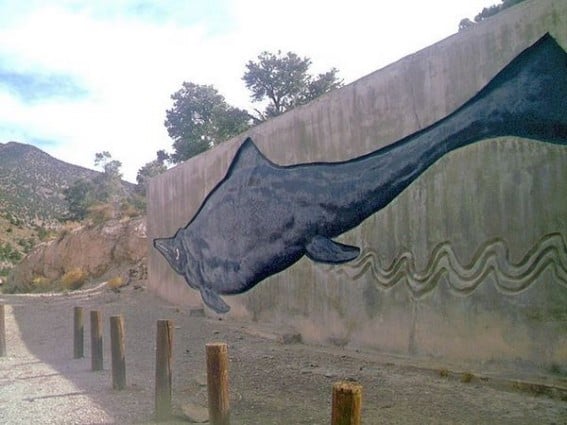 Nevada's State fossil is the Ichthyosaur aka: "fish-lizard." The Berlin-Ichthyosaur State Park, 150 miles from Reno, is divided into three main sections. Visitors can complete a self-guided tour through the ghost town of Berlin, schedule a park ranger led tour of the fossil quarry and recently reopened Diana Mine, or camp at the campground. The newly opened Diana Mine is filled with artifacts to make it appear as if the miners were still working there today. Imagine crawling through dusty and cramped tunnels in near total darkness for 12 hours a day. Yikes! Umm wait, does crawling under dark and dusty couches to retrieve action figures count? Whoa Nellie!
2. Break Rocks at Garnet Hill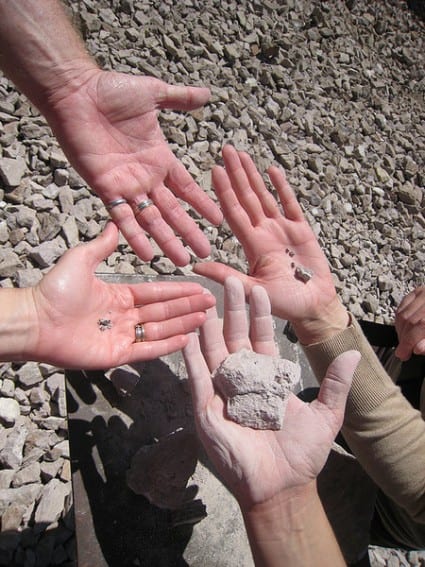 Garnet Hill, about 4 miles Northwest of Central Ely, is an area famous for its dark red garnets found in volcanic rock. Serious individuals should be prepared to break a sweat. You need a hardened chisel, eye protection and a sledge hammer to get them out. Typically you will end up dulling three or four chisels throughout the day. Children can visually search the ground for small garnet stones which are spread here and there throughout the area, their dark color contrasts with the soil making them easy to see. To add some excitement to the trip, when no one is watching, scatter pre-purchased faux gems out on the ground for the kids to find (just make sure to take them all home with you)! Pack your plunder dear, we're headin' for Garnet Hill!
Check for the best prices on Family Friendly Hotels in Nevada
1. Vegas Baby, Vegas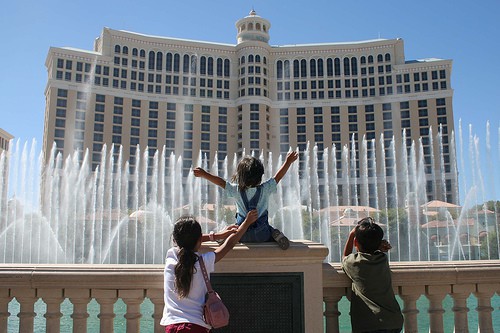 The wildest part of Las Vegas isn't necessarily the nightlife. Families can visit The Secret Garden and Dolphin Habitat at the Mirage which is home to some of the world's rarest and most exotic animals, Journey to the Center of the Earth with SpongeBob Squarepants at Excalibur and pet sting rays at Mandalay Bay Resort's Shark Reef Aquarium. Children and Adults alike will love the Bellagio Conservatory & Botanical Gardens. Want to get away from The Strip? Kids at Springs Preserve will enjoy interactive exhibits and outdoor activities. Anyway you shuffle the deck, Vegas is Ace High!
Read reviews of family friendly activities in Las Vegas.
 Lead Photo by: Flickr/daveynin
What state do you want to visit next?
From coast to coast, we're determining the Top 10 Things to do with Kids in each state of our great nation.   Head here to see what tops the list in your favorite state.