Last Updated on
Trekaroo generates revenue from purchases made through links to our partner brands.
4. Mall of America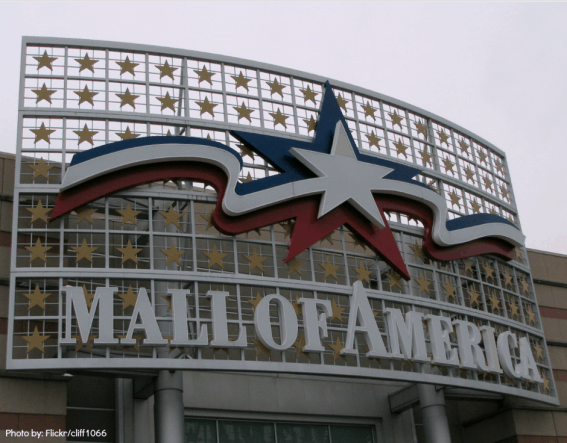 Enjoy the Mall of America, the most visited shopping mall in the world, located conveniently near the Twin Cities metro area. This isn't a trip to the local shopping mall; this is a mall experience that will surely have something to suit everyone's interests. Have you ever eaten in a rainforest? Here you can without applying for a passport! The Rainforest Cafe is a big hit with the kids, and a lot of the time parents can even enjoy the meal too. There is so much to see and hear (ambient frog choruses, bird vocalizations, and the giggles of other kids having fun), that your kiddo will give you time to eat and maybe even savor your meal for once! MOA offers unique fun within the confines of the mall walls, including the Minnesota SEAlife Aquarium, the LEGO Store, and Nickelodeon Universe! Feeling like all the fun has worn you out? Find a great place to lay your head (and have BIG fun) at the Radisson Bloomington-Waterpark of America—the largest indoor waterpark in the country. Conveniently located across the road from the mall, the Radisson offers visitors shuttle rides to and from MOA. If being across the street is too far away, you can stay right on site in the newly opened Radisson Blu – Mall of America hotel. Since it's right across the interstate from the Minneapolis-St. Paul International Airport, it's a great stop for a long layover too!
Winter, Summer, Fall or Spring, pick #3 is next. Click Next.