Last Updated on
Trekaroo generates revenue from purchases made through links to our partner brands.
9. Hit the Road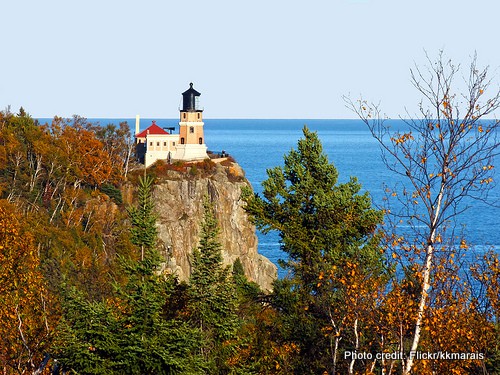 The "North Shore" of Lake Superior is a destination of its own. But, don't forget the rest of Highway 61, which winds its way through some great Minnesota towns along the Mississippi River. This stretch of road is packed with family fun. See the historic Naniboujou Lodge and have a fancy brunch or hike through time on the Grand Portage! There is no shortage of waterfalls, including the infamous Gooseberry Falls and High Falls of Grand Portage State Park. Duluth is always a fun afternoon stop; the maritime influence like the William A. Irvin, the beacon of Splitrock Lighthouse, and the Lake Superior Maritime Visitors Center are fun ways to learn and play.
To truly appreciate the vastness of Lake Superior, you need to drive its shoreline! This epic road trip was made famous by Bob Dylan and is the namesake of it's own summer festival outside of Duluth–it's that good! Stop along the way to hike on some of the best trails Minnesota has to offer, including several State Park "hiker's club" routes and the Superior Hiking Trail (which even National Geographic Adventure magazine gets excited about). The National Eagle Center in Wabasha offers kids a glimpse of the American Bald Eagle (more likely a glimpse of several) along the banks of the river. From the bluff country and Winona to the shores of a Great Lake, this is more of a quest than a vacation. What will your family find when you embark upon the tarred trail?
If you want to test your sea lake legs, take a ride on a Vista Fleet Cruise!
Visit a Little House on a Big Prairie with our #8 Pick. Click Next.