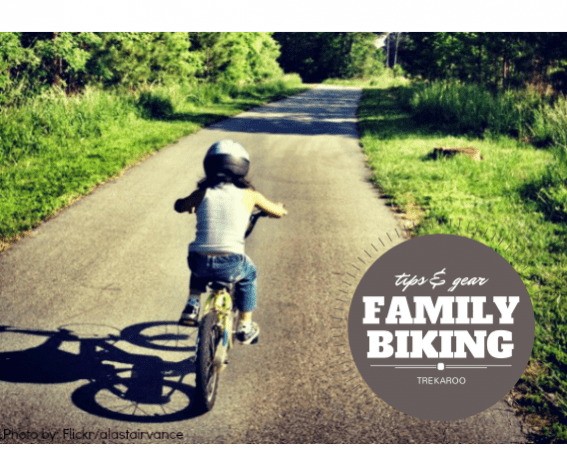 Part of the allure of spring time is the annual ritual of pulling our bikes down from the garage rafters and taking that first spin. Biking has been a part of our family for at least the last three generations and is a tradition I'll continue. I have vague memories of learning to ride a bicycle as a child and very clear memories of the freedom two wheels lent me while I was a tween in rural Midwestern America. Now, as a mom, not only do I get my exercise but I can help instill a little bit of stewardship in my small citizen – family biking is good for us all!
Almost everyone will bike in their lifetime. Can you just close your eyes and imagine a romantic scene from yesteryear with a great cruiser complete with a large basket on the handlebars and a smiling girl with a flowing skirt riding down a country road? Well, family biking is not quite like that. At all. At least not for most. But it's some of the best fun that a family can have together no matter what age or skill level.
Family Biking with Infants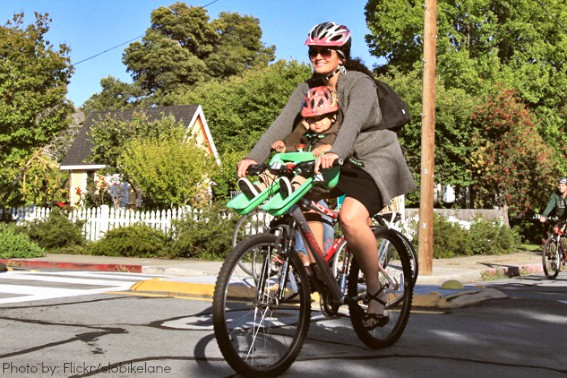 Ibert SafeTSeat is an alternative to the traditional behind-the-driver mounted seat. Some of the really great aspects of a front-mounted seat is that your kiddo can communicate with you, and more importantly, if they are not yet able to communicate well with words, you can see the little tykes to check on them! They also have a better view (rather than just your back) and if you're like me and have a giant, long Rapunzel-style braid or pony tail, it is not there enticing them to grab and hold it! Wee Ride is another option that is very similar and can fit slightly larger children.
Standard Behind-the-Rider Seats have been part of the parenting world as long as I can remember. My brother rode in one while my mom and I would bike to the grocery store for last-minute items on a summer night. That was over 20 years ago. These are great and were probably the forerunner to all the newfangled contraptions that keep us sane today while biking as a family! There are many brands of behind-the-rider seats and they are a good to have on-hand. Babysitters, grand parents, and other caregivers are all usually more comfortable with this old stand by.
Family Biking with Toddlers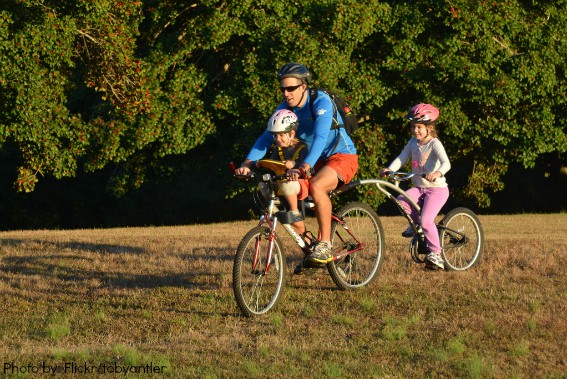 Strider Balance Bikes are a great resources for those kiddos that are too big (or too independent) for the seat on mom or dad's bike but still want to go along for a short ride. Also called 'push' or 'scoot' bikes, they are great for little learners and developing a love of cycling early on. We started out on a balance bike at a little under two-years old with our son and he loves it now at three-years old. We've heard from friends that they skipped the training wheel stage and their kids went right to 'big bikes' because of mastering their center of gravity on a push bike.
Towing Systems like the Tow-Gator are another way to go for the bigger kids. They are compatible with most bikes and can help the kids out on longer journeys if their legs get tired, as often happens. Make sure to listen to their little voices though — if they say they can keep going, let them!
Thule Chariot Child Carrier Systems is a remarkable little carrier and is pretty darn versatile! For those of you with seasons to play throughout the year and the inclination to do so, I'd highly recommend something like this — not only is it a wonderful bike trailer, it can convert to a ski buggy, a hiking contraption, and there are the standard strolling and jogging conversions too. The great part about the bike trailer is that it lets you maintain a great turning radius — it's not something you'll need a freeway to about-face with! Technically, this could be used for infants or toddlers — or just to haul your gear as well. Many brands make a bike trailer, if that's all you need. A simple query at the local biking store or Trekaroo should give you some ideas!
Tweens, Teens and the Seniors Scene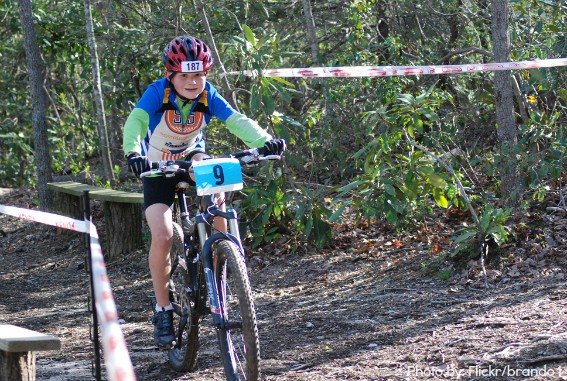 We haven't forgotten the tweens and teens, but they tend to do well on a regular bike and require little effort on the part of parents! One thing you might consider to please the tweens is venturing to a bike park, joining a mountain bike team, or sending them to a kid's bike camp. These are great experiences for older kids and if they take a liking to cycling, they might be worthy investments. Finding cool gear like hydration packs, device holders, and more trendy helmets might also make the older members of the family happy!
For the multi-generational or blended family, you might consider comforts like awesome wider, cushioned seats. I may or may not have one of these myself! I'm not giving that one away so easily! You can also think about the location more for older bikers — kids just want to spin their wheels, while grandma and grandpa might like a scenic countryside roll with great birding opportunities or a fall color tour.
Tips for a Smooth Family Bike Ride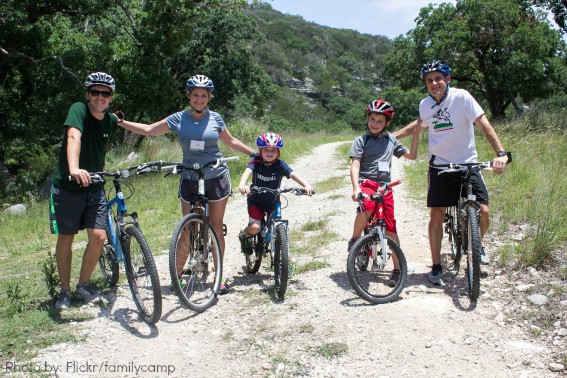 Set realistic goals—The first few times on the balance bike it was literally more time-consuming to put on my son's helmet and shoes than it was to do the actual act of bike-riding. It was frustrating. But, I put on a huge smile, gave some high-fives, and we stowed the bike until the next day. This continued and eventually at some point we went from minute-long sessions to five-minute warnings until we had to go in to eat lunch! It should also be noted that it's a good idea to let your child decide if they want to ride or not. Don't make it a chore.
Make it a game—Nothing puts fun into learning and enjoying a new skill like a good old-fashioned game. You could race (though I'd only recommend this for more skilled bikers instead of the newbies–it might guarantee skinned knees and wipe-outs) or you could play eye-spy if you're on a safe path. Have kids count the number of times they pedal. Put noise-makers in the spokes. Be creative! Make it fun! You can also outfit the little ones — we gave our son a Strider jersey and he was tickled! He also looked like he pushed his balance bike straight out of the X Games!
Early Exposure – This means pedal while pregnant and channel those cycling vibes to your child. Well, maybe it doesn't work that way, but as soon as your child has some control of his or her balance, just as I'll usually tell you with any sport or skill – get them out there, interested, and involved. It never hurts to see those influential adult family members having fun on bicycles either!
Bring Snacks—Nothing ends any fun activity faster than hunger. Except maybe an unfortunate collision with the pavement, but hunger is a real showstopper nonetheless. Bring some handy, portable snacks to get you back to civilization. Additionally and maybe more important: remember the water!
Listen—Whether this is to yourself or to your spouse and children, listen and trust what your family is saying. If they say keep going, go. If they say they're tired, they probably are. My guess is family will surprise you with what they can achieve!
Reward & Celebrate–For little ones, you might set the goal of cresting a hill, making it one mile, or some other very attainable, tangible goal. Use a favorite snack — maybe jelly beans, gummy bears, or stickers — as a reward and a celebratory hooray! Make the milestones count!
Weather–In the Midwest and New England states, Mother Nature is really a trickster. May is National Bike Month but places like North Dakota, Minnesota, and Maine might still need to sport Fat Tires Bikes as they pedal through snow! Biking is still enjoyable in a light rain or even on a real hot day, but plan for the weather (and possible changes) just like hiking or any other outdoor excursion.
Gearing Up–You don't have to tap out junior's college fund to be able to take the family biking. Often Police Departments will have bike auctions with the bicycles that got left behind throughout the year. Check with most trail sports or outdoor sporting goods stores and they are usually skookum on the latest and greatest in gear swaps and auctions. Facebook is a new resource for buying and selling EVERYTHING. Try joining a local outdoors or children's group and watch for a deal. It also does not hurt to cozy up to that family with children slightly older than yours — hand me downs? Yes, please!
Giving kids positive experiences riding bicycles can give them a little bit of independence. It can also lay the foundation for a healthier, greener future for the kiddos and the world. Now who can get on board with that? Right on! Ride on!
Curious about great places to test out your new-found knowledge of family biking? Here are some great suggestions of where to go from our contributors:
Biking at Ski Resorts in the US | North Shore bike path in Hawaii | Corvallis Bike Paths | Florida offers biking and birding | Biking with the family in Minnesota | Fat Tire Bikes on Tybee Island
Do you enjoy family bike rides? What types of kid gear have you used to make it work?  Have your kids ever been to a bike rodeo?
Disclosure: Some of the mentioned gear items in this post were provided for test drives. Please know that all opinions are our own.