Imagine this. After a long day exploring the town you get back to your hotel to clean up and then it hits: the kids are hungry and now you have to decide where to eat! Hotel dining may not immediately come to mind, but it can be a great experience if you know what to ask for and how to utilize the most convenient way to treat the family.
Know Before You Go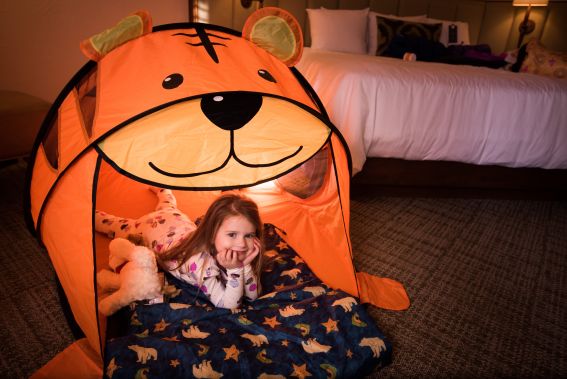 Photo courtesy of Ranch Bernardo Inn
A family can save a good amount of money by checking the hotel website for dining deals before picking a hotel. Many properties offer free meals built into their package. For example, Holiday Inns offer Kids Stay and Eat Free programs, where families children under 12 dine at no charge at on-site restaurants. This is a double perk because this means not only are your kids eating free, but the restaurants have a menu full of things your kids will eat! Other properties like the Rancho Bernardo Inn, a JC Resort property, offers Kids Clubs where children not only eat free but enjoy many great kids activities. Children can also enjoy snacks and meals all day long including tasty smoothies and even milk and cookies delivered to their room! So, do a little research. Although some properties may be a few dollars more upfront, you will save a lot more in the long run.
Read Parent Reviews of Rancho Bernardo Inn.
Ask When You Check In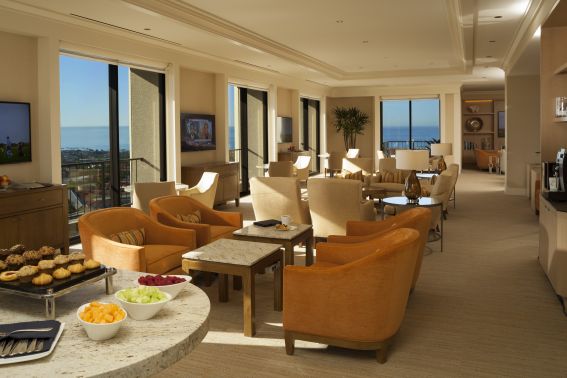 Photo courtesy of Island Hotel Newport Beach
Don't hesitate to ask the front desk about their onsite dining specials, and if you ask nice enough you might fine some comps in your future! Many restaurants will have an add-on dining feature where you can upgrade your room for a small fee where dining, WiFi, and other great features are included. The Island Hotel Newport Beach is a great example. They have a great upgrade that allows your room to access their Island Club which offers not only a free breakfast buffet (mimosa's on the weekend), concierge service, access to the steam room, and WiFi, but has great snacks and tasty drinks throughout the entire day. Kids will love the jars of candy and cute little water bottles to take on the go.
Read Kid-Friendly Reviews of The Island Hotel Newport Beach
Once You Pick Your Restaurant
Many hotel restaurants have the flexibility of offering items off menu or found at other locations throughout the property. Most restaurants will offer their full menu at any time of the day, meaning you can request anything off the lunch or dinner menu. Don't hesitate to ask the chef to create something off menu, usually a grilled cheese sandwich or quesadilla is not too much to ask. If the dining area looks intimidating to you, the thought of entering a grown up dining area with kids can make some parent's stomach flip, but you might be surprised at how accommodating the hotel restaurants can be. Kid-friendly areas may be available, and most restaurants will create a space on demand, including larger tables, smaller chairs, and booster seats.
Food Quality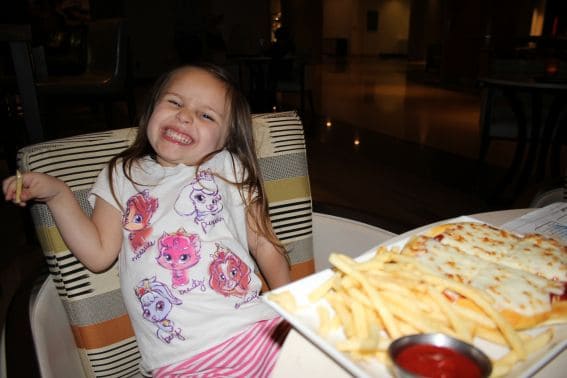 Photo by: Elizabeth Bickford
Hotel restaurants of the past have left travelers with a bad taste in their mouth, so to speak. Times are changing and it's rare not to find a gourmet restaurant in the larger cities. With the craft and artisan push over the last the few years, hotels have revamped their dining establishments, including everything from their choice of water to the way they serve up their New York steak. Travelers can find selections flavored with their destination of travel right in their hotel lobby.
Worried about traveling with a child with food allergies? We have a guide just for you.
Final Thoughts
Remember when dining at your hotel, you are their guest and they want you to feel at home! Most chain restaurants are looking for a quick turn over and waves of customers. Pull up a chair or two at your very own hotel and be surprised by the great food and fun atmosphere it can provide. Why drive around searching for a place to eat to just stand in a line or wait around for your buzzer to go off. Instead, take a short stroll to your hotel lobby and enjoy! What can be easier than that?
Heading to California? Check our guide on Top Hotel Dining in Southern California.
Featured photo by: Shutterstock