This post was sponsored by FamilyGetaway.com, an advertiser on the Family Travel Ad Network, a partnership amongst Ciao Bambino, Delicious Baby, Travel Savvy Mom, The Vacation Gals, Trekaroo, See Jane Fly, and Traveling Mom.
No matter how many times my car wanders through the canyon, following the tiny gap in the hillside until it reaches highway, I can't help but get excited about the impending view. I know what is coming, I have seen it more times than I can count, but the anticipation builds up inside me just the same. And then, as if out of nowhere, the mountains drop down to meet the sea and the road dead ends into one of the most beautiful beaches in the country. Even though I am a local, the magic of Laguna Beach is never lost on me. With its gallery lined streets, azure colored waters, and laid back atmosphere, Laguna is one of those places that makes people feel like they are on vacation from the moment they step foot into town.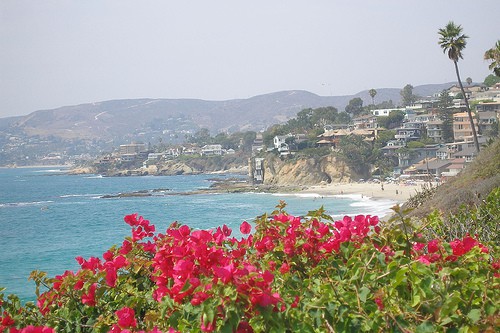 If your family has yet to experience the little strip of paradise that is Laguna Beach, now is the time to start planning your first trip. Its mild Mediterranean climate makes Laguna a year-round destination and the town is filled with plenty of great activities to keep the whole family asking to return year after year. Here are my tips on how to vacation in Laguna Beach like a local:
Make the Beach Your Second Home: Its hard to spend time indoors when there is so much beauty waiting for you outside. Tykes growing up in coastal Orange County often spend their weekends building sandcastles, playing in the surf, and exploring tide pools and children from more distant locales will enjoy the experience just as much as they do. Aliso Creek Beach in South Laguna has a great playground right on the sand that is very popular with local children, and is perfect for letting the kids run out those last bursts of energy as the sun sets. Once that bright orange ball slips beneath the ocean drenched horizon for the night, be sure to take advantage of the fire pits and roast some marshmallows for S'mores. Bring your beach chairs, cuddle up with some blankets, and listen to the surf crash as the fire dances and crackles.
Older kids tend to want to get out into the ocean a bit further and body boarding, surfing, and stand up paddling are all popular Laguna Beach activities. Lessons from local outfitters are a fun and safe way to create some lasting vacation memories. For those who prefer to spend more time under the surface of the water, Heisler Park, which is just a short walk up the sand from Main Beach, is a great place to scuba and snorkle.
Get in touch with your artistic side : For decades, artists have flocked Laguna Beach for inspiration, opportunity, and a true sense of culture in their community. No trip to Laguna is complete without a stroll around town to check out all the beautiful artwork in the gallery windows. Younger children may not be up for a few hours of quietly staring at incredible works of art inside various galleries, but they can certainly be bribed into a lovely walk and some window shopping with an ice cream cone in hand. If you come during the winter or summer, be sure to set aside some time to visit the Sawdust Festival, where hundreds of artists gather to showcase their work. Children will love the fun (and often free) classes they have to offer on how to create works of art of their very own.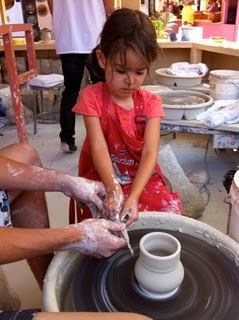 Sample some of Laguna Beach's best family friendly eateries: One of the hardest things about traveling, especially with young children, is finding family-friendly restaurants that aren't chains filled with mediocre food. Luckily, Laguna Beach has some nice options. The House Of BIG FISH is a great place to take the kids. The casual atmosphere and ocean views will make you feel comfortable to have your kids in tow without having to give up aesthetics. The menu features some great fresh seafood choices and plenty of options for those members of your family who think fish is "yucky". Coyote Grill is a great option for families who are looking for a place with Mexican and American fare. The fried chicken is famous and the fajitas are quite tasty. Be sure to sit out on the patio, so you don't miss a second of those incredible Pacific views.
Sleep Surfside: With its beachfront location, friendly service, and incredible Catalina views, The Laguna Riviera Resort on the Beach is an amazing place for a family to call home base while enjoying all Laguna has to offer. The resort is popular with locals who are just looking for a few days where they can sleep with their windows open and fall asleep to the sounds of the crashing surf. Built in 1948, the resort has maintained its retro seaside motel exterior while featuring large rooms with contemporary décor. The surfside setting and friendly owners have kept families coming back for generations. Each of the 41 rooms are unique in design, but they all include fridges, microwaves, and coffee makers, and many have private or semi private decks. Most rooms have ocean views. There is an enclosed salt water pool, spa and sauna, which are great for days when the ocean is a bit too chilly for swimming. A game room with an air hockey table, ping pong, and foosball is sure to keep kids occupied for hours. The common outdoor area features lounge chairs, barbeques, and incredible sweeping views of the ocean. FamilyGetaway.com currently has a terrific package up for bid on a 2 night stay in an ocean view room with continental breakfast, free boogie board rental, and access to beach equipment starting at only $260 total which is 50% off normal rates.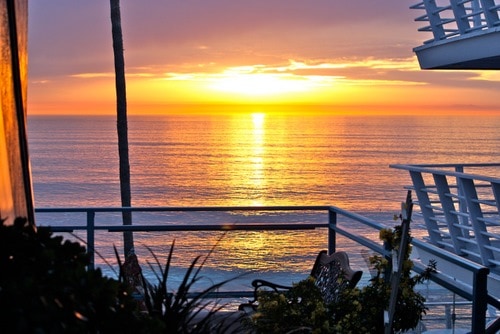 In addition to the rooms, the resort also has an amazing beach bungalow available for rent. Built in 1913 the bungalow has 3 bedrooms, 2 baths, a full kitchen and some of the most mesmerizing ocean views you will ever experience. It typically rents for $585 in low season and $885 in high which is quite a good deal, but FamilyGetaway.com currently has an amazing 3 night package up for bid starting at only $892 total!!! Get another $100 off your first FamilyGetaway purchase if you sign-up for their Family Travel Newsletter.
I love the bungalow so much that we already have plans to rent it the next time our extended family comes in to town.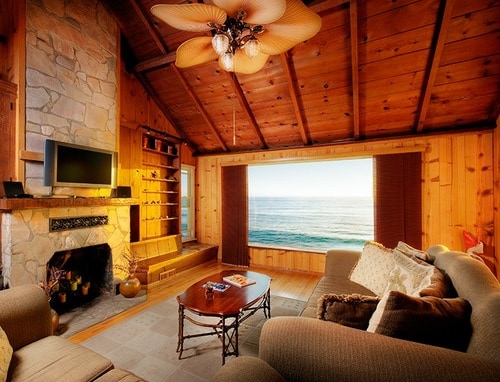 For more vacation ideas and tips from FamilyGetaway's blog caravan:
– Tips for Planning the Best Family Ski Vacation from Ciao Bambino
– Stay tuned for A Family Vacation in San Diego from SeeJaneFly. Coming soon… 11/16/2010.
– – – – – – – – – – – – – – –
Sharlene Earnshaw (aka doubleadventure) is Blogger-in-chief for Trekaroo and the blogger behind Double the Adventure.

Travel with kids to: CA | CO | DC | FL | HI | IL | MA | NC | NY | OR | PA | TN | TX | VA | WA