-Both Debi Huang (GoExploreNature.com) and Michele Whiteaker (FunOrangeCountyParks.com) are travel hungry 2011 Superoos who have taken to adventuring together on monthly outings somewhere in between Debi's home base of Los Angeles and Michele's in Orange County.
The hustle and bustle of Los Angeles is often the only side of the city that families on vacation get to see. However, we are moms of kids ages three to nine and we prefer adventures on the wild side of LA – away from most tourists and smack in the middle of California's best parks and nature centers. Here are a few of our favorite places to explore.
No visit to Los Angeles is truly complete without a trek to see at least some of the gems hidden within Griffith Park. This sprawling 4,200-acre landscape is a dream in the otherwise urban jungle of L.A. While there is a lot to see and do within the park, one of our favorite sites is the Griffith Park Observatory, a national leader in public astronomy. Here you can watch a star show, see the sun through a solar telescope, touch a meteorite, weigh yourself on Jupiter and more. All for the best price in town: Free! And don't forget to check out the amazing view of the entire city while you're there.
For a more outdoorsy experience, head over to the Western Canyon entrance to Griffith Park, where you'll find a gem of a place to play at Ferndell Nature Museum. This place is home to some 50 fern species set under cool cover of California sycamores. The entire museum spans about one long city block and features a paved, windy trail lined with tropical plants, and flowers aplenty. Before you leave, head into Griffith Park's Western Canyon entrance (located in front of the Ferndell parking area) – kids will love scrambling on the rocks found in the dry creek bed running along the perimeter of the park. Plenty of scenic picnic spots await.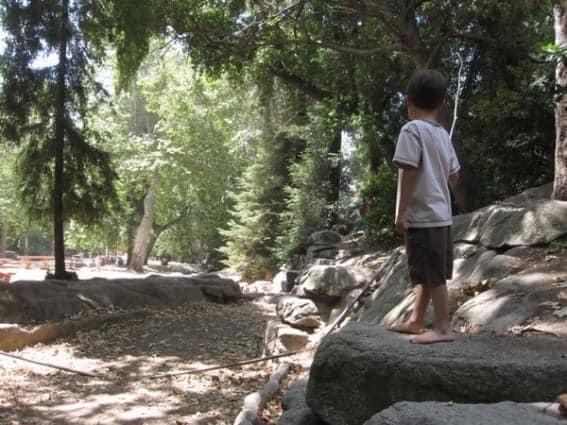 Franklin Canyon Park is a scenic destination between Beverly Hills and the San Fernando Valley with the Sooky Goldman Nature Center serving as a centerpiece to family-friendly hiking trails. There's a 3 acre lake below the Nature Center and a hidden duck pond where they filmed the opening sequence of the Andy Griffith Show. Talk to a ranger at the Nature Center about which hikes are appropriate for your family and time schedule. We did a whole loop around the entire park with lots of water breaks and photo opportunities. It felt big, but only took us a little over an hour.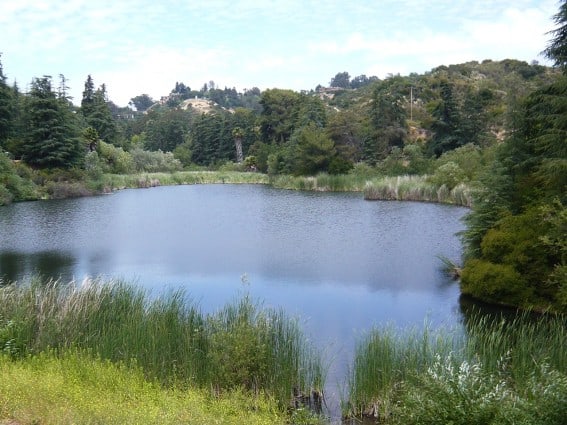 The Beverly Garland Holiday Inn in North Hollywood is a great choice of accommodations for on-the-go families visiting all the wild attractions nearby and in Hollywood (Universal Studios, Universal City Walk, Griffith Park Observatory, and the Los Angeles Zoo). Family-friendly "Dive-In" movies run all through the summer months at the outdoor pool on Thursday, Friday, and Saturday evenings. This hotel has comfortable rooms and it's in the heart of everything, but it's not a resort.  However, you can try to book one of 3 KidSuites or 2 Deluxe KidSuites to get room with bunk beds in a sectioned off area.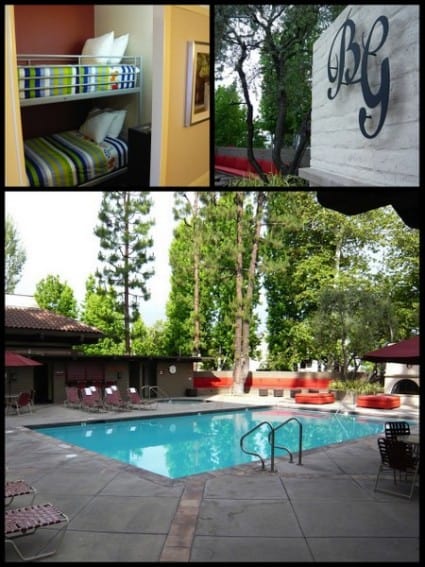 Disclosure: One of the authors received a complimentary stay at the Beverly Garland Holiday Inn in order to complete an unbiased review. The hotel did not request that any specific opinions be expressed.
___________________________________________________________________________________________________________________________________________________________
Travel with kids to: CA |CO | DC | FL | HI | IL |MA | NC | NY | OR | PA | TN | TX | VA | WA