Growing up in Pennsylvania, I never really took the Pocono Mountains seriously as they were somewhere we could go ANYTIME. I wanted to go somewhere GOOD — somewhere far away and amazing! As the years passed and I heard people planning their honeymoon destinations here or arranging family reunions and long vacations, I looked a bit more closely, and I was shocked. These mountains ARE good. This destination IS amazing! From the simplicity of nature in its truest form, to fascinating points-of-interest, incredible indoor and outdoor activities for the whole family, great places to stay, and good restaurants and friendly people, the Pocono Mountains have it all. Sometimes the greatest treasures of all are right under your nose. You really just need to slow down and look. My family had the opportunity to do just that in the Poconos and we loved what we found here. Come discover the Pocono Mountains with kids!

The Poconos Mountains are great destinations all year round. Whether you're looking for a winter getaway or a summer breather, this locale had something for you. It's also great for all kinds of families, as there are activities galore for all ages and abilities. Looking for a quiet place where you can turn off technology and tune into nature? Treat yourself to a hike or picnic in Hickory Run State Park. Perfect for a day of enjoying nature, my family loved making our way through the woods, inspecting the creek for wildlife, fishing, splashing, soaking up the sun, and swimming in the lake. It's the perfect combination of activities and outdoor fun to wash away the cobwebs, and make some serious family memories. After your day of play, look into staying locally at the beautiful cabins of Mountain Springs Lake Resort. Here you'll bask in the simplicity of life by the lake. It has just enough amenities to feel like home, but none of the distractions. Take a deep breath and relax on the porch with a glass of lemonade. Take your kids fishing or hike the nearby mountain trails. You'll feel your stress melting away.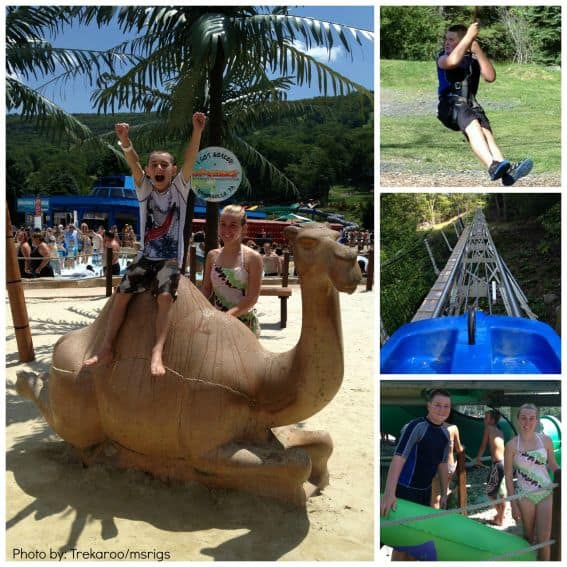 If your family likes a more active vacation, there are always Camelbeach Waterpark and CBK Mountain Adventures, Pocono Whitewater Rafting, and Outback UTV Tours just to name a few. These activities are great ways to let loose and enjoy some active family fun. When my kids and I visited Camelbeach, we loved the wide variety of water rides. From slides to tube rides to the wave pool, there was so much to do! Whether we were interested in a water thrill ride or just sitting by the pool and soaking up some sun, there was a chance to do it all. It was a great way to spend a hot summer day!
When you've gotten tired of the water park, CBK Adventures is nearby to offer up some dry fun. We tried our hands at ziplining and the Mountain Coaster and loved the fun factor on each one. Kids over the age of nine as well as adults can enjoy a ride down the mountain on the coaster, where the rider controls the speed to match his/her thrill-level. Ziplining was perfect for those of us looking to catch some speed. Once secured in, we were able to zip away, laughing all the way to the end!
For those with their hearts set on something a little different, I recommend heading to nearby Pocono Raceway, which is great for race fans and car enthusiasts.

If you're too tired to drive home, the Poconos offers a variety of camping options such as Mount Pocono Campground where you can share s'mores and tell stories by the campfire. There are also many inns and B&Bs for a more pampered stay. The Pocono Mountains offer many shopping and dining options as well as some sweet shops along the way if you're interested in treating yourself, and who wouldn't want to do that!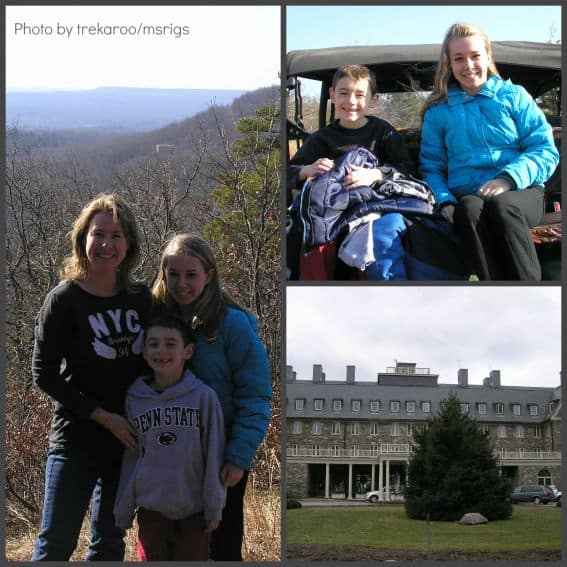 In the winter, the Pocono Mountains offer options for skiers at Camelback Mountain, lodging at places like Skytop Lodge, and a multitude of activities such as dog-sledding rides, ice skating, and more.
Winter, Summer, Spring or Fall, you'll love the simple beauty, wealth of activities, great dining options, and comfortable lodging you'll find as a part of this beautiful area. So now when my family is looking for something fun to do we know we head to the Poconos to do something AMAZING!
Been to the Poconos with your kids? Share your tips and ideas in the comments below.
Disclaimer: Lodging while in the Poconos as well as some restaurants and activities were complimentary. I received no other compensation and the business owners did not state any requirements that I express a particular point of view. The opinions I express are entirely my own.