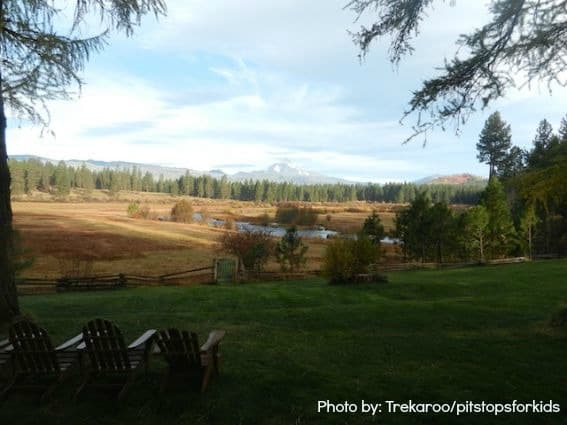 When we found ourselves with a four-day weekend in the middle of October, we knew we needed to escape the back-to-school schedules for some R+R as a family. We choose Central Oregon's House on Metolius. This fly fishing and hiking lodge is literally located 'over the river and through the woods,' but instead of arriving at Grandma's house, we found ourselves at the perfect retreat for a fall family getaway. The first thing we did after making our reservation is throw away our car navigation system. (Ok, fine, we just left it at home. I have a flair for the dramatic.) GPS is pretty useless at finding the wooded property of House on Metolius, tucked along the Metolius River near Camp Sherman, ten minutes outside of Sisters and 45 minutes from Bend, Oregon. Instead, we diligently followed the directions emailed to us by House on Metolius staff…and still got a bit lost. We finally made it after winding along several mountain highways and forest service roads (and through more than one ranch gate) to the resort.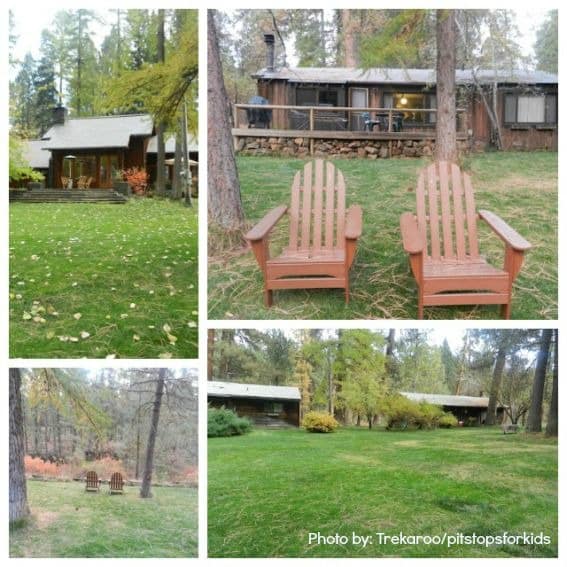 We booked one of five cabins on-property. House on Metolius also has lodge rooms as well, but we wanted to make use of the cabins' full kitchens and extra bedrooms. Our Gorge Cabin slept 4-5 with two bedrooms and a pull-out sofa sleeper in the living room. Like the other cabins, the Gorge Cabin has a full kitchen and dining area, back deck, fireplace, and BBQ. The kids loved that they could go out our front door to a long, sloping lawn past the other cabins to the river and a wide meadow. I loved that Adirondack chairs are set up at various points along the lawn for sweeping views…of both the river and the kids playing.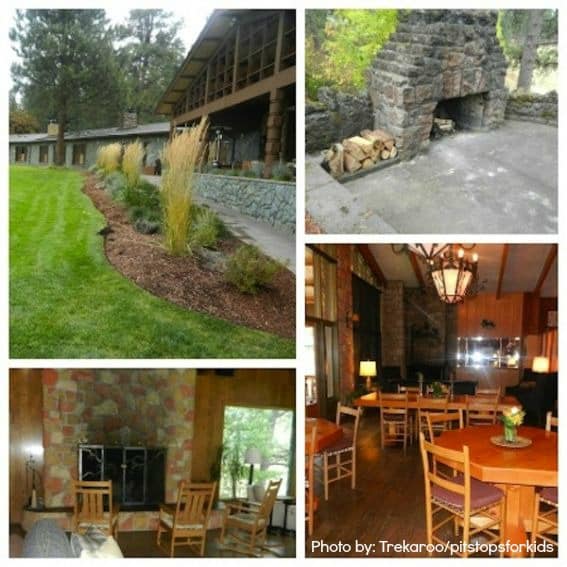 Our first impression of House on Metolius was of the awe-inspiring outdoors. Our second was of the peace and quiet: this is not a bustling family resort. There's plenty to do at House on Metolius, but it maintains a slower pace and calming atmosphere. Kids are welcome, and will love exploring the woods and meadows, playing croquet on the lodge lawn, and running over the several foot bridges and along the cinder dirt roads, but will be equally enticed by a board game by the fire, a fishing pole and line, or wildlife viewing.
Outdoor Activities 
Fishing:
From the cabins at House on Metolius, families are literally steps from the Metolius River and adjacent hiking trails. Fishing on this section of the river is limited to fly fishing only, but if you need equipment, fly fishing gear and fishing licenses can be bought at the Camp Sherman store only a few miles away. We loved the easy access to the river: our boys could set out just past dawn and post-dinner for short fishing sessions instead of longer half or full day sessions off-site. Note: if you want to bait-reel fish, it is permissible just seven miles downriver at the Lower Bridge.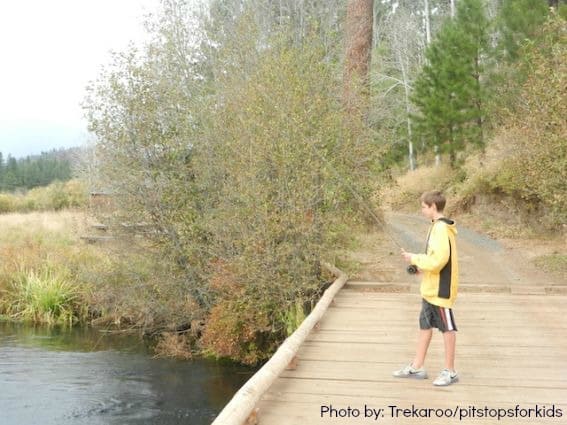 Hiking:
In addition to fishing, families can hike directly from the House on Metolius property, heading downstream toward the Wizard Falls Fish Hatchery (2.7 miles) or even all the way to Lower Bridge (6 miles). From Camp Sherman, families can start at the head of the Metolius River and hike downstream, or can drive back to nearby Highway 20 for a short accent from the Upper Trailhead to the top of Butte Peak.
Kayaking:
Plenty of lakes are located nearby for kayaking well into fall. Nearest to House on Metolius is Suttle Lake, which offers its own marina and kayak rentals (in season). For a more adventurous excursion, we joined Wanderlust Tours for a kayaking trip into the Cascade Lakes (approximately 1 hour from House on Metolius past Mt. Bachelor Ski Resort). Our kids rated Wanderlust Tours 'best kayaking to date', and I agree: the guides were professional and fun, and Wanderlust took care of everything from transportation (they pick you up at either your resort or a convenient Bend location) to equipment (you could spend half a day getting all the stuff you need to kayak!). During our tour, the rain fell in a soft drizzle, but our guide was so enthusiastic, and the remote scenery of the Cascade Lakes so breathtaking, that we barely noticed the cold. We loved that Wanderlust took us to a lake we'd never have experienced on our own (it was accessible only by boat) and that the experience was so serene (Wanderlust is the only operator permitted to tour this region). Their tours are half-day, giving families plenty of time to grab lunch and be back at House on Metolius in time for an afternoon hike or board game session by the fire.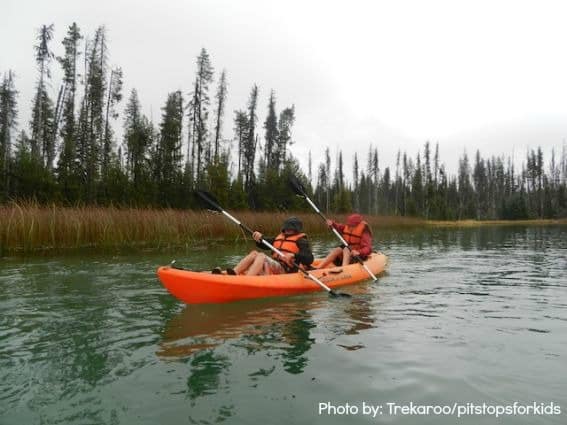 Dining and Amenities
Due to circumstances beyond their control, we were unable to experience dining at House on Metolius. This worked for us just fine, as we had everything we needed in our kitchen to make our own meals. The lodge dining room is generally open to lodge and cabin guests for dinner by reservation, and lodge guests enjoy a complimentary continental breakfast every day at 8:30 am. Lodge guests also have access to the cozy lodge sitting room (with coffee service and freshly-baked cookies), and cabin guests can enjoy this as well when the doors are open. The wide deck and outdoor fireplace at the lodge is open to all.
Groceries can be purchased in Sisters, or at the Camp Sherman store (which has a nice wine selection and all the makings for s'mores…what more do you need?). Wifi is complimentary in the lodge and cabins at House on Metolius, though cell service is spotty at best. I simply turned off my phone, and was glad to do so. Plenty of firewood is at your disposal, and hand-carts make unloading the car fun for kids.
After two restful nights at the House on Metolius, we were not ready to leave. Next time, we'll have to book a leisurely week stay in summer!
Read my full review of the House on Metolius or book your room today.
We experienced the House on Metolius and the Wanderlust Tours kayaking excursion as guests of the resort and the tour company, in order to bring this first-hand account to Trekaroo. While we appreciate the hospitality of Central Oregon, this compensation came with no expectation of a positive review.