At Team Trekaroo, we work around the clock building the most comprehensive resource to help families explore and travel with kids. This blog, The Talking Trekaroo started off as a diary of the joys and trials of making our dream into a reality. As Trekaroo's grown, our dream is to make this blog into the headline news of what's going on in the world of traveling with kids.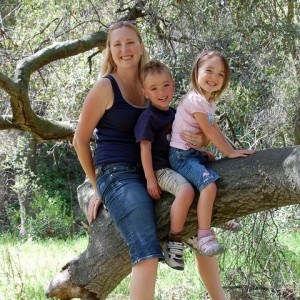 Since none of us have the ability nor the talents to build a blog, we've been lucky enough to get Sharlene Earnshaw to join the team as Editor-in-Chief of Trekaroo's Blog. For those of you who don't know Sharlene, she's the beautiful mind behind Double the Adventure. We all know that traveling with kids is an adventure, but when you've got twin toddlers like Sharlene, it's definitely twice the fun!
Top 3 things to know about Sharlene:
Sharlene's all about overcoming challenges and helping her kids explore the world. The main reason she started hiking so often is because her son is on the autism spectrum (he has Pervasive Developmental Disorder) and had an aversion to walking on anything besides sidewalk outside. That wasn't going to stop Sharlene from traveling with her son to places other than the big city. Sharlene started going places to walk on as many different surfaces as possible, so he wouldn't fall into the patterns that so many autistic kids do. Now he loves to travel, is still a little worried about some surfaces, but will trust his Mommy as long as she holds his hand, and has made huge strides in every aspect of his development.

The picture above is from Inspiration Point at the Grand Tetons. Her twins (2 1/2 years old at the time) climbed up there all on their own. That already warrants a WOW and knowing the background behind it all… Double WOW.
She's a National Park fanatic. I knew that Sharlene was adventurous, but I had no idea that she's already taken her twins to 9 national parks and they're only 3. I'll spare you my age, but I've only been to 2 National Parks my entire life! If you ever need any information on national parks, just ask Sharlene.
Sharlene and her family have been selected by Country Inns & Suites by Carlson to participate in their big summer promotion. It's still in stealth mode, but think Amazing Race meets Double the Adventure in the Midwest. If you want to get the juicy details, subscribe to the Trekaroo blog and follow the Earnshaws in this fun summer promotion.
Feel free to reach out to Sharlene if you:
Have a giveaway or deal that you'd like to offer to Trekaroo families
Want to be a guest blogger
Have a blogpost about an adventure with your kids that you'd like to share
Tickets to a 49ers game
Please join me in giving Sharlene a warm welcome. She's a total blessing to the Trekaroo team.
Happily,
Esther
– – – – – – – – – – – – – – –
Esther Lee is co-founder and CEO of Trekaroo – a reviews site dedicated to exploring and traveling with kids.

Travel with kids to: CA | CO | DC | FL | HI | IL | MA | NC | NY | PA | TN | TX | VA | WA