I remember my first snowy Christmas.  It was when my husband and I first moved to Colorado Springs just after our wedding 10 years ago.  We visited a local hotel there and were amazed at the ice sculptures and train displays.  I couldn't imagine anything better… until now!   My family and I were blessed to spend a few days at the Gaylord Texan and experience a resort that does so much more than decorate for Christmas; it brings fantasy, theatrics, and whimsy together to create the ultimate family getaway!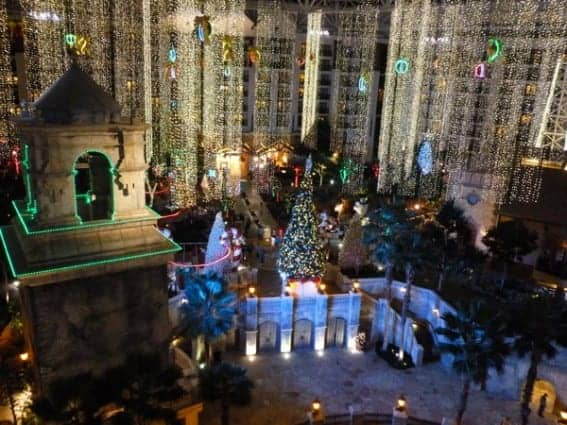 The moment my family and I stepped into the lobby of the Gaylord Texan, we knew we were going to have a good time.   The lobby opened up into a massive atrium filled with giant soldiers, over 52 rotating Christmas trees, several train displays, toy soldier stilt walkers, balloon makers, over 1.5 million Christmas lights, and so much more.  We loved walking inside the giant gingerbread house which smelled oh, so sweet, visiting Santa, and shaking hands with Dreamworks characters like Shrek, Puss & Boots, and King Julien!   The atrium's winding riverwalks were each unique and my children loved looking at the fish and spurting fountains.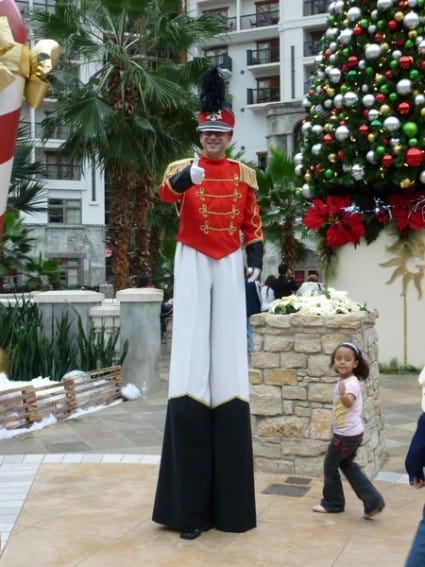 The very friendly bell led my family and I to our adjoining rooms which had amazing views into the atrium.  We opened the balcony doors and instantly felt connected with the energy and excitement of our surroundings!  The rooms themselves were large and immaculate, one with a king bed and one with two queens, but each with a flat screen tv, dark wood, light walls, and upscale Texan décor.  Altogether, it was breathtaking!
Each year, the Gaylord Texan puts on a spectacular display called ICE!, and this year they joined Dreamworks Animation for an unforgettable attraction!  With special artisans flown in from Harbin, China, 2 million pounds of ice, and a temperature of only 9 degrees, it took a month to put together this wintery wonderland in which Shrek learns the true meaning of Christmas.  The ICE! tent also includes giant ice slides, a Christmas light display put to music, a video about the making of ICE! and a breathtaking nativity scene made of crystal clear ice.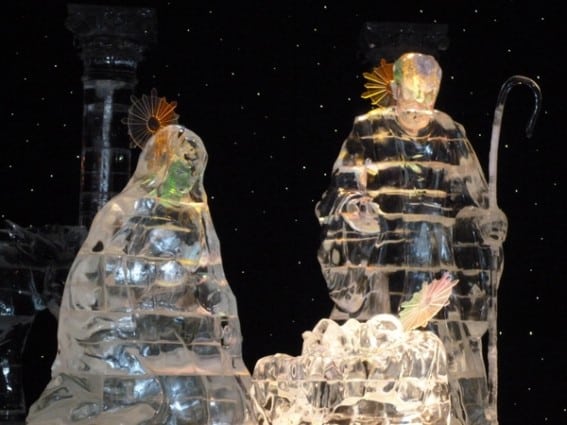 In the room next to where ICE! takes place, join Kung Fu Panda's Po for indoor snow tubing with occasional Po sightings.  I had as much fun as my children did grabbing an inner tube and sliding down the snow covered slopes!   Next to the slides and past the gift shop, you can meet Shrek in his home or get a piping hot cup of cocoa.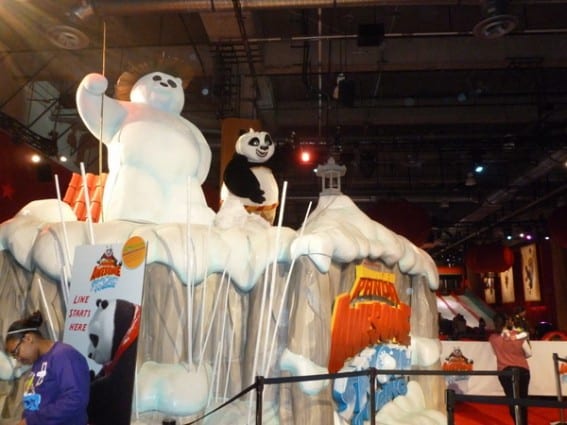 The Gaylord Texan is such a unique and fun experience, you'll want to make this visit an annual tradition…I know we do!  From the immaculate cleanliness of the resort as a whole and the overwhelming displays and creations, you will never be bored and will never want to leave.  Start making those plans for Christmas 2012!