My daughter didn't want to ski. No way, no how, she wasn't having it. Mari isn't exactly the type of kid who is eager to jump at the opportunity to try something new. After all, it did take her 12 months to become brave enough to go down the big slide at her preschool's playground. Ben, however, was more than ready to hit the slopes. From the moment I first mentioned ski school, he was on board and ready to go. Twins are funny that way. Together since the womb, but so different in so many ways.
Unfortunately for Mari, she has a mom who doesn't give in very easy. My kids had the opportunity to go to ski school at Mammoth Mountain and dangit, they were going to try it. I likened ski school to vegetables- try it first and if you don't like it, then we'll talk. So we headed to the main lodge at Mammoth to check in, rent our equipment, and get this party started.
I must have heard "Mommy I don't want to go to ski school" come out of Mari's mouth no less than 25 times as we fitted her skis and strapped on her boots and purchased some last minute goggles to slide over her helmet. Over and over I explained that she was going to be on a little hill with little kids who are all learning to ski for the very first time. My words didn't seem to hold much weight with my very stubborn four year old. She moped and whined, knowing all the while that she was not going to win this battle. Soon the kids were all set to ski and joined a bunch of other children who were getting ready to learn the ropes on the bunny slopes. I gave them each a kiss, listened to one final plea from Mari, and then went to hide in a viewpoint out of sight.
Their teacher, a twenty something who just had that "I live on the slopes"  type persona. She was in charge of the twins and another little girl who was learning to ski for the very first time. At first, the kids learned how to walk in one ski on relatively flat land. Both of my kids seemed to pick it up pretty quick, the other little girl had no such luck. Then they added a second ski and began waddling around. The other poor girl couldn't seem to figure out how to stand with two long slabs attached to her feet. She appeared to be a little young and just didn't have the coordination quite yet. After 15 minutes of unsuccessful attempts, another instructor took her inside to play. Meanwhile, my kids had become ski walking pros and were practically begging to get on the magic carpet which took them to the top of the small slope in the instruction area. They rode down the slope one at a time, with the instructor holding their hands and guiding them into making a "pizza wedge" so they could learn to stop.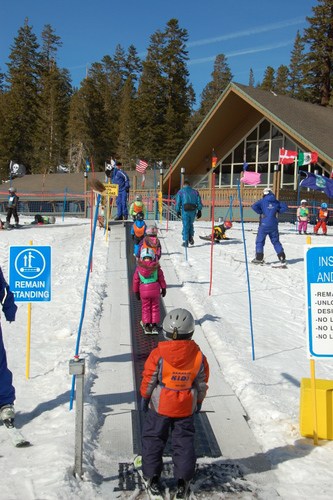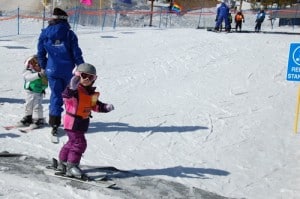 After a few runs, they headed inside to grab some hot chocolate and a snack. I ran to check in with them before they headed inside. Mari was the first to see me and greeted me with an exuberant "Mommy I love skiing!"  Success!
Read reviews of Mammoth Mountain Resort on Trekaroo.
After snack time and a ride on the scenic gondola, the kids came back to finish their lesson. By now, they were smiling ear and ear as they skied for a few seconds at a time without the instructors hands on theirs and constantly yelling back at me to make sure I saw just what skilled skiers they had become.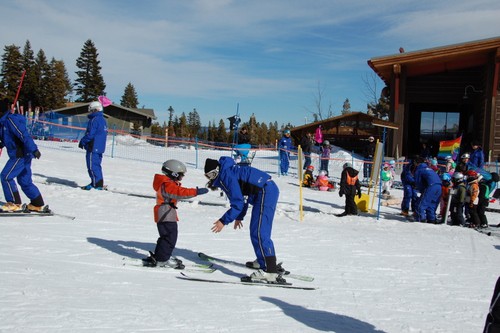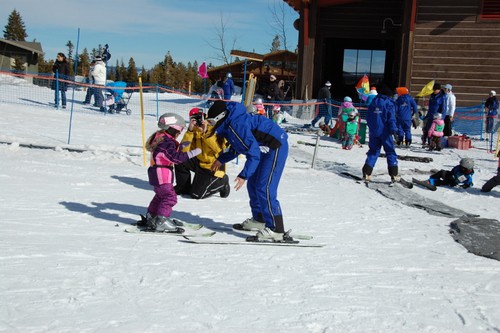 My biggest regret is that we had only scheduled one half day of ski school into our itinerary.  The kids beg me to take them skiing again every time they see snow on the television. Next year, I plan on putting them in two full days so that they can fully grasp the concept and be ready to hit the slopes with their dad. Who knows, maybe next year I will join them on the bunny slopes. I think the instructors at Mammoth can even teach this old dog some new tricks.
Spring is the perfect time to find skiing deals and packages.  Looking for a great place to stay in Mammoth? Check out my review of the Juniper Springs Resort.
Disclosure: My kids received complimentary ski school at Mammoth Mountain so that I could review the program and write this story. Mammoth Mountain did not ask that I express any particular point of view and all the opinions I expressed were entirely my own.