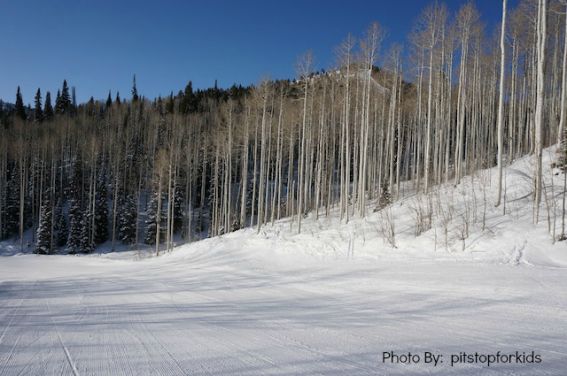 Here at Trekaroo, we are enthusiastic about family ski trips! Our reviews of The Canyons in Park City, Utah, include information on ski school, dining, and lodging at family favorite Grand Summit Hotel. But what if your older kids, tweens, and teens are starting to out-race you down the slopes? Read on to see what The Canyons offers skiing families with thrill-seekers in tow.  Also, learn how to capture these family ski moments on camera, even if you're trailing behind.
The Canyon's Expert Terrain
The number one aspect of The Canyons that I noted on my recent visit is the killer terrain. If you have advanced or expert skiers in your midst, they will be blissfully happy here. The Canyons has entire ridges devoted to gated tree runs like Condor Woods.  There are runs you have to earn with a hike in Murdock Bowl, and an entire lift (Ninety-Nine-90), devoted to black diamond runs. If you have tweens and teens who want to tackle this terrain, be sure they use the buddy system and follow all posted signage. Glades and steeps can close before end-of-day, based on safety conditions.
How to capture this terrain on camera: Click a Sony Action Cam to your dare devil's helmet or goggle strap, and watch the footage later from the comfort of your hotel room. Better yet, watch it as a family over dinner by downloading the video files directly to your smart phone!
The Canyon's Zip Tour Adventures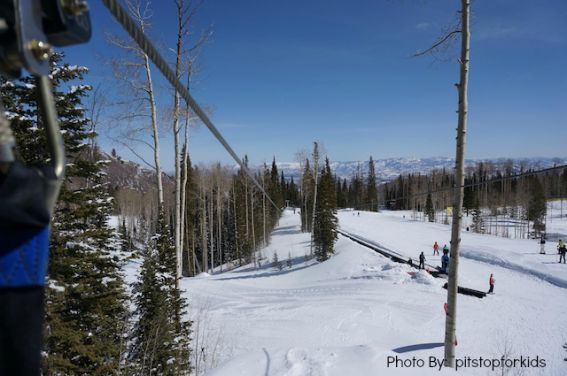 Kids as young as 10 years old will love the Canyon's Zip Tour Adventures, and parents love that it's located at mid-mountain adjacent to the Red Pine Lodge. What does this mean? No one has to stop their ski day to take a ride on the zip lines! In fact, I rode in my ski boots. The entire process, from donning equipment to learning the ropes (no pun intended), to finishing your final zip line takes just a little over an hour.  And it packs a serious thrill!  Families start on a training line, then try the fun-but-not-scary Red Pine line. Lastly, they ride the Shortcut chair over to the Lookout Zip Line, spanning over 2000 feet. Parents who opt out can watch the fun on the Red Pine line, and see kids arrive at the end of the Lookout Line. The tours are reasonably priced starting at $20, and less-adventurous sorts can opt out of the final line.
How to capture zip line fun on camera: An action cam is hard to direct while you're zipping down a cable. (I made the mistake of filming my own hands the whole time!)  You'll want to use a sturdy point-and-shoot to hold out in front of you. The Sony Cyber-shot is rugged enough for the job, as it's dust-proof and waterproof.

The Canyon's First Tracks Program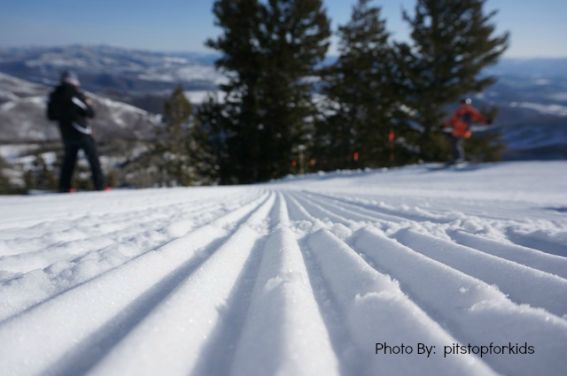 Kids are limited on this special Canyons opportunity offered on Tuesdays and Saturdays, but they are invited with an adult if they are an advanced intermediate to expert skier or snowboarder. First Tracks is the opportunity to hit the slopes earlier than the general public (starting at 7:30 am), and comes with the chance to ski or ride with one of The Canyon's Olympic Ambassadors. We skied with Holly Flanders of Lake Placid fame during our First Tracks experience, which was a treat! Teens will love the freedom of skiing untouched terrain, and you get the added benefit of being close to the glades and steeps when the additional lifts begin turning at 9 am. Plus, breakfast at Red Pine Lodge is included! First Tracks cost is $72, in addition to a lift ticket.
How to capture First Tracks on camera: I had a blast getting great shots during First Tracks, because the slopes are empty! I shot this image of unspoiled corduroy with the Sony NEX 6. Yes, I had to stop and take off my gloves to work this manual camera, but with plenty of time and no one to rush me, this was the opportunity to use it!
The Off-Site Utah Olympic Park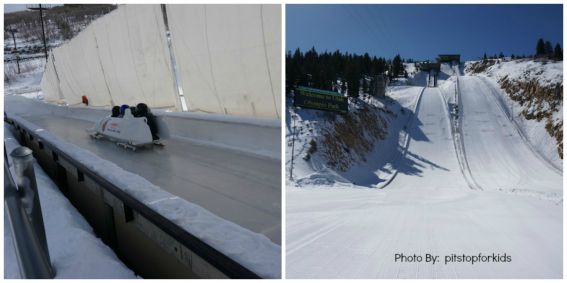 A short drive from The Canyons, Utah Olympic Park is well-worth a visit with school-aged kids and teens. A guided tour allows you to see not only the Olympic museum, but the sites of the high jump and bobsled runs. Trust me, just staring down them is a thrill! If you have a teen in your midst 16 or older, he or she can ride with you down the bobsled course behind a professional driver. This costly, but once-in-a-lifetime experience isn't for everybody.   This is a serious adrenaline rush! If you opt to watch, it's easy to walk down the track slightly to get a good shot before the first curve. If you're lucky, Olympic teams and hopefuls will be practicing on the jumping or sledding courses.
How to capture Olympic moments on camera: Sony's NEX 6 can zoom in enough (and offers the necessary shutter speed) to reward you with an action shot or two. Otherwise, take some stills of the park and its amazing views with a point-in-shoot.
Disclosure…This post was written with the help of Sony cameras, who taught me how to use an array of recording and photo equipment at The Canyons Resort. My stay at The Canyons was hosted for the purpose of review.