The Arizona Grand Resort in Phoenix, Arizona offers families amazing fun, breathtaking beauty and four diamond luxury. It sometimes feels difficult to put those fancy descriptive words next to "families" and "kids," but the resort pulls it off wonderfully.
I don't know about you, but sometimes my kids can be loud. Sometimes they whine and yes, they can even cry when they don't get their way. That being said, we've never let that stand in the way of travel, art and culture. My husband and I have been heading out to art museums and hotels with our kids in tow since they were born. However, there have been a few times when the reality of three little ones (all girls age 1-6) has come blaringly clear to other travelers and we have received those corner of the eye looks that seem to whisper that our children are to "be seen and not heard." I get this little wriggle in my stomach when this happens and start to doubt if my children should be allowed to view amazing art at age 5, or be in the company of high-paying guests eating extraordinary food. I also start to doubt my mom abilities to contain them or make them conform to a society who sometimes seems to view kids as an inconvenience.
While driving up the road into the Arizona Grand Resort, I felt my stomach wriggle a little again. The grounds were breathtakingly beautiful that I almost forgot I was in the middle of the desert. The mixture of water features, lush greenery, large mature trees, beautiful flowers and architecture signaled luxury, and I began to worry. The stomach wriggling came as my mind inserted my three beautiful, albeit bouncy and excited, children into this luxurious picture and imagined fellow resortees giving me that look of disapproval. On our drive out they were singing "If you're happy and you know it clap your hands," and I was just hoping that no one would mind if they continued to be happy, and yes, even clap their hands.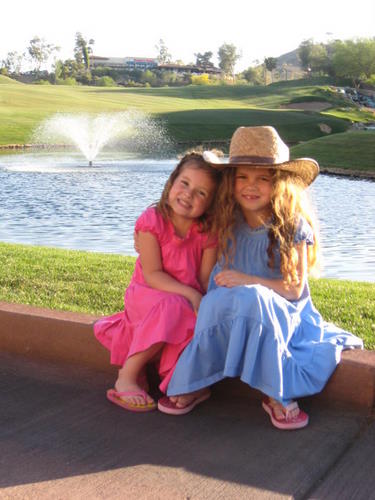 I was so impressed with this resort.
While stunningly beautiful, full of amazing amenities, and exceptional service, the resort is far from stuffy or pretentious. As I walked into the lobby, all of those wriggly stomach feelings began to melt away. The lobby looks like an oversized version of your own living room (although slightly more picked up than mine). Large, comfy couches are grouped together in seating patterns around fireplaces and coffee tables. The golf course backs up into the walkthrough patio with a small lake and fountain providing a peaceful lullaby. Families, even with small kids like mine, were gathered around these tables and chairs eating, talking and laughing, just as if they were at an amazing home away from home. My fears dropped even more as I interacted with hotel staff who seemed so pleased to welcome so many families to their resort. They went out of their way to welcome even the smallest guest and many of the staff stopped to talk to my kids and ask them if they were having a good time.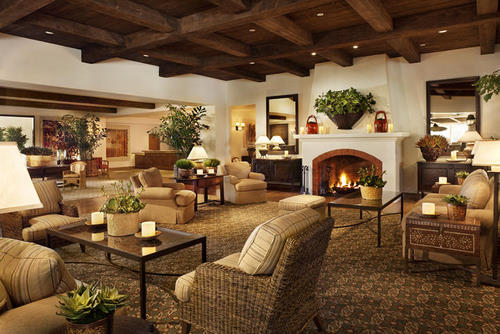 Our room was also amazing and just as family friendly. It was luxurious with fantastic linens and amazing lighting, but it also was decorated in way that was so approachable and comfortable that you really felt you could put your feet up (or jump on the beds as my little ones did!). All of the rooms at The Grand are suites with at least one closed off bedroom and a pull out couch in the living room. The kids were so excited to have their own room and as much as we love to take our kids with us everywhere, it was nice to have a quiet place to lay our heads as well. The mini-bar was available, but came with a key so you didn't need to worry about your kids accidentally seeing (and then wanting, needing, pleading for that $5 bag of candy). Room service even offers a great deal on a family pizza dinner (with drinks & bread sticks) for under $30!!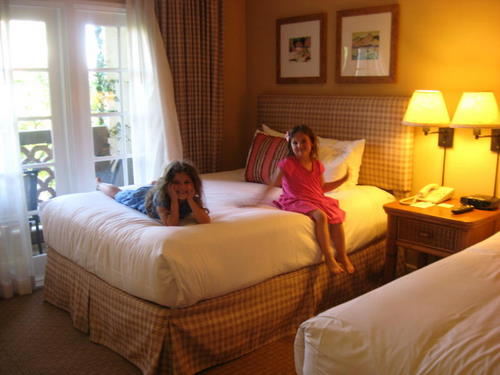 The Marketplace Café inside the lobby also had some great deals on some quick and easy breakfasts and lunches that made things easier with the kids. Instead of spending our time waiting for breakfast at one of the many outstanding restaurants on the property, we grabbed some milk and boxed cereal and ate in our rooms to get a quick jump on the day. This café and nearby gift shop also had lots of little things you might have forgotten to bring on your trip and this could save you a trip out of the property to the grocery store.
All of the restaurants on site (there are five!) have kid's menus with options suitable for even the most pickiest of eaters (I can say this with certainty as I am well acquainted with this species of child). I had the chance of eating at two of the restaurants on site: Aunt Chilada's and Rustler's Rooste- both of which I  recommend to families.
Read my full reviews of Aunt Chilada's and Rustler's Rooste on Trekaroo.
The grounds are also set up with kids in mind. There are nooks and crannies with things like ping pong tables and small games to play throughout the resort. The Grand has an amazing private waterpark with everything you could ever want or imagine for you and your kids. There are three giant slides for kids 48" and up, a huge wave pool, an active (faster than lazy) river, splash zones for little ones and a full restaurant and bar on site for your convenience. There were plenty of servers keeping guests satisfied wandering the premises, and the 13-17 trained and certified lifeguards on staff at any time were keeping a close watch on the kids so that the adults could relax a bit too. The waterpark features some awesome activities during peak seasons including concerts, dancers, and "dive-in" movies. In addition to the waterpark, there are pools in the courtyards near each building that offer later hours of swimming as well as a few adult only pools.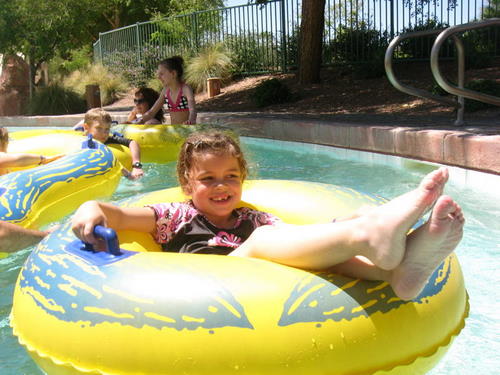 If you do want a moment to relax without the little ones, you can feel certain that they are in good hands with either the Grand Adventures Kids Club or the in-room babysitting that is available. The Kid's Club is for your school aged kids (5-12) and features crafts, games, hikes, activities and snacks to keep them not only busy, but thoroughly entertained. Reservations are required for both and there are fees associated, but the price might just be worth it for a moment or two of pampering at the spa, a romantic dinner, working out at the gym, or even your own chance to be that cuddly couple in love at the adult only pool!
I was so pleased with the resort's friendliness to families. By the end of our trip, instead of shushing our little ones, we were all singing "If you're happy and you know it clap your hands!"  And we did!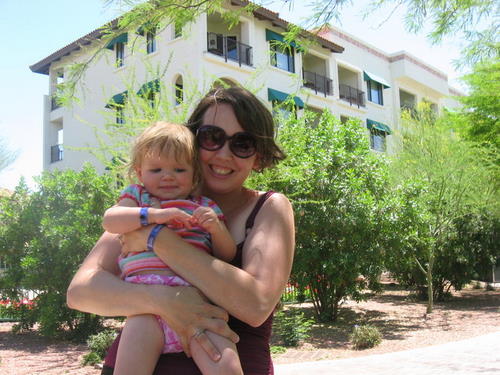 Disclosure: The author received a complimentary stay at The Arizona Grand Resort in order to complete an unbiased review and this post. The resort did not ask that any particular opinion be expressed.