Happy Thanksgiving! All of us at trekaroo extend our warmest wishes to you this Thanksgiving season. We are truly thankful for you. Thank you for contributing to the grassroots community of parents, grandparents, teachers, and caregivers who make up trekaroo. And we are thankful for the daughters and sons who inspire us, whom we seek to guide, love, and care for.
Thanksgiving is a wonderful time to reflect on what we're thankful for, whether it be friends and family, a piping hot turkey with gravy, beautiful fall colors, or a roof over our heads.
And what comes after Thanksgiving? Well, Black Friday of course. During the unofficial kick-off to holiday shopping season, the masses rise before the crack of dawn and wait out in the freezing cold seeking to find the best deals on clothes, electronics, toys, and more.
I get just as excited as the next person about a great deal, especially if it's a purchase I've been mulling over. However, this year as a family we've decided to take a step back from the shopping madness.
We're truly thankful for what's important in life. And I think we can all agree that the people in our lives are most important. Family, friends, and experiences with one another. So this Thanksgiving, Christmas and holiday season, think about gifting experiences and buying locally. What does that mean? Studies on consumption show us that people are happier when they have experiences instead of obtaining material objects. Buying locally helps our economy and neighborhood small businesses.
So we encourage you to think differently this year. Give experiences and mix it up with the purchase of local gifts. Give a "gift" of a hike, or a picnic to the beach, a trip to a National Park, or a gift certificate to the local go-kart racing place. Support local businesses. Buy a locally made hand-knit sweater from your local shop on Main Street, pick up baked goods from the farmer's market, or buy someone art classes. Hire a local worker to do yard work, or carpentry, or to tune-up a car, or fix a friend's computer. Give an overnight stay to a local hotel or bed & breakfast.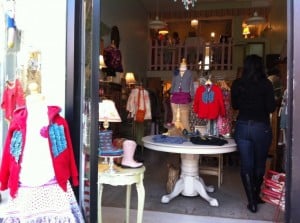 And don't forget the neediest among us. Try volunteering at a soup kitchen as a family, or singing carols at an elderly home, gathering clothes for a non-profit, or just stopping for a minute to greet the homeless guy on the street and buy them a cup of coffee.
After September 11th, we had a nationwide campaign of, "America Open for Business". In our down economy today, we can each do our part to help. This holiday season, let's band together and occupy Main Street. We're thankful for you. You are America. Keep on keeping on and keep on trekarooing.
Find experiences, activities, hotels, and local businesses at trekaroo »
---