Happy Thanksgiving and to all of you!  We hope that you're having a gobbly fine day.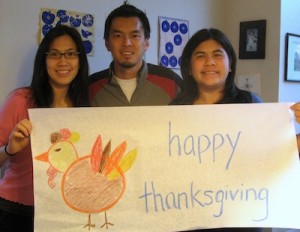 Brennan and I have so much to be thankful for this year!
Wonderful Co-founders.  The journey of starting a company is full of highs and lows.  It brings out the best and worst in all of us.  I am thankful to have co-founders who not only share a common passion, but common values and faith.  A cord of three strands is not easily broken. (Ecc 4)
67 cents from our 6 year old. I am thankful for the 67 cents our 6 year old gave us from his piggy bank to be invested in Trekaroo.  It showed me how much he cared about helping us and being part of our dreams.

Manna. God has provided consistently for our daily needs. I am thankful that this provision gives us hope that while this journey feels long that we do not walk it alone.
Mazda 5 and Guardian Angels. We were in a major car accident and totaled our brand new Mazda 5 on a very very foggy day, but we all survived with just bruises and minor fractures.
The Humor of a 3 year old. Our 3 year old gives us daily doses of laughter with his awesome sense of humor.  It keeps things light-hearted around here.
Folks who love on our kids. Without the help of grandma and friends who love on our kids while we are working on Trekaroo, we could not have dedicated so much energy towards Trekaroo.  I am so thankful that I can leave our children in the care of family and friends who enhance their lives and put such joy in our lives.
Supportive Family and Friends and Trekaroo families. We have had so many people come alongside us in building Trekaroo.  From folks who have helped us financially, to those who have spent countless hours writing reviews, adding photos, and cheering us on, I am so humbled by your generosity and grateful for your support.
Sisters. I am so thankful to have sisters who I trust and enjoy so much.  It is a rare and precious gift especially because we all live miles and miles apart from each other.