Happy Thanksgiving!
One of the things I'm most thankful for this year are the many like-minded families I've met through Trekaroo.  Not only do we share a common case of wanderlust, I've found so many inspiring families right here.  I'm inspired by the families who face cancer with courage, and find healing in their travels. I draw hope from the families who brave the challenges of traveling with a special needs child firmly believing that travel is therapeutic.  I am challenged by the families who's travels have given them a perspective on social justice that they are actively imparting to their children.
No matter how you travel, I firmly believe that a family cannot travel without being changed.  Not only do we draw closer as a family through shared experiences, our hearts and minds are opened.  Travel helps us become more understanding of people who are different and we develop a greater capacity for compassion.  This year, Trekaroo and A-List Mom Travel have put together a Holiday Gift Guide for the Giving Family. We've also partnering with four excellent non-profit organizations –  Unicef, World Vision, GreaterGood.org and Free The Children to bring you some of our favorite items from their gift catalog.  Each item is handpicked and chosen because they are easy for kids and parents to connect with in a personal way.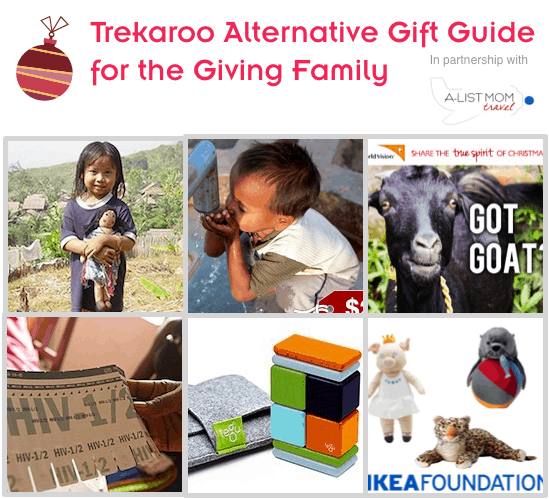 As you remember all the many things we have to be thankful for today and brace yourself for the biggest shopping day of the year.  Take a moment's pause, and consider doing something a little different this year.  Why not, give your family an inspired gift like a few adorable chickens for a child in need, clean water for a person for life, or dolls for refugee children.  You might even want to sponsor a child through World Vision and give your child a pen-pal friend for the next 10 years.  Best of all, when you honor your child or loved one with one of these gifts, you won't be cluttering up your home with more stuff that you don't need.
We've also included a few companies that make fantastic products with social impact built into their DNA.  When you purchase Tom's shoes or sunglasses, or Tegu's beautiful magnetic wooden blocks, you'll love the quality of their product, but also feel good about bringing  about positive change around the world.
Passports with Purpose – Coming Nov 28!
Another way you can join us in making a positive impact on communities around the world is Passports with Purpose – the ultimate Travel Raffle of the Year, benefiting Water.org
Trekaroo is partnering with hundreds of other like-minded travel bloggers and companies to raise $100,000 to bring clean water to the people of Haiti.  Get ready to buy some raffle tickets and score some travel prizes you'll be drooling over.  We'll be announcing our super awesome prize with our sponsor Big Sky, MT on Nov 28 during the official Passports With Purpose kick off!
The Gift Guide for Giving Families is part of the Trekaroo and A-List Mom Travel's Family Travel Gift Guide and Giveaway.