All inclusive hotels are a godsend for families. Recreation options and kids' programming abound, and dining is stress-free. We love all-inclusives because in addition to eating what they want and how much they want, our three boys can eat when they want, allowing for flexibility when we have a busy itinerary that keeps us out late. During a recent visit to Mexico's Yucatan Peninsula, our family tried two distinct all inclusive options in Riviera Maya, each with amenities families need.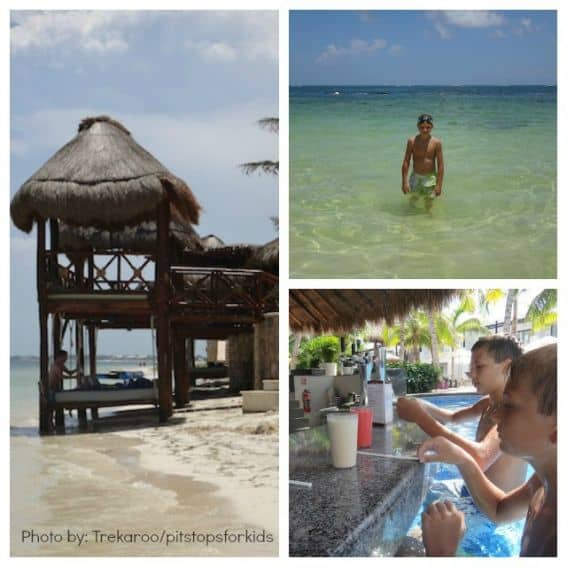 Azul Beach Hotel:
Located adjacent to the small fishing village of Puerto Morelos, Azul Beach Hotel is described as a boutique all-inclusive. What this means: 1. a higher standard of service, 2. gourmet inclusive dining, and 3. a smaller, more intimate feel. Oh, and the beach-front property is breathtakingly beautiful, too. It also means a higher nightly room rate, but what families receive in return is the feel of a five-star boutique hotel with the amenities of a family all-inclusive. Only 20 minutes from Cancun airport, Azul is ideally located if you plan to make trips back into Cancun for excursions or want to stay primarily on-site in Puerto Morelos.
Azul family suites and Azulitos kids' club:
Despite its intimate feel, Azul is a prime resort for families with kids of all ages. Our school-aged and teen boys loved the many pools and the beach area (and we loved that the grounds were small enough that they were never far away), and babies and toddlers are well-cared for as well.
Editor's Note: Since 2015, Azul Beach Resorts has partnered with Nickelodeon to offer the Nickelodeon Experience to resort guests. Onsite, families have unique opportunities to interact with everyone's favorite Nick characters including Dora, SpongeBob, and the Teenage Mutant Ninja Turtles. From slime smoothies to a Nick Toy Lending Library, themed meet-and-greets, character dining ops and even interactive Nick shows, there is something for every Nickelodeon fan.
Kids up to age 12 are invited to participate in the Nickelodeon-themed Azulitos kids' club, which offers activities all day long both in the clubhouse and around the resort. We appreciated the option of allowing our eight-year-old to sign himself in and out, so he could participate in the activities that appealed to him, then jump into a pool or find us at the beach when the mood struck.

We stayed in one of Azul's new family suites, which worked perfectly for our family of five (kids aged 8, 12, and 14). Usually, we barely fit in a room, but with the suite's pull-out trundle-bed configuration and king bed, everyone had adequate space. Privacy was hard to come by with the open floor plan, but the wide, shuttered windows from bathroom to bedroom to living space could be shut if needed. We had a small dining table and a large balcony with additional (and cozy) papasan chair seating, plus a complimentary stocked mini-bar and coffee service. The bathroom featured a jacuzzi tub and full shower, plus duel sinks. Our second-floor room overlooked the hotel's swim-up family suites with a pool view.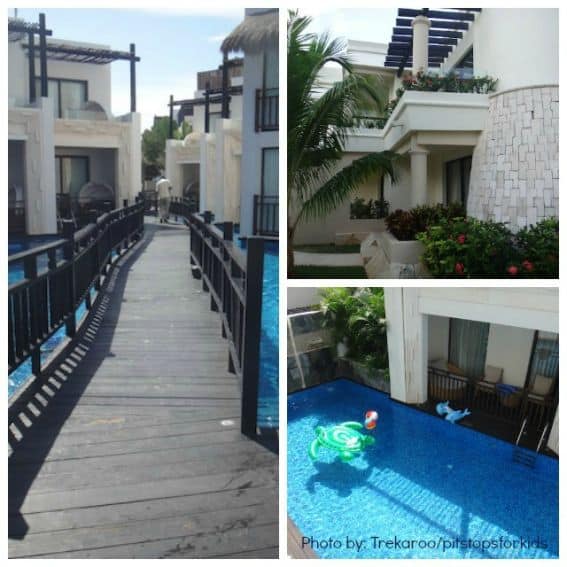 Azul grounds and amenities:
Buildings along the Riviera Maya are capped at three stories, which added beautifully to Azul's villa-like feel. The whole resort is very walkable; within 3-4 minutes families can walk between the beach and pools, rooms, and restaurants. The swimming beach is just steps from the main pools, and recreation areas (and events) are scattered throughout the property…no matter where you are, something is going on.
Our kids enjoyed the beach, but spent more time in Azul's fun network of pools. There are three beach-side pools adjacent to the beach restaurants (one with a swim-up bar), plus an entire system of pools surrounding the resort's many swim-up suites. In the center of this system is another large pool with swim-up bar next to the sports bar and ping-pong tables (the kids' club is near here, too).
While the kids swam in the pools, my husband and I spent the majority of our time beachside, enjoying Azul's beach beds and beautiful ocean views. Tip: to reserve one of the hotel's approximately 20 beach beds, join the line at the beach butler stand by 2:30 pm the day before. Beach beds are reserved at 3 pm on a first-in-line, first-served basis. The beds line the beach, and come with plenty of towels, sunscreen, drinks, and sand toys. (All the above can be requested individually from the beach butler stand as well.) If you don't get a beach bed, there are plenty of chaise lounge chairs to use, plus kayaks to use free of charge. Beach volleyball and soccer games are organized throughout the day, and a Hobie Cat catamaran can be reserved (complete with operator).
Dining:
Food at Azul is truly fantastic. We weren't 'foodies' when we arrived at Azul, but we might be now. The five dinner restaurants on site are intimate, with exceptional service and high-quality cuisine (it's called 'gourmet inclusive' for a reason). During our stay, four of five restaurants were open every evening (no reservations needed), with multiple lunch options as well. Forget about 'cattle call' buffets here: all dining experiences at Azul are small, quiet, and personal. In addition, room service is available 24/7. When we had a very early morning excursion to depart for, we were able to order a full breakfast at 5 am to our room.

Check for the best prices on Azul Beach Hotel on Booking.com
---
ClubHotel Riu Tequila:
Located down the coastline about 30 minutes from Azul in Playa del Carmen, ClubHotel Riu Tequila is an ideal home base for families looking to do a lot of outdoor adventure excursions throughout the Riviera Maya. The all-inclusive resort is within just a few minutes of the area's cultural sites, marine and ecological theme parks, cenote snorkeling, and adventure eco parks. Unlike Azul, Riu Tequila is not a boutique property, but its garden and jungle landscaping still offer a tranquil oasis during your vacation downtime. In exchange for a lower nightly rate, families are in walking distance of the beach (it's only a five-minute walk!), and service is not as personalized. We spent the majority of our time at Riu Tequila exploring the Riviera Maya by day, and dining and swimming each evening.

Riu Tequila property amenities and dining:
You'll see many other families enjoying Riu Tequila! The grounds are lush and pretty, with wildlife scampering about and bird song in the trees. The center of the property features a large swimming pool complex, with two free-form pools separated by a pool bar and Lupita, a lunch and dinner restaurant. Adjacent to the pools are an array of sports and recreation options, including ping-pong tables, beach volleyball, and organized fitness classes. In the water, games of water polo and water basketball are scheduled events.
The resort's kids' club, RiuLand, is housed near the pools and boasts its own playground and indoor facility. Best for young kids, RiuLand is open daily and allows parents to drop off and pick up at will. The beach is an easy walk away, in front of Riu Tequila's sister property, Riu Palace. Our kids loved the beach because our Riu wristbands gave us access to fun beachside recreation, such as kayaks and boogie boards. (Just look for the Scuba Caribe counter.) This Playa del Carmen beach does sport small waves, which added to the fun.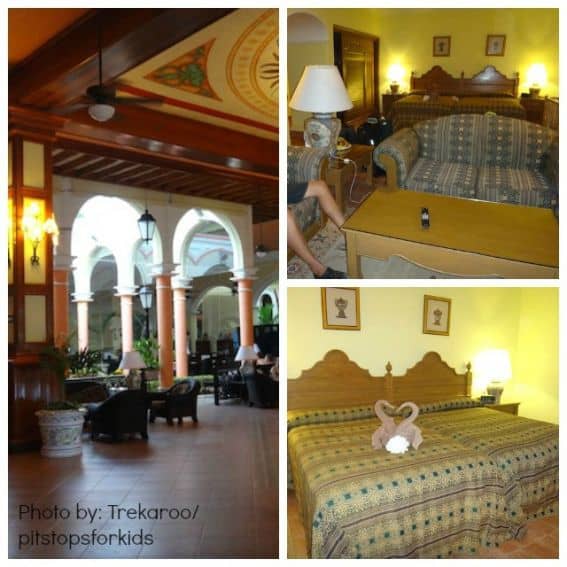 Dining at Riu Tequila is very casual, and we appreciated the extended hours of the main restaurant's buffet offerings (at Jalisco). After a long day of excursions, we could return and have a simple meal without a wait. Breakfast offers a mind-boggling amount of options, and lunch can be found easily either poolside at Lupita or beachside at Beach Club. Of course, snacks, smoothies, and drinks are all-inclusive all day long. The kids loved the ability to jump out of the surf and scoop their own ice cream cone at Beach Club, then return to the water! If your family isn't the buffet type, reservations can be made at 2-3 additional restaurants on-site (depending on the season).
Riu rooms:
We stayed in a junior suite at Riu, which offered enough square footage for our needs. Families of five also have the option of booking two rooms, which would give them two bathrooms and more beds. If you have teens, this may be the way to go. Families with babies can request cribs to the room, and space is not an issue. Private balconies look out over jungle views or pool/grounds views, and rooms are quiet. In room fridges are stocked with bottled water, soda, and beer, and in-room liquor dispensers are refilled every other day (though you'd really have to party to need refilling that often!). We appreciated the ample bottled water, supplemented by trips to the pool bar, of course!
Whether you stay in Puerto Morelos or Playa del Carmen, you're within easy reach of daily excursions and tours, and in safe, beautiful neighborhoods. Deciding which type of all-inclusive hotel is best for your family will depend on how much time you plan to spend at the resort, what type of food offers are important to you, and your vacation budget.
Staying in Cancun? Read Trekaroo's review of Moon Palace Golf & Spa Resort.
My family and I experienced all-inclusive hotel options in Rivera Maya as guests of the resorts for the purpose of review. All opinions are our own.