Last Updated on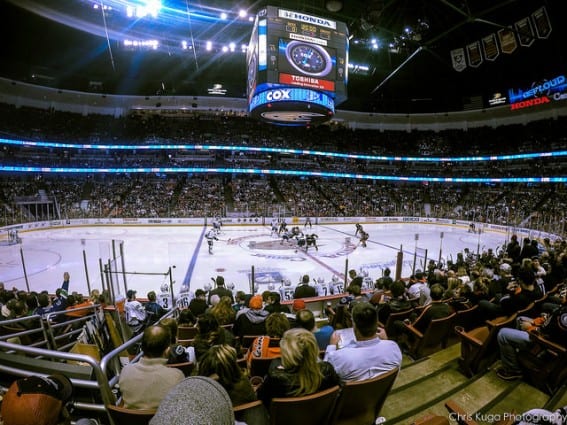 I have been to quite a few hockey games with my husband and they are always a blast. I honestly don't watch hockey on TV, don't follow the sport, and know very little about the game, but going to a live hockey game is an experience that you really shouldn't miss no matter your affinity with the sport. But what about a visit with kids? Is it worth it to pay the price for the littles in your family to see a live NHL game? Is there a magic age when they should enjoy your first visit? Will they even enjoy themselves? Will you? Here's a Know-Before-You-Go Guide to taking your family to NHL Hockey, courtesy of this mama, who just took her whole family out for a Ducks vs. Senators game this winter season.
When should you go to a hockey game with your family?
Although you can certainly catch a game almost year-round (excluding the few late summer, early fall months when hockey is in the off-season), parents should look out for special family-friendly designated events throughout the year at nearby arenas. For example, we visited Anaheim's Honda Center on "Star Wars" day, celebrating the launch of Rogue One, and not only were we entertained with family-friendly Star Wars entertainment during intermissions, time outs, and throughout the game, but we also scored Star Wars swag, saw characters from the series, and even played outside in a kids-themed play area pregame. These fun things certainly aren't required for the hockey experience, but they definitely added a wealth of fun for my littles. With 82 games in the regular season, ticket prices can be reasonable for families.
The Ducks are offering a super Holiday Family Pack deal that gets families tickets, winter holiday fun, & swag on the cheap.
Where should your family sit at a hockey game?
Our seats, a bit far away, but still close enough to see all the action.
Compared to many professional sporting events, most hockey stadiums feature great seats, almost anywhere you can snag them. This means that although sitting up-close-and-personal on the glass is a thrill, your kids will be able to see and follow the game even from the furthest away seats. I actually don't recommend splurging on the close-up seats for your first visit as it can be a bit trickier to follow the action when you are seated very close.
Tip: Some arenas feature "family-friendly" seating areas where profanity/alcohol are prohibited if you are concerned about the atmosphere. Check individual websites or call your stadium to ask for tickets in these sections.
What should you bring to an NHL hockey game?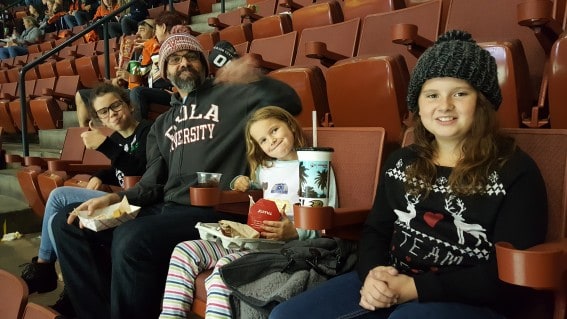 Dress your kids warmly and in layers; it can be quite chilly inside hockey arenas. Blankets are often allowed (team colors even better!) and beanies, sweaters, gloves, and/or mittens are often requested by kids. Consider protective ear-wear for babies and young kids as it does get loud inside arenas.
Policies vary, but in general, parents can plan on purchasing food once inside the stadium as outside food is typically prohibited (although babies are often an exception). I recommend parents make sure kiddos come full so they don't have to cash-in on a college fund to keep them busy with food during the game. We failed in this regard and spent a TON of cash on snacks, drinks, and lunch for our daytime game. Three kid-sized lunches, two bags of popcorn, cotton candy, peanuts, and a glass of wine (momma needed some sanity!) cost over $100!
Note: Food allergy families can typically bring in their own food, although the policies tend to be very loose and difficult to decipher from websites. Call guest services in advance if you have any questions.
When should you arrive at a hockey game with your kids?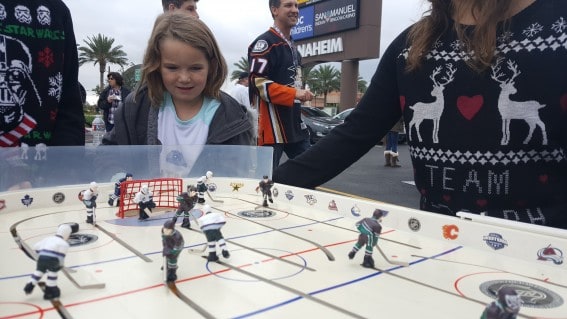 Getting into arenas can take a lot of time, including driving in, parking, walking, and getting into the doors during busy seasons. Prepare your kids for an "airport-like" experience entering arenas, often including metal detectors, removing items from your pockets, and searching of bags. All of this takes time, so make sure your little ones aren't needing a potty break during this hustle & bustle. We had a near-miss and would advise parents to stop at a nearby fast food spot or gas station pre-game; 45 minutes of parking, walking, & entering is a long time to hold the urge to go.
Families should try to arrive to the game early as all ticket holders typically have access to the arena's lower levels (not the ice) during the pre-game warm-up. This is a great time to snag pics up-close, to show your kids how fast the skaters really are, and to make the game a bit more relatable before heading up to your seat when the game starts.
Note: If pre-game activities are offered, be sure to arrive in plenty of time to enjoy them as they usually are closed up 30 minutes before the game starts.
Any other tips & tricks for taking your family to a hockey game?
The NHL Puck-In-Play Rule means that you can't walk to your seat while the puck is in play; an usher will hold you back until the next whistle is blown. The un-enforced part of this rule is that you shouldn't really leave your seat while the puck is in play as you block people from seeing the game they paid for.
Consider getting stacked seats instead of a row for your family. For example, instead of purchasing tickets for seats 1-6 in row A, try seats 1-3 in both rows A & B. This gives you easier access in and out of your rows, and helps with the passing and sharing of snacks, drinks & food.
Check out special deals for food. We got a refillable (souvenir!) cup with free refills all game long.
Use the bathrooms during off-peak periods. You will likely have to take each child potty at least 1-2 times during the length of an average hockey game (and more if you really make use of your free-refill cup mentioned above!) so try to plan your trips in the middle of a period; the lines will be slim to none and your kiddo won't lose their mind waiting with every other hockey fan between periods.
Between the periods was a highlight for my kiddos; they enjoyed trying to get on the Jumbo-tron (they did!) by dancing and instagramming pics with appropriate hashtags.
Expect to sit very infrequently. You'll feel better about it in the end.
Check local superstores (Target, etc…) before a visit to snag some NHL swag at a MUCH cheaper price tag than is offered onsite.
Bring a few activities for your very little ones, or at a minimum, a portable phone charger. My phone died 2/3 of the way through the game after my instagram happy kiddos had hashtagged up a storm.
Disclosure: My family received complimentary tickets to an Anaheim Ducks game for the purpose of this review; I was not required to state any particular view. All opinions remain my own. Lead photo by Flickr/Chris Kuga; other images by Katie Bodell
Featured photo by: Bigstock/photojohn830