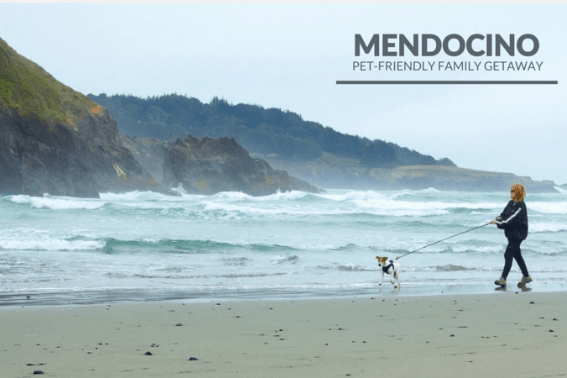 Coastal bluffs, rugged coastline, and dramatic views surround the charming town of Mendocino. The ocean air spills onto acres of wild flowers and into the streets of the tiny hamlet, filled with cute and sometimes funky little cottages, quirky retail experiences, and small town community nuances. You instantly get the feeling that this is one of those rare places in this modern world where people don't lock their doors and everyone knows each other.
If you find yourself here for a getaway, you're in for a welcoming experience for the whole family – including your dog.
Where to Stay

As soon as the Little River Inn came into view, a hush came over the backseat of my car. The dazzling white Victorian with the ample front porch and gingerbread detailing perched atop a hill overlooking the Pacific Ocean is actually quite a sight!
"That's where we're staying?" my son asked in a surprised tone.
"It's so cute!" my daughter added.
This would be the first of many moments that would wow my family during our weekend stay. You don't get to celebrate 75 years in the business unless you're doing something right! Family owned and operated for all of that time, it is evident that the proprietors of the place put a great importance on family, and I'm not just talking about family in the traditional sense. Everyone seemed to know each other in both the restaurant as well as the bar area. Children were tossing Frisbees on the lush green carpet of lawn on the grounds and almost every family staying in the place seemed to include a dog. When the guests weren't enjoying the colorful gardens and green grounds (a welcome sight to this Californian who resides in more drought-dry part of the state), they were taking to the inn's professional tennis court, the nine-hole Audubon-certified golf course, or simply relaxing in a rocker on one of the porches outside each of the deluxe rooms. Alright, that's where I spent a good deal of time. There's nothing like breathing in that ocean air from a soothing and comfortable rocker.
Activities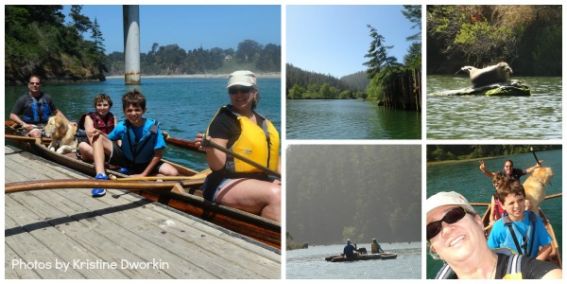 Make Your Dog a River Dog: Head over to Catch a Canoe and Bicycles Too. Rent an outrigger canoe and set sail on the Big River Estuary with the whole family – including your dog. The estuary has nine miles of nature rich with seals, birds, and forest to row by. The quiet is immediately noticeable, only the sounds of birds and canoe paddles breaking the water will be heard as you navigate down the waterway. Our dog, who normally chases squirrels around our backyard or birds around the park without a thought, simply watched with amazement. It was as if being on the water relaxed her or perhaps it was the sight of unfamiliar animals, like the seal that kept popping up next to our boat, that hypnotized her into submission. She did a great job refraining from jumping into the water and watching her was a lot of fun.

Picnic at the Headlands: Stunning at all times of day, Mendocino Headlands State Park is particularly so at dusk when hues of gold and orange wrap the area in a magnificent glow. Stop for picnic supplies at the Harvest Market at Mendosa's and choose from a wonderful mix of locally grown and crafted items and organic foods. The headlands is one of those spots that forces visitors to slow down and soak it all in. My family spotted whales spouting off the coast, skipped through wildflowers, and enjoyed birds taking flight. Gorgeous doesn't even begin to describe the sights to behold.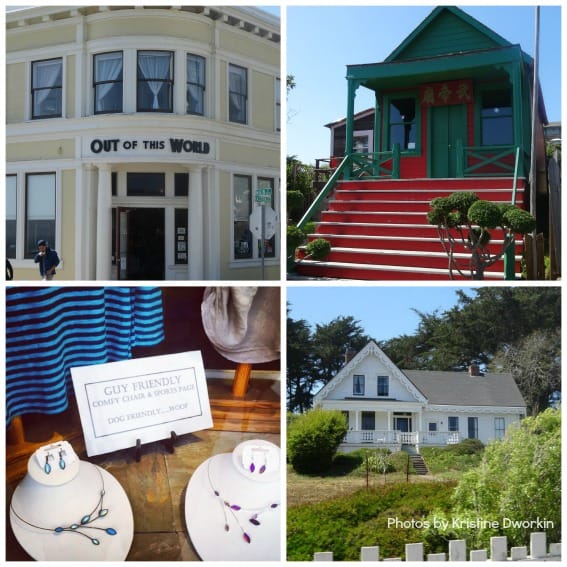 Explore the Town: Whether you're looking for novelty socks, educational games for your kids, locally made art and jewelry, or other goods, Mendocino has some fun and funky shopping experiences that will result in unique souvenirs and gifts. Among our favorites, binocular scope specialists, Out of This World, Fancy That, a high end women's boutique that will provide your man with a comfy chair and a sports page and welcome your dog while you shop (there's a sign in the window that says so), and All Legs where my daughter procured Wonder Woman knee socks (complete with red sparkly capes). We really enjoyed walking around the town and enjoying our finds. The architecture is quaint and unique. During our walk, we came upon a scene with live music by local personalities performing from a flatbed pulled up in front of store where fresh oysters and cool drinks were being enjoyed along with great company and lots of warm greetings.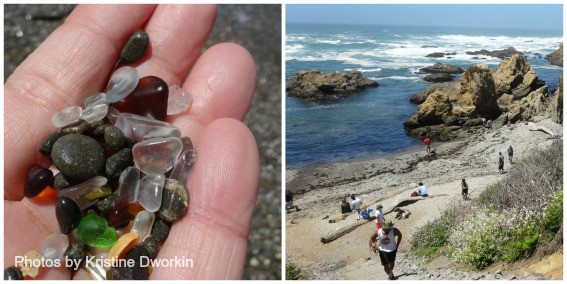 Visit Glass Beach: About 20 minutes up the coast, near the town of Fort Bragg, is an attraction that came from a man-made mistake. The result of a misplaced dumping area which washed glass into the ocean where waves rounded and smoothed it before sending it up onto the sand, Glass Beach is quite a spectacle of colors when the sunlight hits it. Unfortunately, it has also become an example of how what man gives, he also takes away. Collectors visit the beach in droves carrying bags and buckets despite pleas from the locals to leave the glass on the shore. There simply isn't as much glass as there used to be despite campaigns by organizations like the Sea Glass Museum where visitors are encouraged to buy a bag of glass complete with instructions to toss it back into the waves to replenish the beach.
Eats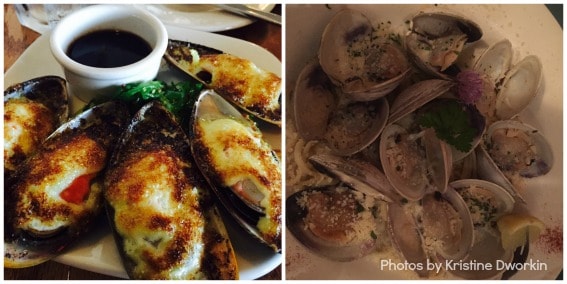 Dine on steamed clams and other amazing seafood dishes while overlooking the garden at the 955 Ukiah Restaurant. Enjoy a divine homemade empanada filled with vanilla custard at the Garden Bakery, go gluten-free with homemade soups and deli salads as well as a wide assortment of organic offerings at the Good Life Bakery. I'm still dreaming about the Green Lip Mussels from Ole's Whale Watch Bar Menu at the Little River Inn. Breakfast in the Inn's main dining room is not to be missed. My kids declared Swedish Hotcakes to be top notch. The Shrimp Benedict and the Frittata were also delicious choices although the latter of the two made it unnecessary for me to eat for the rest of the day, it was so filling!
Returning to Suburban Life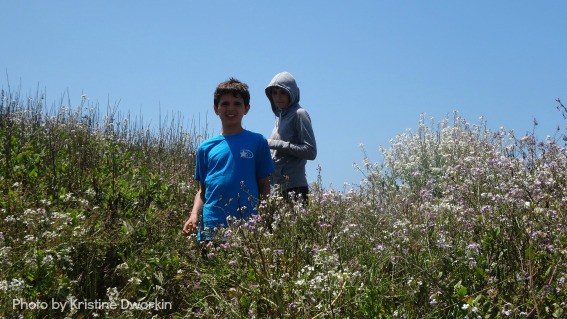 When it was time to leave Mendocino, a collective "Noooo!" came over my crew. This place was a great reset for this busy Silicon Valley-based gang. Our phones had no service here and while the Little River Inn offered free Wi-Fi, we never used it. We were rarely indoors. It was an amazing weekend in nature, enjoying life slowed down, and most importantly enjoying each other – something every family, every person should do regularly.
Disclosure: Thanks to the Little River Inn for hosting my family. Although my family received complimentary lodging, dining and activities, my reviews are always my own opinions and are not influenced by staff or its affiliates.