Almost everyone recognizes it. The bottle topped with a tiny red cap and filled with a spicy peppery concoction that has added a little kick to our palettes and dining experiences for as long as anyone can remember. That's right; I'm talking about Tabasco sauce! The McIlhenney family has been producing and bottling that zesty magic sauce at the same Avery Island, Louisiana site location since 1868.
It makes sense that a foodie culture would spring up around Tabasco, the sauce is on dining room and restaurant tables around the globe after all! Louisiana is also serious about its food — many chefs and restaurateurs have the cook off titles and Food Network appearances to prove it. So, who better to showcase the local fare, than a Tabasco Company rep?
The Tabasco Factory Food Tour
Tour groups are greeted at the Tabasco Country Store by George. This tour is his baby. He's invested a great deal of time and planning to ensure balance and variety. It was tough going at first; many restaurant proprietors were concerned about accommodating a food tour. But George is a true salesman and a terrific spokesperson for the area. Today, he has a waiting list of establishments. The tour runs from 1-4PM so it doesn't interfere with the lunch rush or dinner prep. He also has one simple ground rule for tour participants: keep an open mind.
Things to Know Before You Go
Make reservations in advance: This tour is so popular, that it frequently sees repeat visitors who return with their friends and family.
Allow 3-4 hours for this experience: This is worthy a time investment! This tour is the golden ticket to five favorite New Iberia eateries. These are spots that visitors most likely wouldn't find on their own, including some they may not give a chance if they did.
Arrive hungry: It was astounding to me to learn that people eat beforehand. Louisianans do not believe in serving tiny Costco or grocery store sized sample servings to their guests, you are going to end this tour with a full stomach.
Families are welcome: This tour is most suitable for older kids — 10 years and up — with adventurous palettes (or at least trying to be) and a love of stories. The tour makes multiple stops and your family will be touring in a van with other tour participants. Be honest with yourself about whether your darlings will handle such a situation well.
STOP #1: The Boiling Point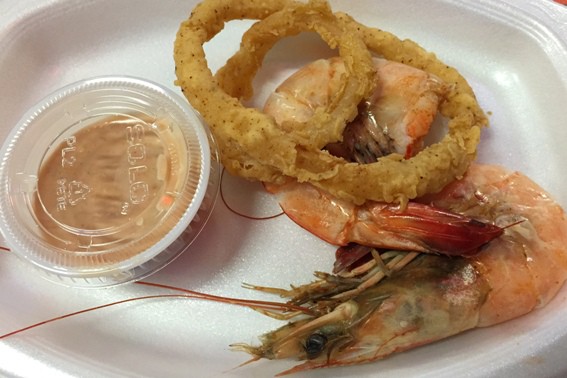 Photo by Kristine Dworkin
En route to our first stop, George entertained us with boyhood memories of fishing trips that resulted in a bounty of Redfish. He also brought us up to speed on the Cajun tradition of seafood boils. These are backyard parties that bring together family, friends, and neighbors.
At the Boiling Point, we sampled a potential menu item for those gatherings — boiled shrimp and onion rings. George gathered the group for a demo on how to properly peel shrimp. Suddenly it became clear why two hand washing stations were positioned right in the main dining area — peeling shrimp gets messy! The shrimp was delicious though and the home cut onion rings were a perfect accompaniment, so perfect my 11-year-old son stole both my husband's and mine!
STOP#2 Legnon Boucherie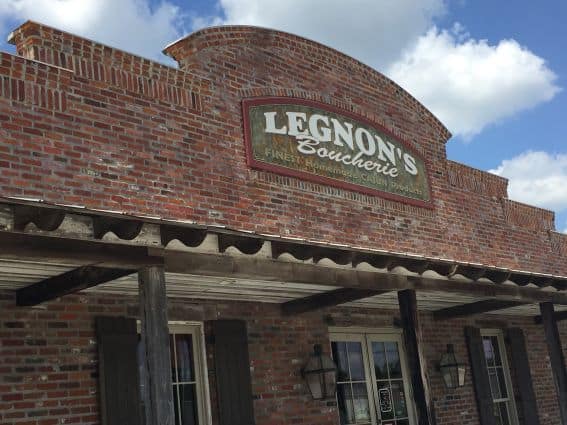 Photo by Kristine Dworkin
A meat shop with a huge local following, George joked that one whiff of the aroma in Legnon Boucherie compels patrons to want to make "air sandwiches." He was right. Spices and delectable meats greeted my olfactory the minute we walked in the door.
Two types of Boudin were offered— the traditional recipe which is a combination of cooked rice, pork, onions, green peppers, and seasoning. The mix is put into a meat grinder before being stuffed into a sausage casing. The second kind was Legnon's solution to sagging Boudin sales during Lent — Crawfish Boudin. This version took off and became so popular it is now offered year round. We also discovered Cracklins, a popular snack in these parts. They're crunchy chunks of fried pork skin, fat, and meat seasoned and often served warm. Imagine a bacon-flavored crouton.
Before tasting the final item it was necessary for this California family to revisit George's rule— keep an open mind. It was called Hog's Head Cheese despite the fact that the hog's head isn't used to make it anymore. Now made from pork meat, pork skin, onions, bell peppers, green onions, red pepper, black pepper and salt, and gelatin is added to keep it together. It is typically eaten with crackers or bread and I've got to say, it reminded me of pâté (Seriously it did!).
STOP#3 Bon Creole Lunch Counter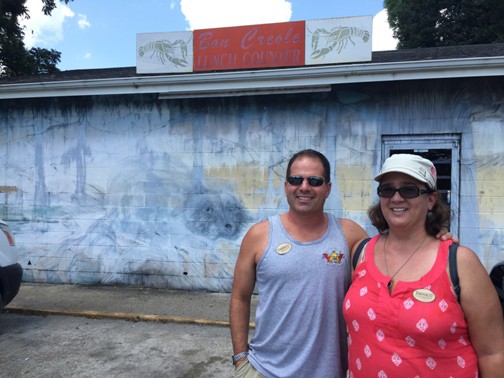 Photo by Kristine Dworkin
The Bon Creole Lunch Counter doesn't look like much from the outside. In fact, it didn't look like it was in business. Remember the old adage of not judging a book by its cover? Anyone who passes this place by will surely miss out.
Under the watchful gaze of a menagerie of taxidermy, we tried two types of gumbo — one containing shrimp, the other sausage. They came with two side bowls, one filled with rice, the other potato salad. Apparently the way to eat your gumbo in New Iberia is with a dollop of potato salad on top. It sounded like an odd combination to most of the group but with George's encouragement, we discovered just how fabulous it tasted. Yet another situation where keeping an open mind proved useful!
STOP #4: KK's Cafe and Cakery
Photo by Kristine Dworkin
My son's eyes lit up as we approached Stop #4 and it was easy to see why. KK's Café and Cakery had a window display of the most artistically decorated cakes I'd ever seen! Chocolate dipped marshmallows, red velvet cookies, and cookie sandwiches were displayed in the glass cabinets inside sending my son's sweet tooth into high gear. But on this day, we weren't there for the sweets. KK's is a favorite lunch spot in the area and we were there to taste the loaded potato soup. Flavorful and filling, it was like being served a baked potato with all the trimmings, soup style. Magically it distracted my son, who is a big time soup lover, from the colorful sweets around him too! He licked the bowl clean!
FINAL STOP: Clementine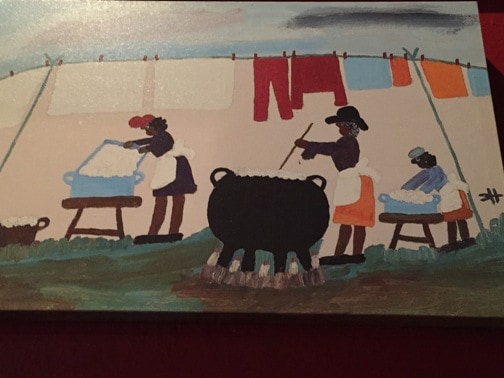 Photo by Kristine Dworkin
We tried the bread pudding at Clementine. Getting to enjoy it surrounded by art made it that much sweeter. While there are several local artists displayed on the walls, the restaurant's namesake, Clementine Hunter, has a prominent spot. A folk artist born in Cane River County in 1887, her life as an artist began in her fifties; her supplies were discarded painting tubes she recovered while working at the Melrose Plantation. She documented daily life at Melrose in her art. She died in 1988 at the age of 101.
Tips for Getting Your Kids to Try New Foods
Educate: Talk to your kids about the culture surrounding the food they're trying. Be honest about the ingredients of the item you want them to try — and according to my 14-year old daughter, never claim, "It tastes just like chicken!"Apparently that isn't a selling point!
Lead by Example: Adventure and exploring are fun. If you're nervous about trying something, like Hog's Head Cheese, the kids will be nervous too.
Don't Force It: Nobody wants to be forced to try something they don't want to; it's an unpleasant experience for everyone. If your child is determined that they're steering clear of the Hog's Head Cheese, let it go!
Don't Feed them Beforehand: I did not feed the kids before going on this tour, even when they begged to do so. They were hungry and nothing else was being offered so, they ate! I really think this led them to trying more than they would have ordinarily.
To reserve a spot on the Tabasco Factory Tour, email: foodtours@tabasco.com.
While in the state, check out our Top 10 Things for Families to do in Louisiana.
Disclosure: Thank you to the Tabasco Factory for hosting my family. Although we received a complimentary tour to facilitate this story, I was not asked to express any particular opinion. My thoughts are my own.
Featured photo by: Bigstock/Paradise on Earth