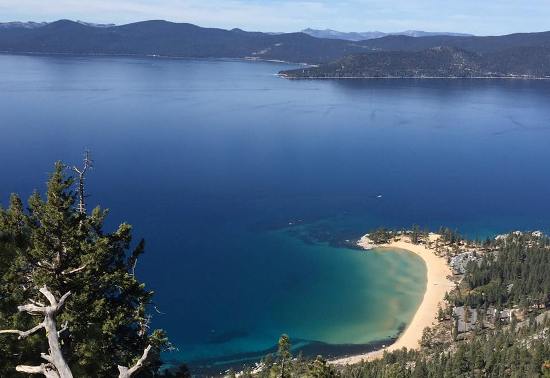 Photo by Jimmy Dworkin
Believe it or not, there are windows of time in Tahoe when summer gives way to fall and things seem to quiet down. Lake Tahoe's shoulder season is when the beaches empty, the kids go back to school, and the wait is on for the start of ski season. It occurs again when the snow begins to melt and ski season comes to a close. These are Lake Tahoe's shoulder seasons and despite their easygoing tenor, there's still plenty to keep adventurous spirits busy until things rev up again. Here are a few activities my family got into over the course of a weekend.
Mountain Biking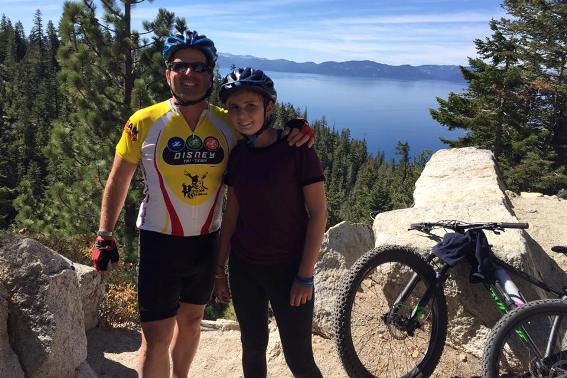 Photo by Jimmy Dworkin
When you want an awesome mountain biking experience, Flume Trail Mountain Bikes is the place to go! Located near Incline Village, this team outfits cyclists with the appropriate equipment and loads them up in a shuttle bound for an epic adventure on its namesake trail. The Flume Trail is a moderately difficult one-way, 14-mile ride. This is a great adventure to share with older kids who have good command on a mountain bike and an understanding of the risks of riding such a trail.
Hiking
There's no shortage of gorgeous scenery to enjoy in the area. Immerse yourself in long winding trails that feed the soul with the reveal breathtaking views of Tahoe's brilliant blue waters rimmed by a seemingly endless ring of trees tinted with autumn colors. Here's a couple that we enjoyed along with our dog: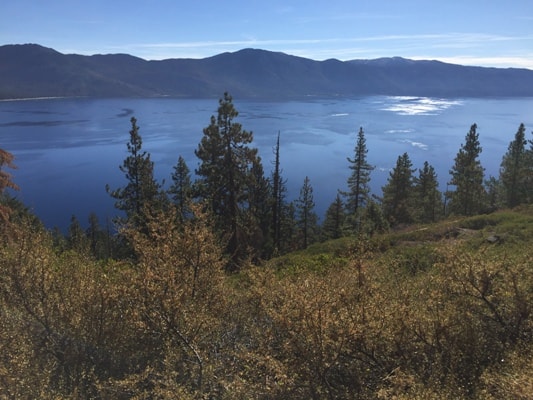 Photo by Kristine Dworkin
The Crystal Bay Fire Lookout Trail: Tucked into a neighborhood above Crystal Bay just minutes from Stateline and the casinos, the Crystal Bay Fire Lookout Trail winds its way up revealing more and more beautiful views of the lake as you go. It's a hike that will get your heart rate up, but can still be tackled by a variation of hiking levels. So bring the kids and the dog! Doggie waste bags are available at the entry gate.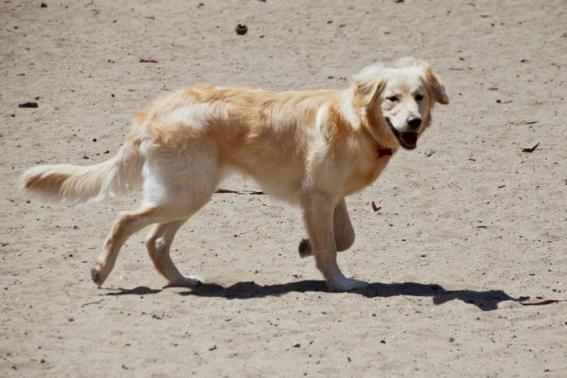 Photo by Kristine Dworkin
Tahoe Rim Trail: Another dog-friendly hike, this one starts at the Tahoe Meadows Interpretive Loop then connects with the Tahoe Rim Trail. The Tahoe Rim Trail is a 165-mile, twenty-four inch, single track that winds around the entire circumference of Lake Tahoe. Crossing six counties and two states, part of it even overlaps with the Pacific Crest Trail. The Tahoe Rim Trail is open to hiking, horseback riding, and mountain biking in most areas.
Star Gazing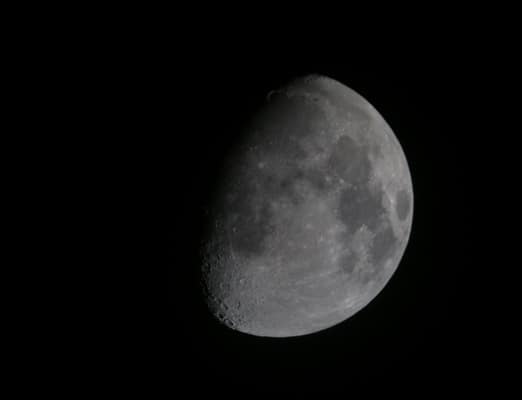 Photo by Flickr/Thomas Bresson
Take a Beach Side Star Tour
The quiet of nightfall, the stillness of the lake, the absence of street lights and city life may make the stars seem closer when you look at them from the sands alongside Lake Tahoe – and Tahoe Star Tours can bring them even closer! With a little poetry, a bit of knowledge, and a couple of powerful Celestron telescopes, Tony Berendsen and crew will have your whole family engaged, learning, and earning the status of Star Guide!
Where to Eat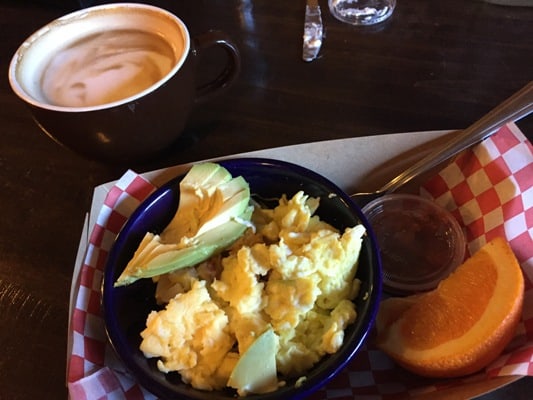 Photo by Kristine Dworkin
Tunnel Creek Café: Located adjacent to Flume Trail Bikes, Tunnel Creek Cafe is a favorite stop for cyclists fueling up on their way out to the trail or refueling on their way back. As you'd expect from a place feeding athletes, the food is healthy and hearty. From breakfast burritos to protein bowls, everything is made with fresh ingredients and tasty!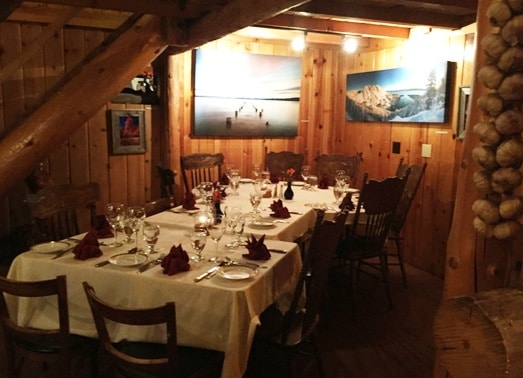 Photo by Kristine Dworkin
The Soule Domain: Set inside an adorable log cabin structure is one of the coziest dining experiences you'll enjoy in North Lake Tahoe. The Soule Domain lends itself well to a date night or an intimate family dinner. The romantic lighting and the flicker of the fire immediately makes patrons want to bring their inner circle close and dive into a lively and fun conversation. Whether guests go for the succulent shrimp and sea scallops or go right for the red meat, they can count on everything being delicious.
Where to Stay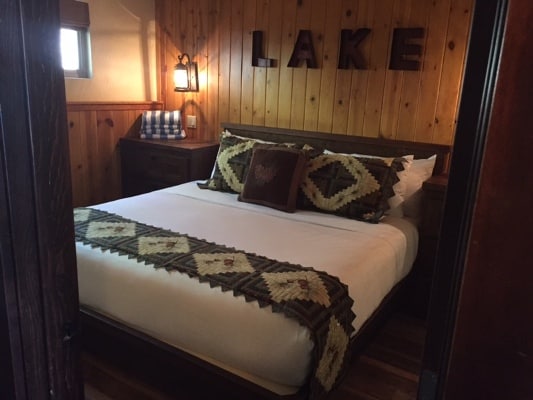 Photo by Jimmy Dworkin
Cedar Glen Lodge: Located in Tahoe Vista, the Cedar Glen Lodge is a charming collection of cabins along with a two-story lodge tucked into a grove of trees within view of Lake Tahoe. A short drive from King's Beach, Northstar Ski Resort, Squaw Valley, and Incline Village, the grounds are spacious and loaded with amenities that families and groups love including a putting green, badminton, ping pong, a fire pit with s'mores fixings in the evening, a pool, hot tub, and sauna. There are ample picnic areas to enjoy coffee at sunrise, wine at sunset, stargaze, or dine al fresco. Should the day include ambling across the road to the lake, there's a supply of small coolers and sun chairs guests can borrow to make the day more comfortable.
DISCLOSURE: Thank you to North Lake Tahoe for hosting my family. Although my family received complimentary lodging, dining, and activities, my reviews are always my own opinions and are not influenced by staff or its affiliates.
Featured photo by: Bigstock/Charles Curtis
Pinterest Image by: bigstock.com/trace rouda