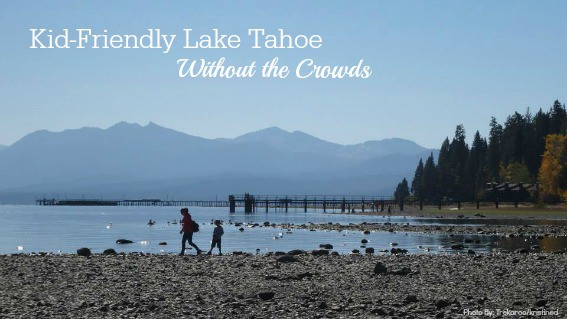 If you've ever stood among a crowd snapping on ski or snowboard gear at any of Lake Tahoe's resorts, or found yourself challenged to eke out a spot on one of its beautiful beaches and thought you might scream, "Serenity Now!" then you're going to want to read this story. Believe it or not, there is a time of year when it's possible to visit Tahoe without crowds. It's called the "shoulder season;" the period of time exists after the kids go back to school until the ski resorts swing into full operating mode. The area is quieter during the shoulder season, the pace is slower, and the traffic thins out. Best yet, there's still plenty of family fun to be found during Lake Tahoe's shoulder season.
Have an Adventure in the Tree Tops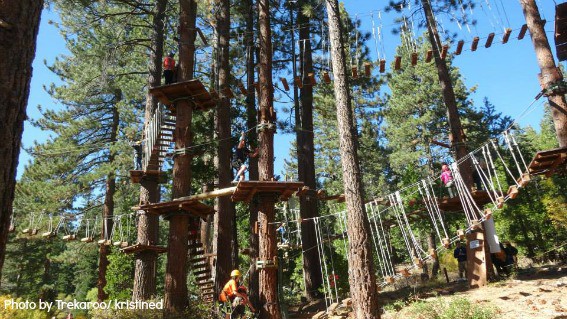 Located at the Granlibakken Resort near Lake Tahoe's North Shore, the Treetop Adventure Park is filled with opportunities to challenge yourself, bond with your kids, face fears, and leave walking a little taller. With 65 tree platforms connected by a variety of bridges and zip lines, the park is split into two zones.
The Flying Squirrel zone has three courses geared for beginners. With events such as a suspended tunnel as well as a collection of swinging stepping points, this is a great place to kick off a first aerial adventure. While this zone provides a great introduction to zip lining, it also has a lot of rope bridges and stairs. My kids found great hilarity in my constant affinity to get my feet tangled up in these ropes crisscrossing any way I tried to walk! Parts of the Flying Squirrel were 40 feet in the air and the zip lines total almost 1000' in length. While we utilized all of the levels, much of the time each of us were on a different part of the course, yet we were still together. I was always able to spot my kids and revel in their feats even if I wasn't up in the trees with them.
The Monkey Course is for the daredevil set. Geared towards older kids and adults, it consists of challenging zip lines, a canopy tour, and suspension bridges, including one that stretches between twin Cedars that are estimated to be over 500 years old! The park is open year round so enjoy it during every season if you wish!
Enjoy a Walk Along the Lake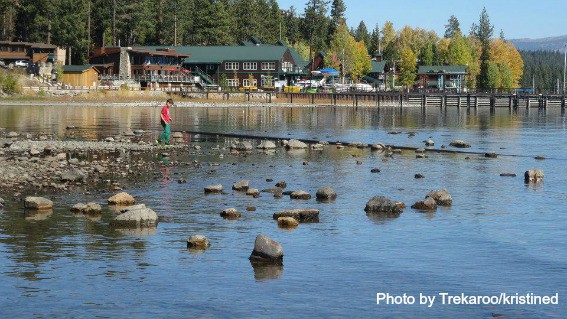 A stroll along Commons Beach yields attractions that every member of the family will love. An array of Fall colors are on prominent display; hues of yellow, orange, and red light up the landscape as a brisk breeze rushes through the leaves as a reminder of precisely what time of year it is. A nearby playground provides a nice spot for running off youthful energy. The grass in front of the playground is a great place to toss a football or a Frisbee and there are plenty of places to skip rocks across the water's surface. This beach yields so much natural beauty to enjoy with only a fraction of the large crowd that would be present during other times of year.
Take on a Family Project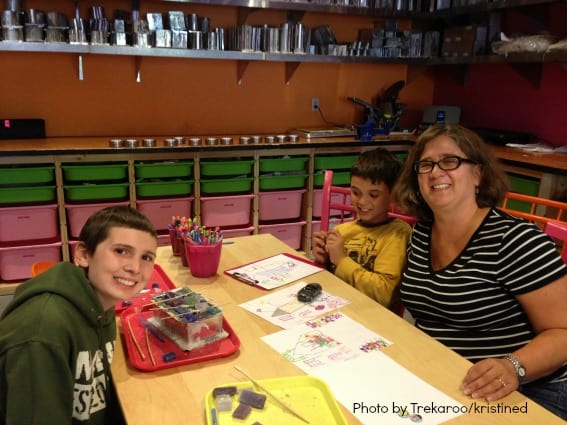 Gather the family to take part in an art project at Everything Hunky Dory. Located in the Village at Squaw, this DIY craft studio has everything needed to construct scented candles, design fashionable buttons, and create duct tape projects. My family opted for the candle making.
We started our project by selecting a shape for our candle among rectangles, squares, balls, half-moons, cat's eyes, and other assorted molds. Next, we negotiated over which kicks would accent our candle including wax animals, shapes, letters, and hearts. Under the direction of a staff member, we continued to work together to properly arrange colorful chunks of wax to build up our project inside of its mold before choosing a scent for our creation. From Chardonnay and Spruce to Hawaiian Hibiscus and Monkey Farts (a real scent I assure you), we then left our creation in the capable hands of the staff to pour hot wax into the mold and to cool it afterwards before we picked it up. This project was so much fun, we returned to make individually styled candles.
Where to Stay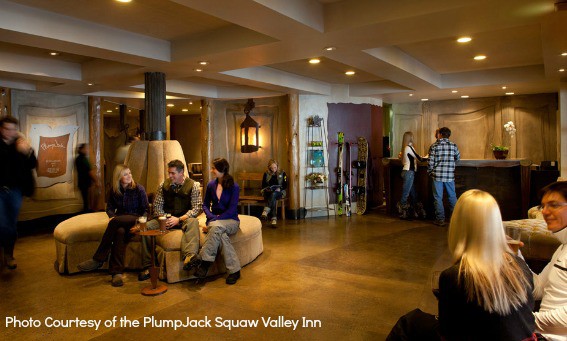 Tucked into a grove of trees just steps from Squaw Valley's Aerial Tram and a short walk from the magnificent shops, dining, and activities in Squaw Village is a wonderful little surprise. The Plumpjack Squaw Valley Inn, once home to the 1960 Winter Olympics delegation, boasts a modern and welcoming atmosphere that is all at once casual, cozy, and elegant. The interior with it copper accents and lamps is dazzling, and the rustic wood finishes give visitors that cabin feel many expect when in the mountains. The inn's open floor plan makes it easy to navigate and provides the feeling of visiting a home. A scrumptious breakfast is served here daily and the dining area even includes a table specifically for guests who wish to dine with the family dog. Yes friends, this is a dog-friendly hotel!
Places to Eat
Rocker@Squaw has a great vibe and delicious food. There's nothing like a plate of pork ribs or a juicy hamburger after a day of hiking and exploring the area. Kids also love MamaSake where my kids not only enjoyed the Miso soup, Tempura Shrimp, and rice, but they loved the fact that the restaurant owner was a silver-haired woman named Elsa, just like the now famous royal in the movie, Frozen.
We'd love to hear from you. Have you been to Lake Tahoe in the "shoulder season"? Are there other places you prefer to frequent on the "off season?" Tell us in the comments.
Disclosure: Thank you to the PlumpJack Squaw Valley Inn and the Treetop Adventure Park for hosting my family. Although we received complimentary lodging and activities to facilitate this article, my opinions are my own and not influenced by staff or its affiliates.