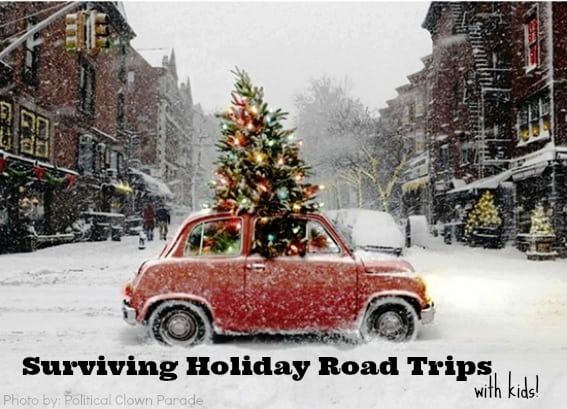 Nothing says Happy Holidays like a looong road trip with kids! Ok, I'm joking. For most people, traveling with kids is often their least favorite part of the package. Yet, if you have friends or family far away, a road trip may be a necessary part of your celebration. How can you survive? Here are some suggestions to help keep your holidays sane!
Preparation, preparation, preparation!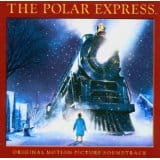 Got a car with toddlers in it? Bring along their favorite movies, small toys and games, or holiday song compilations to keep them happy. Audio versions of stories like The Night before Christmas, The Polar Express, or another such stories are also great distractions. Older kids may be able to read or play a portable gaming device, or follow along on a map showing your route and points along the way. Tucking a new or forgotten plaything into the car is oftentimes a hit (or a special early holiday gift), as it gives kids something different to concentrate on. A cookie sheet to play magnetic games on is also a car-friendly entertainment option that won't spill if you round a corner!
Remember to prep for possible bad weather!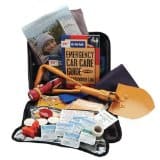 If your holiday travels include snowy regions, be sure to tuck a small shovel, blanket, de-icer, gloves, kitty litter (in case you need it for help getting out of ice or snow), and other car necessities before heading off. Check the weather forecast beforehand so you know about forecasted rainstorms or other weather possibilities and can prep for them. Consider the AAA Severe Weather Road Kit from Amazon.
If road tripping in colder climates, pack a separate laundry bag filled with outer gear–boots, coats, and gloves–and put it somewhere easy-to-access in the car for when you have pit stops. No more digging through everyone's suitcase to find their coats or gloves! -Amy Whitley, Content Editor
Stop early and often!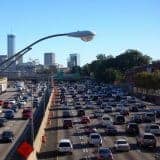 You know your family; you know the length of the road trip. Try to work in stops that occur before you think the kids will melt down, especially knowing there will probably be more traffic on the roads and on public transportation during this time of year. You'll also want to leave yourself more time than you think you'll need, so that you won't feel rushed or intimidated by roadways crowded with holiday travelers if you encounter them. In addition, if you keep in mind that other travelers are trying as hard as you are to get to their loved one's home, it can often make it a little easier to deal with the roadway competition.
Don't assume you have to leave "first thing in the morning" on a road trip. Find the best time of day for you and your family, and leave then. Happy travelers make for a better trip. – Lesli Peterson, Southern Guroo
Have a backup plan!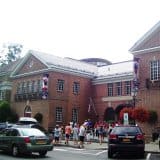 If possible, scout out interesting stops along your route that you can visit if everyone needs a break. Last year on our way to Vermont from Pennsylvania, we stopped in Cooperstown, New York to walk around and to see the Baseball Hall of Fame. It ended up being great part of our trip! The last thing you want when you pull up at Grandma's is to have everyone at each other's throats, or not talking at all because of a stressful journey, so doing a little research on kid-friendly attractions on your route before your holiday trip might be worthwhile.
Find and plan activities on your route in advance on trekaroo.com.
Photo by: WikimediaCommons/BeyondMyPen
Don't forget the food!
Who doesn't like to eat along the way? Being prepared with car-friendly finger foods (especially the healthy ones) can occupy weary kids (and parents) during the parts of the trip that really drag. Making it fun (like holiday snacks they aren't normally allowed to have or snacks related to the state or city you're visiting) can also break up the humdrum drive.
Consider your kid's sugar intake 24 hours before getting back on the road.  In my family, sugar is just another word for meltdown.  Yes, during the holidays we indulge delightfully! But in order to keep the peace, this mom starts monitoring sweets about 24 hours before we pack up for the ride home.  It minimizes melt downs and makes for a smoother transition back into our schedule. – Lesli Peterson, Southern Guroo
Photo by: Flickr/Niner Bakes
Think of it as a journey, not a beeline for your destination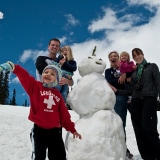 We have had the best success on road trips if we remember to slow down a bit and enjoy the ride. If there is scenery to view, do so. If your kids like to sing or talk to you during the ride, try to do that as well – for at least a little while. If it snows, take a minute or two to stop and play in it. Everyone likes a little undivided attention once in a while, and if you can shift the focus off of the boring road trip, it may make holiday memories for you that you'll remember for years.
Photo by: Flickr/sethstoll
Making sense of what to pack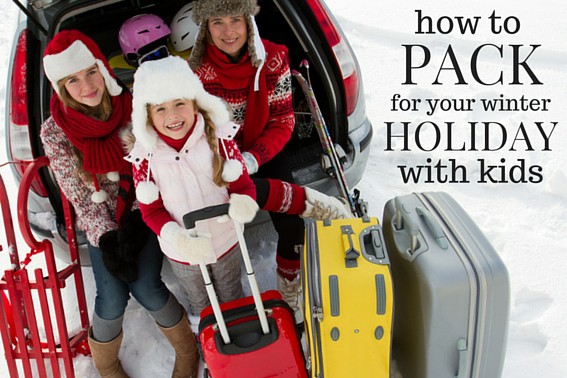 We've got a whole article dedicated to what to pack for your winter holiday trip including tips on gift packing, and more.  If you have a child who gets car sick, remember to pack a small bin with wipes, a Ziplock bag to hold soiled clothes, and a new outfit. Keep key phone numbers and a set of printed directions nearby in case your phone has issues. (Doesn't it always have issues when you need it most!?)
Planning ahead and preparing as much as possible can help make your holiday road trips more sane – and that's a great gift no matter who you are!