Last Updated on
On August 16, 2008, my husband and I went hiking at South Mountain, NC with our 3 year old daughter and 1 year old son. We splashed in crystal clear streams, hiked the trails, and picnicked on peanut butter sandwiches. Our daughter, Lindsay, seemed more tired than usual but I assumed we were just "over-doing" it. Two days later, we found ourselves sitting in the emergency department of Brenner Children's Hospital. The day was a blur of doctors, tests, blood transfusions and, worst of all, the words "leukemia or some other cancer". After two long days in the hospital, the diagnosis was confirmed. Lindsay had AML, an aggressive and uncommon form of leukemia. The oncologist gave her a 50 / 50 chance of surviving.
Lindsay endured one of the most intense chemotherapy regimens used in cancer patients. We lived in the hospital for six months. Lindsay took over 30 different medications, faced bone marrow aspirates, spinal taps, "CAT scans", blood transfusions, infections, and a brief ICU stay. She was not allowed to leave her hospital room on most days because her immune system was essentially non-existent. My husband and I took turns between sleeping at the hospital with our daughter and sleeping at the Ronald McDonald House with our 15 month old son. I feared for my daughter's life, and grieved the loss of a normalcy for both children.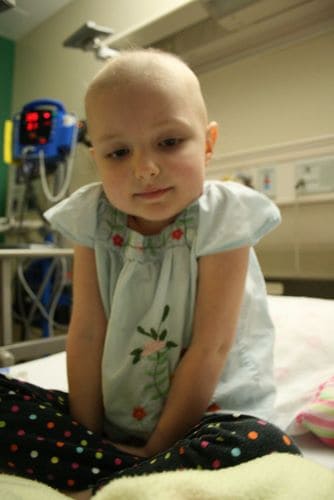 We left the hospital on February 17, 2009 knowing that Lindsay had about a 40% chance of relapse. If she relapsed, it would mostly likely happen in the first year out of treatment and the odds would be bad.
I've never used the term "Bucket List". I can't stomach it. But the minute we were back home, I started planning trips. My husband and I could have been consumed by fear of relapse. Instead, we focused on family time and making memories.
Our first adventure was to the North Carolina Zoo. Lindsay's immune system was still suppressed, her hair was just growing back, and she was pretty thin. Looking closely, you might guess that she had been sick, but her face was as pink and healthy as I had seen it in months! The zoo was better than therapy. Both children cheered for each and every animal. Lindsay tired as we explored the vast, natural zoo, and I ended up hiking the through the park with her on my back! I choked back tears realizing how close we came to missing all of this.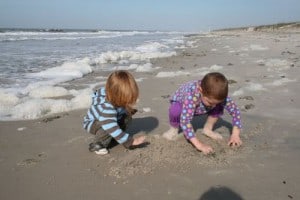 Our next trip was the beach. We had visited Oak Island a month before Lindsay got sick. It was a wonderful trip and Lindsay frequently told her nurses that she would go back when she was out of the hospital. I feared she might not get to make that trip. But we did! Oak Island was just as wonderful as Lindsay remembered. Our days were filled with sea food, sand castles, and smiles. My son, not yet 2, followed his sister up and down the shore, collecting shells and running away from the waves. We dined at Fishy Fishy in Southport, where Lindsay ate enough sweet potato fries to gain back most of her pre-cancer weight! The Fort Fisher Aquarium was Lindsay's favorite outing. She was mesmerized by the jellyfish and squealed over the clownfish. As we packed to go home, Lindsay was already planning a return trip!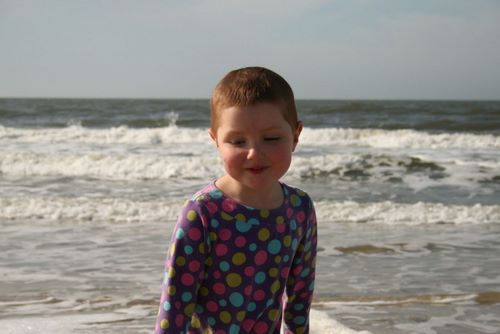 In between vacations were the daily fears of relapse, frequent doctor visits, and the growing financial concerns that are part of life for families with a sick child. Thankfully, the unparalleled Make-a-Wish foundation sent us on a Disney trip that we never would have been able to afford otherwise. To be honest, when Lindsay was first diagnosed I hated the idea of a Make-a-Wish trip. It evoked images of children who don't "make it". But as the 6 months in the hospital dragged on, my sister-in-law convinced me that we both deserved and needed the trip. Disney World is fun for any family, but the staff went above and beyond for Lindsay. They escorted her to the front of lines, made room in restaurants that were clearly booked, and invited her to "co-pilot" the monorail. Best of all, Chip and Dale spent a good 15 minutes in the 100 degree sun, flirting and sprinkling Lindsay with Pixie Dust.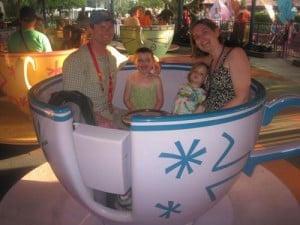 Lindsay turned 4 on her Make-a-Wish trip. The significance of that birthday was not lost on us. We are now approaching her 6th birthday! Each day together brings greater normalcy and less fear.
When we tell our story to other parents they invariably say, "I could never handle something like that". But the fact is that they could and would. We take one day at a time and live by the mantra "until further notice, celebrate everything!" This Fall we will celebrate 3 years of surviving. We're still trying to decide where to go!
Trekaroo Superoo Ginger Templeton (aka: gbtempleton) is lucky to spend her weekdays as a stay-at-home mom, the best job in the world. She spends her weekends working as a veterinarian — the second-best job in the world. When time allows, Ginger can be found traveling with her husband, children, and, when they're lucky, her two old dogs!
Trekaroo is a reviews website dedicated to exploring and traveling with kids.
Travel with kids to: CA |CO | DC | FL | HI | IL |MA | NC | NY | OR | PA | TN | TX | VA | WA