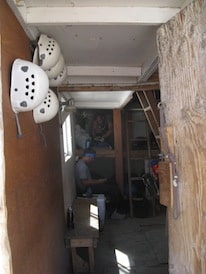 It's 6:15PM. Everyone is restless, but attempting to sleep. Tired, but energetic from the day's climb to Camp Muir, I settle into my sleeping bag and try to dream of electric sheep. Except, I can't. Because, you can't really dream when you're not sleeping. Sure, daydreaming, but it's just not the same. Someone's climbing boots are really just too odorous, they should have left them outside, or thrown them off the mountain. And then there's that guy who sounds like a train, a train broken down and in need of service, maybe like a BART train in San Francisco. It was recommended that I bring ear plugs and perhaps an iPod, obviously I didn't. Someone gets up, dons their boots, and clomps out the door. The very very noisy door which is insulated with cut up thermarest camping pads. It's still light out, when is it going to get dark? Ah, finally it's dark. Someone can't help from laughing in response to the snoring moose in the bunk above. I fight every urge in my body to look at my watch. I just want to sleep. I can't. I have to pee, but it's cold outside. I don't want to leave my warm sleeping bag. The hours pass. I drink some water. More people get up and walk around. Curse that loud door.
I think there was a period when I may have fell into something resembling a semi-comatose state. I think that period was 10 minutes before a guide opened the creaky door and shined a bright headlamp in my face. Where am I? Am I dead? Rustle, rustle, groan, the climbing zombies quickly stir and then the adrenaline starts kicking in. The guide says, "Everyone get up and get ready. We're leaving in under an hour." It's 11:23PM.
I fire up my headlamp, throw my water bottles and food into my pack, and put on my heavy but trusty warm boots. I fill my 32 oz mug with starbucks instant coffee and don my down jacket and gaiters. Gaiters are "man-leggings" that cover your lower legs and protect your legs and expensive climbing pants from the sharp points of your crampons. I scarf down a clif bar, a couple of poptarts, and I'm good to go. I exit the hut and am hit simultaneously by the biting cold and the utter beauty of the clear night sky. Windstopper hat, check. Helmet, check. Headlamp, check. Coffee candies in pocket, yup. My pack feels wonderfully feather light, absent my sleeping bag, trekking poles, and some food. I put on my crampons and I'm ready to go. Crampons are spikes that attach to your boots and make you feel like you can walk upside down. I detach my ice axe from my pack and we start roping up into our four-man rope team.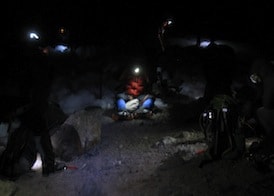 We set off into the dark and across the Cowlitz Glacier. The snow trail seems narrow and we trudge one foot at a time. It's difficult to see much beyond our feet and on numerous occasions I have the feeling that a slight misstep would send me tumbling into the abyss. I had recalled that a sign I had read at Camp Muir warned of hidden crevasses. An hour passed and we continued ascending, moving into the pumiced volcanic rock switchbacks of the Cathedral Gap. The rock here was loose and wiley, liable to conk you on the head when you're looking the other way.
After some time (more than an hour), we stop for a break and put on our down jackets to weather the cold night air. I take a few swigs of water and eat a clif "mojo" bar. I think it gave me some mojo, good mojo, mojo rising. We start up the Ingraham Glacier and then begin ascending Disappointment Cleaver, the physical crux of the climb. I'm feeling pretty good and enjoying the pace and the rhythm. Several minutes of crunch, crunch, silence, punctuated by sporadic drifting sentences of pseudo conversation. Zig, zag, switch ice axe to the uphill hand, zig, zag, "clank!" on the rock, zig, zag, the sound of metal crampons on hard snow and ice, and the light rumble of unstable rock to pass the time. Watch out! Crevasse, step over it! I generally did not look down the crevasses, just straight ahead. We continue to climb one to two hours at a time through the night.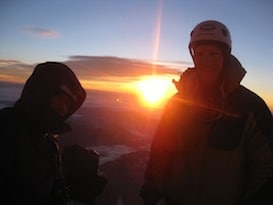 The moon is a crescent sliver in the black sky above us. It's not only a crescent, but it beams a bright firey orange color, reflecting the color of the sun. The recent forest fires have filled the air with particulates which cause the light to refract and reflect in fantastic ways. We continue to be whittle away the hours and finally the burnt orange sun begins to rise. The sunrise is phenomenal, one of the most dramatic and magnificent I've ever seen. We pause for a few photos and continue the ascent through the thinning air.

We reach the crater rim at 7:05AM. Mount Rainier is a dormant volcano and is topped by a crater. We reach the lower part of the rim, drop our packs, and unrope. There are steaming vents along the rim of the crater which don't look too friendly, though apparently stranded climbers have used them for warmth. Ice axes in hand, we start the last few minutes to the high point on the other side of the crater. We descend the rim and walk across the crater through a field of enormous jagged sun cups. If I didn't know better, I'd think those things could impale you. It looks like another world, like something from "Avatar". We reach the summit (elevation 14,410 feet) at around 7:30AM. The sun is out, but the wind is also out in force. We snap a few photos, sign the summit register and head back down into the crater. We stop briefly to refuel and congratulate each other, then we rope up and start heading down the mountain.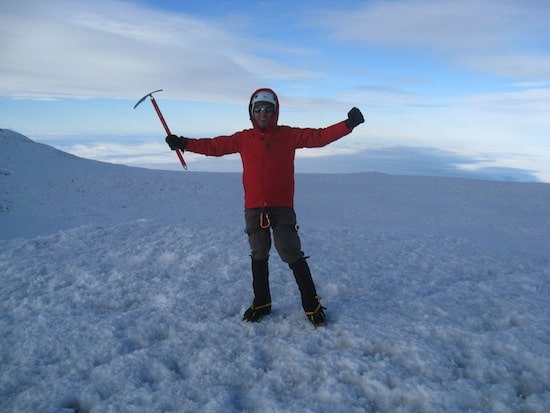 Mountaineers know that heading up the mountain is only half the battle. Getting down safely is the other half. Heading down is a long chore which is hard on the knees, but at least we have daylight now. As the sun rises, the danger of rockfall increases. The snow begins to melt and the rocks which were once frozen to the ice can start to slide. We spend several hours weaving our way down the mountain while trying to avoid kicking rocks onto the teams below us. We stop for a break at 9:40AM at the top of Disappointment Cleaver. As we move on, we step over a few crevasses, some of which are quite deep. One crevasse requires us to cross a ladder. They're definitely a bit scarier when you can see them in the sunlight. At one point, I jump over one and get a scolding from the guide, "Keep your feet on the ground next time!" My rope-mate thought it looked cool at least, if not the safest thing to do. Duly noted.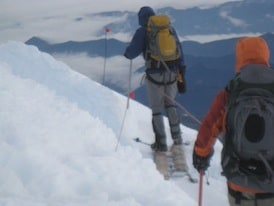 We arrive back at Camp Muir at 11:44AM. The guide advises us to not go into our sleeping bags and to prevent anyone else from doing so. If we did, we might never leave. Within six minutes of our arrival at the high camp, it starts snowing on us and the winds turn blustery. There goes our good weather! We rest up a bit and pack up the rest of our gear for the final leg down the mountain. As we descend the mountain unroped, the weather devolves into white out conditions and a mix of snow, rain, and wind. We stop at intervals to make sure everyone stays together. We slide down the giant mogul-ish sun cups of the Muir Snowfield. It's just not quite as fun when you're not on skis though. My knees are hurting a bit, but the ibuprofen is moderately successful at masking the pain. At some points, we encounter snow chutes that previous climbers had graciously carved out for us using their behinds. I whip out my plastic garbage bag and happily slide down some of these chutes. Unfortunately, I'm too lazy to put on my waterproof pants, so I end up getting fairly drenched for the first time during the entire climb. Getting so wet makes the last bit of the decent fairly miserable for me. What was I thinking? I'm feeling somewhat spacey and disconnected. I just want to get down this giant mountain and put on some dry clothes.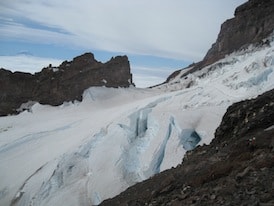 We reach the visitor center at Paradise at 2:30PM and hop on the bus for the 45 minute ride back to Ashford. I take a brief nap on the bus and am ecstatic to change back into dry clothes when we arrive back at the Whittaker Bunkhouse. A few minutes later we're eating burgers and pizza, drinking beers, and talking of our exploits. The guides present us with certificates and we all sit around for a while as people slowly say their goodbyes.
One of my rope-mates read this quote from his meditation book at Camp Muir, "I tell you the truth, if you have faith as small as a mustard seed, you can say to this mountain, 'Move from here to there' and it will move. Nothing will be impossible for you." – Matthew 17:20
Nothing is impossible indeed.
Intro | Day 1 | Day 2 | Day 3 | Day 4

Donate online here:
http://www.summitforsomeone.org/main.php?page=4&climber=7034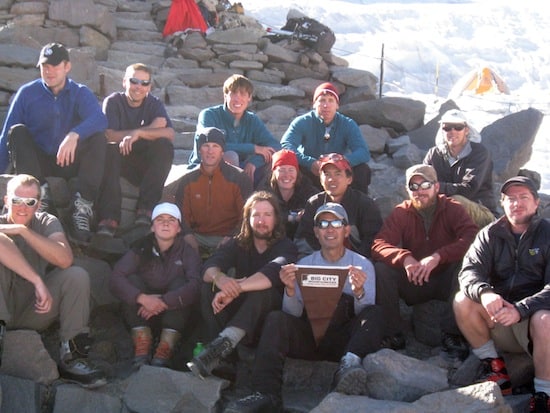 —
The Summit for Someone benefit climb series raises money for Big City Mountaineers. BCM is a 501(c)(3) non-profit which provides outdoor wilderness mentoring programs for at-risk teens. The mission of Big City Mountaineers is "enhancing the lives of under-resourced urban teens through transformative outdoor experiences."
With your help and my summit attempt, the BCM program will reach at-risk teens nationwide (over 2,600 program days last year!). I'm seeking to raise $4000 for the organization. Thank you for considering donating on my behalf. Get out there, do good, and have fun!