(Last Updated On: March 31, 2016)
Arrived in Ashford, WA just before 3PM with extended family and my 7 year old son.  We grabbed some ice cream at the bunkhouse cafe as I checked in.  I headed over to the Rainier Mountaineering, Inc. office afterwards while the kids began climbing on one of the three climbing walls nearby.  I embraced my son and said goodbyes before heading to the climb orientation.  It looks like we've got a great team of 18 or so from across the US and Canada. We've even got one woman who flew in from Stockholm, Sweden.  We're split into two groups.  The primary guide for my team is Seth Waterfall, a great name for a mountaineering guide!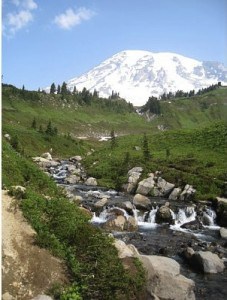 After some intros to our teammates the guides started into a slideshow presentation where they talked about Rainier, some of it's history, and the founding of RMI in 1969 by Lou Whittaker.  They also covered the principles of the leave no trace ethos, then briefed us on the role of the guide, mountain safety, and finally the route itself.  After the presentation we took a brief break and then broke into our respective teams and went through an hour or so of gear check.  The gear check consisted of describing each piece of gear and clothing and checking that each person had what was necessary for the climb.  It was a good time to make some adjustments.  For instance, I had brought a few duplicate warm layers of clothing just in case not knowing the specific mountain conditions.  The guides helped everyone whittle down to the essentials and pointed out gear items to add where necessary.  I was all set, except for the avalanche transceiver which I later picked up from the rental area. Ashford is a great little Northwest town with some good restaurants, a general store, and the Whittaker Mountaineering and hiking store. I'm staying at the historic and reasonably priced Whittaker Bunkhouse, originally built in 1908 to house single logging and mill workers during the booming timber industry.
I grabbed some dinner with two teammates from Witchita at a wonderful restaurant down the road called the Copper Creek Inn.  They bake their own bread, including the bun on my amazing cheeseburger.  They also bake fresh blackberry pies *every* 45 minutes!  Didn't have the space for the pie, but perhaps tomorrow night. No mobile phone coverage in the area, extremely spotty to say the least, but the bunkhouse has wifi.  There are 3 climbing walls near the RMI office that you are free to climb on, so I spent a bit of time bouldering and walking around. The weather is a comfortable high 70s, but up on the mountain it promises to be cold.  Mount Rainier boasts the highest concentration of glaciers up there in the lower 48 states.  Good night for now, got to escape from those mosquitos. Intro | Day 1 | Day 2 | Day 3 | Day 4 Donate online here: http://www.summitforsomeone.org/main.php?page=4&climber=7034 — The Summit for Someone benefit climb series raises money for Big City Mountaineers. BCM is a 501(c)(3) non-profit which provides outdoor wilderness mentoring programs for at-risk teens. The mission of Big City Mountaineers is "enhancing the lives of under-resourced urban teens through transformative outdoor experiences." With your help and my summit attempt, the BCM program will reach at-risk teens nationwide (over 2,600 program days last year!). I'm seeking to raise $4000 for the organization. Thank you for considering donating on my behalf. Get out there, do good, and have fun! — Brennan Pang (brennan) is co-founder and COO of Trekaroo – a reviews site dedicated to exploring and traveling with kids. Travel with kids to: CA |CO | DC | FL | HI | IL |MA | NC | NY | PA | TN | TX | VA | WA
Comments
comments