I am not really a summer type of gal.  I dislike the heat, dread stripping down for the sweltering sun, and frustrate easily over long stretches of time with no schedule.  In spite of my disdain, I am blessed to be a part of a family of teachers, so summer time means not only the kids out of school, but lots of family trips and opportunities with the entire family.
One of our favorite mini-vacations is to make a visit to San Diego's temperate climate to visit SeaWorld; it is here that my childhood ambitions of being a marine biologist are re-kindled (who didn't want to swim with Shamu as a  child??). I am always in awe of the majesty and design of such magnificent creatures, and am only 99% jealous of the trainers who get to be so close to my marine mammal counterparts!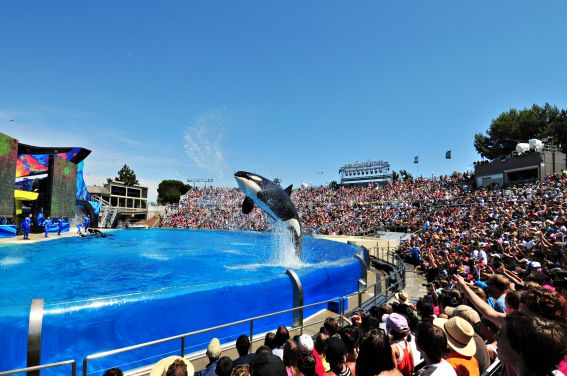 Photo credit:  Mike Aguilera/SeaWorld San Diego
This summer, SeaWorld parks are kicking it up a notch! 
At SeaWorld parks across the country, Summer Nights are about to take over.  The parks are open late, offer late night shows like the playful Shamu Rocks and Sea Lions Tonight, host live entertainment, dance parties, giveaways, and boast fireworks to cap off a perfect evening.
San Diego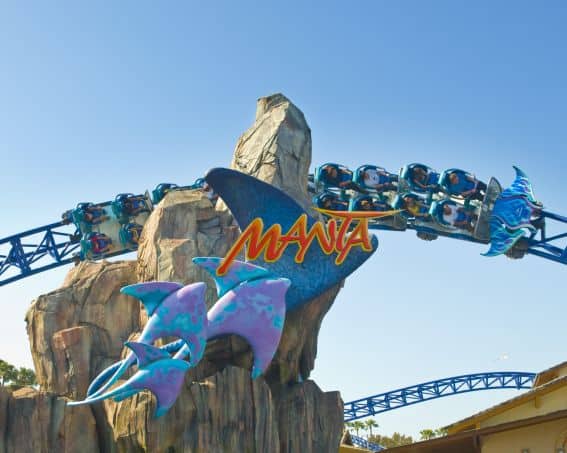 Photo credit:  Mike Aguilera/SeaWorld San Diego
In case you aren't a closet marine biologist, SeaWorld San Diego is now home to an exciting thrill ride: Manta. A fast-paced, super smooth roller coaster dropping 54 feet and accelerating at  43 mph in just 2 seconds, the brand new attraction is a great addition to the existing amusement options within the park.  I am a huge fan of thrill rides and found the ride a perfect blend of thrill and comfort; my seven-year-old daughter loved the ride so much she rode it twice!   The ride lasts almost two minutes, launches riders out at two different points during the ride, and is incredibly fun!  Situated above and around a newly designed and renovated ray touch tank and exhibit, the area hosts more than 60 California bat rays, diamond stingrays, shovelnose guitarfish, and more than 400 fish!  Thrill seekers & sea life lovers now have a common place to play.
After a long night at the park, rest your head at Paradise Point Resort & Spa where you can enjoy exclusive water taxi service to and from SeaWorld (you can even enter from your very own VIP gate!).  The island vibe at this resort is amazing—the perfect summer getaway featuring five swimming pools, countless family friendly activities, and your very own beach front patio on the bay!!    My girls played the day away on the private sandy shores of Mission Bay, we relaxed in our luxurious beach-front bungalow, dined at their fantastic restaurants, and finished the evening with s'mores while the lights of the city twinkled on the water.  I've never loved summer this much!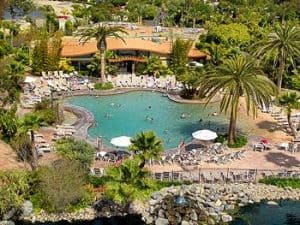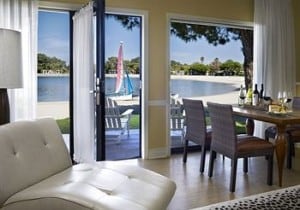 Read full reviews of Paradise Point Resort & Spa | SeaWorld San Diego

San Antonio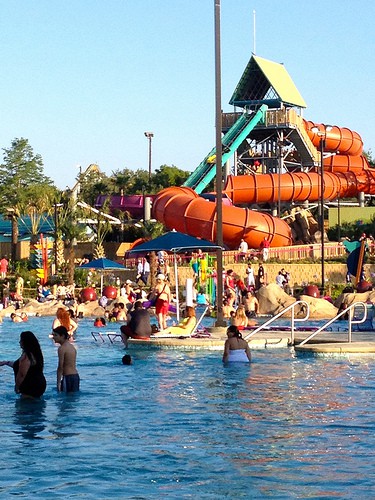 Photo by: Flickr/colleenpence
If you are in San Antonio, spend your day at the brand new Aquatica Waterpark, located within SeaWorld park, where you can spend the day lounging in a beachside cabana or riding one of the park's thrilling water slides. For $20 over the SeaWorld admission, you can get the best of both worlds: a cooling water park, and the best of all of SeaWorld's fantastic summer attractions.
Read full reviews of  SeaWorld San Antonio |Write a review of Aquatica Waterpark
Orlando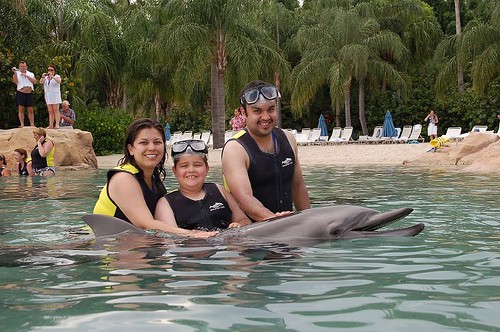 Photo by: Flickr/julio enriquez
Summer Nights are in full swing in Orlando, where SeaWorld guests can not only enjoy a day at this action packed park and  massive Aquatica waterpark, but can visit Discovery Cove, a relaxing way to get up-close experiences with the marine animals, without all the crowds.  At Discovery Cove, you and your family will be pampered with luxury as you swim with dolphins, relax in lazy rivers, and enjoy all-inclusive dining amenities.  Talk about a pampered way to beat the heat!
Read full reviews of SeaWorld Orlando | Aquatica by SeaWorld | Discovery Cove
---
Travel with kids to: CA |CO | DC| FL | HI | IL |MA | NC | NJ | NY | OR| PA| TN | TX | UT | VA | WA