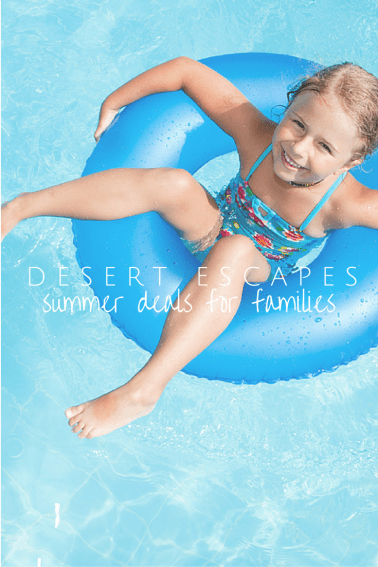 I have spent the majority of my life living in a desert. Summertime temps typically soar well above the 110-degree mark and to help keep cool, activities typically involve trips to any water source including local splash pads, community swimming pools, and backyard slip and slides worn thin from repetitive use. And although our vacations often take us away to cooler countryside, visiting a desert resort during the summertime is actually a fabulous, and surprisingly economical, choice for families seeking a refreshing and fun getaway.
Families should visit the desert in the summer, trust me.
Desert landscapes tend to operate on a reverse calendar system than most North American resorts and tourism destinations. During the fall, winter, and spring months, desert locales such as Phoenix and the Palm Springs area are packed with locals, couples on romantic holiday, tourists, and high rates; during the heat of summer, families take center stage as resorts prep for kid-friendly fun at rates that most parents can budget into their lifestyle. Many resorts roll out the red carpet for the littlest of visitors offering amazing deals including free dining, complimentary kids club, and a host of regularly scheduled family-friendly activities.
Here are a few of Trekaroo's favorite desert resorts for summertime fun in the Phoenix and Palm Springs Desert Areas.
Beat the heat with kids in the Phoenix Area
Phoenix, Arizona is one of the nation's most populated cities, offering great accommodation deals for families in a wide variety of regions including downtown Phoenix and Scottsdale to the northeast.
Weather: Temperatures tip the 100 degree scale most summer days with evenings keeping warm in the mid 80s. Although days with rain are still rare (it is a desert after all), monsoon season hits its peak during Arizona's summer months brining the bulk of the region's rainfall in quick, unexpected bursts coupled with flooding. The weather can change from sunny to cloudy to a downpour and back again all within only a few hours.
Get Here: Phoenix Sky Harbor International Airport, the self-proclaimed "friendliest airport," is also one of the most accessible. It is located just six miles from Downtown Phoenix and eight miles from Scottsdale, making airport to hotel transfers a breeze.
Explore More: Looking for more Phoenix fun outside your hotel's boundaries? Check out the Top 10 Things for Families to Do in Phoenix.
Fairmont Scottsdale Princess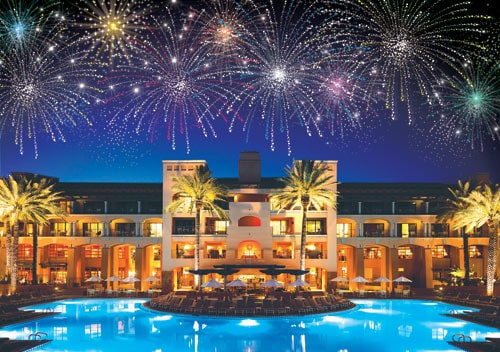 The Fairmont Scottsdale Princess goes all out for families during the warm summer months with poolside games, dance parties, Techno Glo parties, Dive-In Movies, and a Fun Team dedicated to making your stay both relaxing and memorable. Don't miss riding the SplashRider X-treme water ride or the exhilarating zip-line; remote control boat races, fishing derbies, and a complimentary daily Family Adventure Center and Kids Club round out your fabulous stay. Summer dining options at the resort's numerous restaurants include a Kids Resort Dining Passport that feeds little ones with three all-inclusive meals and snacks a day to keep them satisfied; many of the summer resort packages also boast dining credits for mom and dad. Summer rates from $169/night, plus $50 daily resort credit!
Read kid-friendly reviews of the Fairmont Scottsdale Princess.
The Phoenician
Summers at The Phoenician include a variety of family-friendly activities from Koi fish feeding to an interactive Resort Safari game to lounging and playing in one of the resort's seven sparkling pools. The Mother-of-Pearl pool in particular features a 165-foot water slide, children's wading pool, and waterfalls while the Surge Splash Pad boasts interactive water play for kids of all ages. Glo at the Pho neon pool parties, dive-in movies, and Pop! Up movies light up the night while magical comedy and a signature Flight of the Phoenix show will keep you entertained on weekends. The resort center boasts a movie theater, ping pong, foosball, board games, video game room, basketball court, and covered playground.  Summer rates from $159/night
Read kid-friendly reviews of The Phoenician.
Arizona Biltmore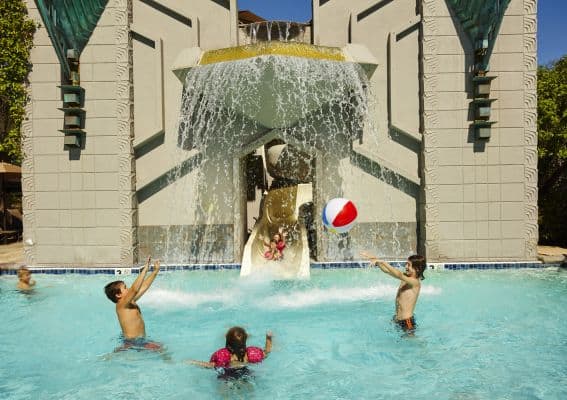 The Arizona Biltmore is a family-friendly paradise in summer with the aptly named Paradise Pool serving as the social hub. Live music, food, and entertainment (including movies at the pool) are offered daily at this intersection of three pools and a 92-foot water slide. Kids will go wild over the nighttime Glow Golf offered each weekend, and the Kids Cooking Class and Summer Tea, an iced tea version of the resort's popular High Tea, offer culinary temptations for the whole high-class family. Summer rates from $109/night. All-inclusive packages are also available.
Read kid-friendly reviews of the Arizona Biltmore.
Four Seasons Scottsdale Resort at Troon North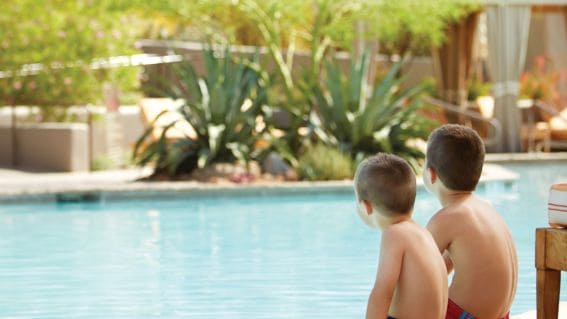 A desert getaway to the Four Seasons Resort Scottsdale at Troon North offers the epitome of family relaxation and luxury with the Kids For All Seasons club and daily programming included with the night's rate. Poolside, complimentary cabanas and goodies like smoothie samples and fruit kebabs make the afternoons more refreshing while Dive-In movies cap weekend evenings in style. Don't miss Sundaes on Sunday, the old-fashioned ice cream social, that offers buy one, get one free sundaes and floats. Summer rates from $359/night
Read kid-friendly reviews of the Four Seasons Scottsdale.
Arizona Grand Resort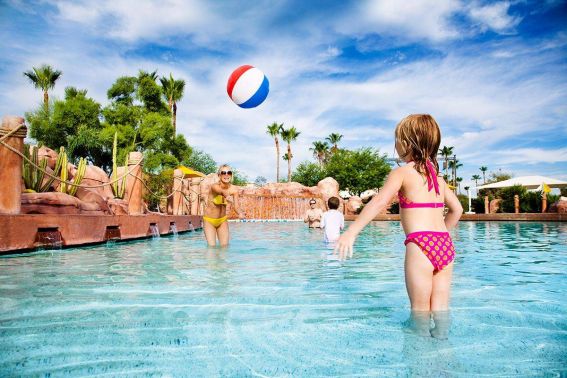 Anchored by the sprawling Oasis Water Park and voted by the Travel Channel as one of the country's Top 10 Water Parks, your kids won't ever want to leave the Arizona Grand Resort after splashing in the infinite wave pool, riding the numerous slides, and floating away in the lazy river. Kids eat free at many of the onsite restaurants with each paying adult with select summer packages. Summer rates from $129/night, plus $50 daily resort credit.
Read kid-friendly reviews of the Arizona Grand Resort.
Beat the Heat with Kids in the Palm Springs Area
Palm Springs and its surrounding area, nestled in between three California mountain ranges to its north, south, and west, offers families a wealth of fun during the summer months. Although most properties boast pools, these resorts go above and beyond for families with little ones.
Weather: Average summer temperatures sit above 100 degrees Fahrenheit with nightly temps dropping nearly 30 degrees. Although hot, the sun shines most of the day, everyday; rainfall during the summer months is very rare.
Get Here: Palm Springs International Airport gets families in the action with ease, but nearby airports including LAX, John Wayne (Orange County), and San Diego are all within a short drive.
Explore More: Looking for more Palm Springs area fun outside your hotel's boundaries? Check out parent-approved reviews of the top activities, restaurants, and attractions in Palm Springs.
JW Marriott Desert Springs Resort & Spa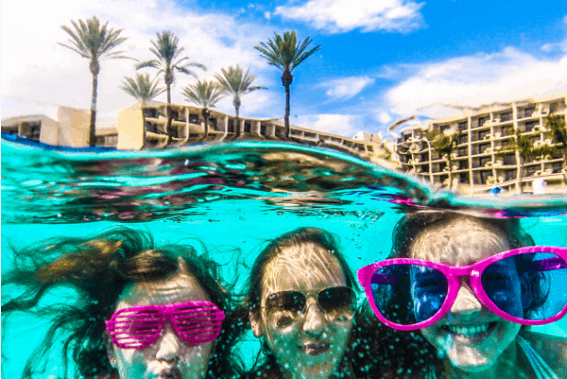 Palm Desert's JW Marriott Desert Springs sits on 450 acres of desert oasis, including cascading waterfalls, lakes, indoor and outdoor meandering waterways, six restaurants, two championship golf courses, and spacious guest rooms. Start your day with a morning bird talk while learning about the resort's resident flamingos and parrots, enjoy one of the five sparkling pools during the heat of the day, take a complimentary gondola ride through the lobby to dinner, and cap your evening with Golf-in-miniature courses, free for kids each day after 3pm. Summer rates from $99.
Read kid-friendly reviews of the JW Marriott.
Westin Mission Hills Golf Resort & Spa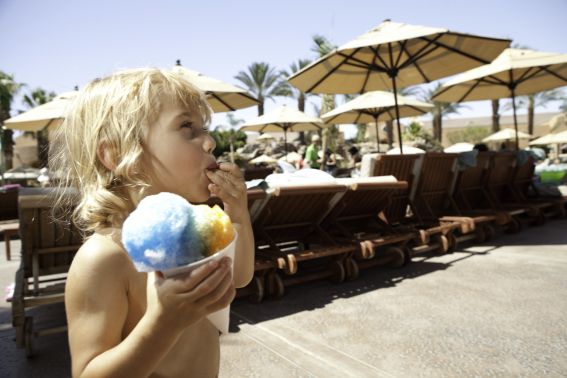 Any resort that features a dedicated Director of Fun most definitely has your family in mind. At the Westin Mission Hills in Rancho Mirage, your family will be wowed with an organized calendar of resort games and opportunities including craft hours, competitive and fun water games, fish feeding, a can't-miss donut challenge, ping pong tournaments, and dive-in movies. The Westin Kids Club Discovery Room, including a weekend-only "Kids Night Out" evening program, gives parents a chance to explore the resort and its restaurants kid-free. In addition to their water slide, waterfalls, and treasure dives at the Las Brisas Pool Deck, a Desert Rangers Program and Kids-Free Twilight Golf program round out their exceptional family programming. Summer rates from $88/night.
Read kid-friendly reviews of the Westin Mission Hills Golf Resort & Spa
Omni Rancho Las Palmas Resort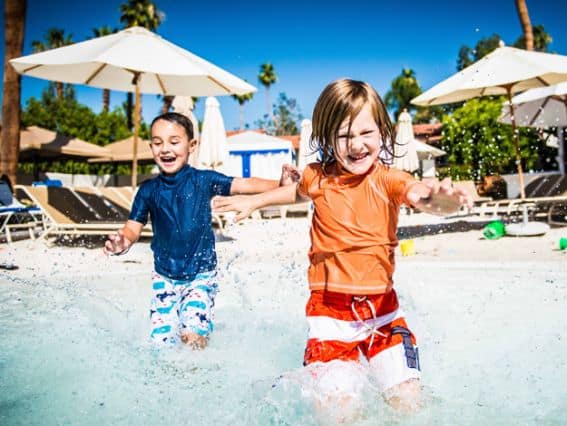 Don't miss a stay at the Omni Rancho Las Palmas Resort this summer. Their Summer Chill Out Package includes beautiful, lush accommodations, and 2-hours of Kids Camp so mom and dad can sneak away for some quiet time. Splashtopia!, the two-acre, onsite waterpark included with your stay, boasts a 425-foot lazy river, two 100-foot water slides, a sand covered beach, and water splash zones. Summer rates from $269, $250 resort credit and 2 hours of Kids Camp.
Read kid-friendly reviews of the Omni Rancho Las Palmas Resort.