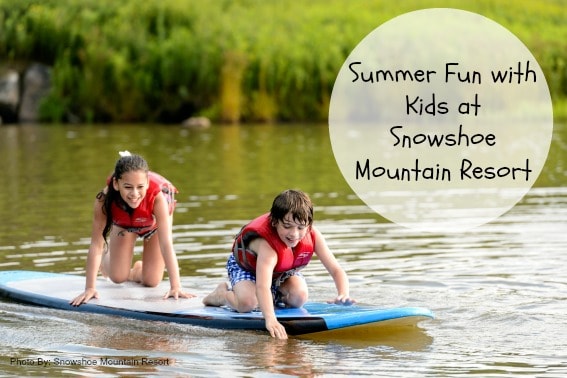 Remember when ski resorts used to offer activities for one season – winter? As a kid, I couldn't wait for our local ski chalet to open, and it felt like it closed for the season as soon as it opened.
Compliments of the increasing need from active families, many ski resorts are now offering summer programs, sports, and activities. One of my family's favorites is at Snowshoe Mountain Ski Resort in Snowshoe, West Virginia. The resort melds its picturesque landscape with family-friendly activities. Visitors are encouraged to get out there and see what the resort has to offer during the much more temperate seasons.
In the summer, Snowshoe Mountain Ski Resort offers a family mountain program full of adventures. My family couldn't get enough of the outdoor active offerings as well as its more leisurely and laid back activities. Snowshoe let us set the pace we wanted to take for our vacation, and it turned out we tried a lot of both!
Kids Camp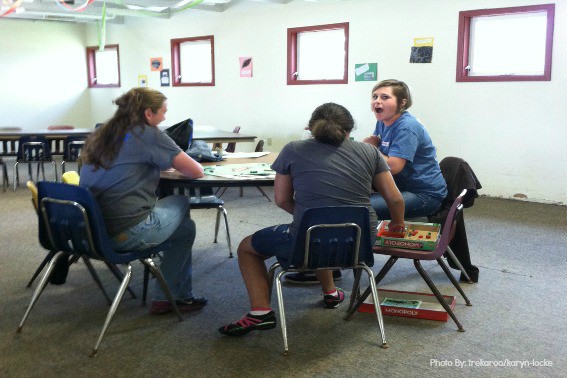 Kids Camp at Snowshoe Mountain has to be on the top of our list for one reason: it was hard to tear my 12 year-old daughter away! From 9am to 4pm each day, we signed her in where she, along with the other campers and camp counselors, had an itinerary packed with activities from fun Segway tours to hanging out on the beach and playing in the sand. There was never a dull moment for her at camp and on her last day, she was the only child signed up so they let her pick the itinerary! My husband and I spent those precious hours enjoying our own activities, but admittedly, I couldn't wait for 4pm to roll around so I could spend time with her. She, on the other hand, had no desire to leave Kids Camp at all! She adored her camp counselors and it was really hard to tear her away from the fun bunch.
Kayaking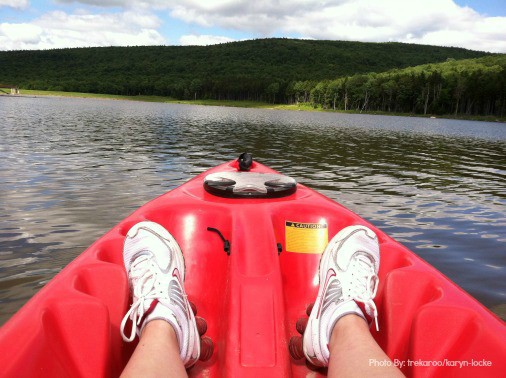 The Resort has a beautiful and peaceful Shavers Lake where we loved hanging out everyday. It was easy to take a ski lift ride down to the lake from The Village ski lift and lay in the hammocks, walk around the beach at Shavers Lake, and even grab a bite to eat at the lake's snack shack. Kayaking though was my favorite way to pass the time. Surrounded by such gorgeous scenery, hopping into a kayak and hanging out in the middle of the lake was an ideal way to relax.
Downhill Mountain Biking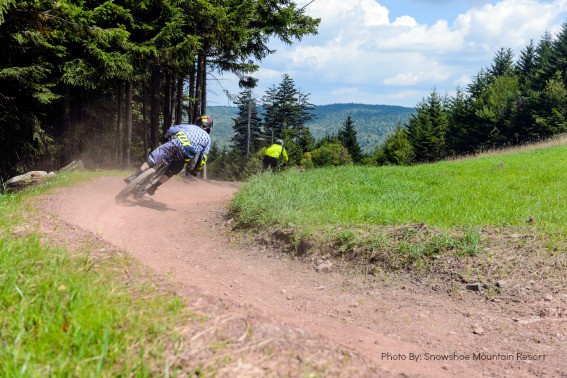 My husband was a very active child and the skills he learned when he was younger, he still puts to the test these days. When he realized there was downhill mountain biking, he couldn't wait to throw on protective gear and head down the trails. Since my daughter is not a fan of biking, we chose this activity while she was at day camp. We even took a morning lesson to hone our skills. My husband's was definitely on point. Mine? Not so much. It was a blast whizzing down the "Easy Street" trail.
Skeet Shooting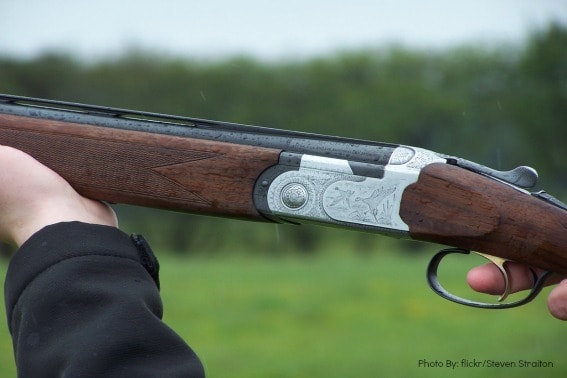 I, along with the rest of my family, had never held a gun until our visit to Snowshoe Mountain Resort. Skeet shooting requires skill and fast reflexes. Older kids are allowed to try their hand at the sport with an adult's permission. The guides were patient and knowledgeable as could be and by the end of our run, I had actually hit a few. When we signed my daughter out from Kid's Camp one afternoon, I left it up to her as to whether she wanted to try skeet shooting. She was enthused about trying it – and even beat both my husband's and my scores on her first go!
Polaris RZR Tour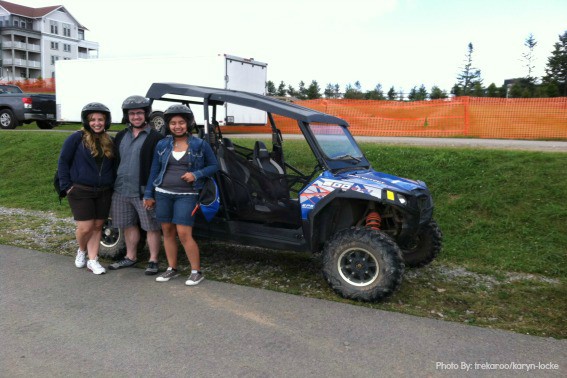 RZR tours have become hugely popular and after we all took one, I can now understand why. Safety is in the forefront, and after we received proper head protection and were tightly strapped into our seats, the three of us along with our guides, headed into the woods and away from the resort for a couple of hours. My husband and I took turns driving the RZR and I loved driving through a stream at full speed. What a rush! I loved hearing our daughter in the backseat giggle as we sped through mud and over tree roots. The tour ascended hills and we loved stopping in the middle of a giant field to check out the pretty views of the surrounding valleys. It goes to say that during the rainy season you can get seriously muddy – but that's all part of the fun!
Leisure Activities
Even if you're not into extreme sporting, there's plenty to do at Snowshoe Mountain Ski Resort in the summer. We spent a lot of time by the outdoor Split Rock Pools, took ski lifts up and down both sides of the mountain, and enjoyed a Segway tour around the property. It was nice to just be together in the outdoors and with all of that fresh air, it was a pleasant change from the hustle and bustle of our normally hectic lives. While my daughter was at Kids Camp I even walked over to The Spa and had a fun couple of hours getting pampered with a massage and pedicure. Ahh…
For a little adventure, visitors can head into the woods and take leisurely hikes to listen for the ever elusive Sasquatch that locals swear exists in and around the resort.
Cozy Lodging Options with Gorgeous Views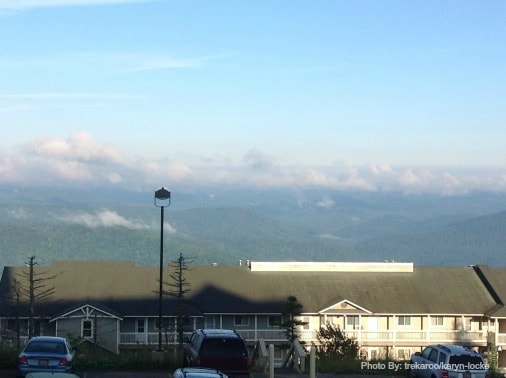 Seneca House (our home during our visit), sits on the east side of the mountain and was perfect for my family of three. On a ground level, two-bedroom suite, we had plenty of room for all of our gear and a full kitchen to cook meals -which I took full advantage of. It was not a problem bringing coolers full of fresh meats and produce to make dinner each night. Actually, with such a gorgeous view, it was a pleasure. Our suite had a private patio which connected to the giant outdoor hot tub area and it was convenient to put on our swimsuits and relax in it before bed. We even sat in it during a gentle rain storm to survey the spectacular views of the mountains and sky, one highlight of many during our stay.
Read Trekaroo's Top 10 West Virginia things to do for families.
Disclosure: I was hosted by Snowshoe Mountain Resort to give you fine folks the scoop on what makes the Family Mountain Adventure Program so great for families. I was not asked to state a particular point of view and all opinions are my own!