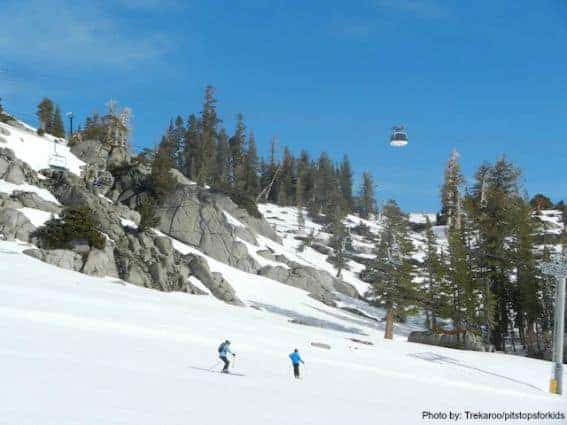 One of my favorite ski vacation memories as a teen is skiing Squaw Valley on the 4th of July. We hiked through our share of slush that day, but we did it in short sleeves and shorts, which meant that on the novelty scale, it measured pretty high. Squaw Valley doesn't always remain open for skiing and snowboarding into July, but due to its position in the Sierras, it does boast a later season closing date than most U.S. ski resorts, making it the place to be for Tahoe spring skiing. We spent a (mostly) sunny four days at Squaw from April 1-4. Here's what we learned about visiting this winter mecca for Squaw Valley spring skiing with teens and school-aged kids during this the transitional season.
Spring activities found only at Squaw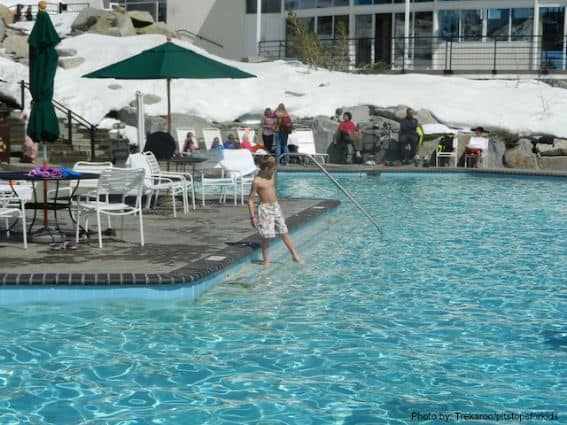 Families will want to take at least one afternoon off from the slopes to ride the Aerial Tram up to High Camp. While High Camp sports an ice skating pavilion in winter (which transitions to a roller rink in summer), starting mid-March, its outdoor pool and hot tub are open for business. You haven't soaked in a mountain hot tub until you've done it at over 8,000 feet, surrounded by the Sierras. Teens and older kids will love hanging out in the heated pool, and everyone can grab an age-appropriate drink at the poolside Umbrella Bar. Before heading back to the village in the tram, take a few minutes to tour the small Olympic Museum located downstairs at High Camp. It's modest, but our school-aged kids liked seeing the skis and outfits from 1960, and comparing them to contemporary ski gear.
Pool admission is $15 for adults and $10 for kids, and includes towels and a locker, so bring swimsuits with you. Tram tickets can cost as much as $29, but come included in ski tickets and passes, so if you're skiing as well, you're all set.
Below High Camp in the Squaw Valley Village, kids will love trying their hands at the indoor climbing wall in the Tram Building (which can vary in level for the older kids and teens) and the SkyJump (worth the $12 for 5 minutes.) SkyJump cables can be adjusted for height and weight, making this a good activity for everyone, but older kids and teens will find it the most satisfying, as their heavier weight helps them reach higher jumps.
What's closed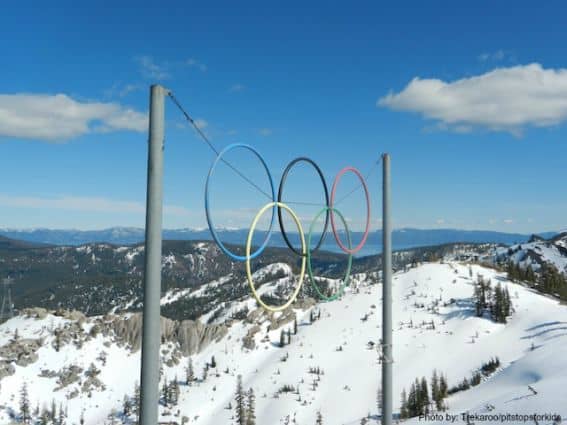 When you visit Squaw Valley (or any winter resort) in the spring, you can expect a few attractions and dining options to be closed for the season or operating on a limited schedule. At the time of our April visit, we found fewer mid-mountain dining options open for ski lunch in the Arc building and at High Camp. To be on the safe side, families should consider skiing down the the Olympic House lodge at the Village for more lunch options.
Squaw's Sno-Ventures center, featuring tubing, mini-snowmobiling, and other snowy fun operates at a more limited level depending on snow conditions. You will find the Squaw Kids ski school operating at full capacity, however. Summer activities, such as mini-golf, disk golf, and the roller rink are not yet open in spring (but this just means you have the excuse to come back in summer!)
But how's the snow?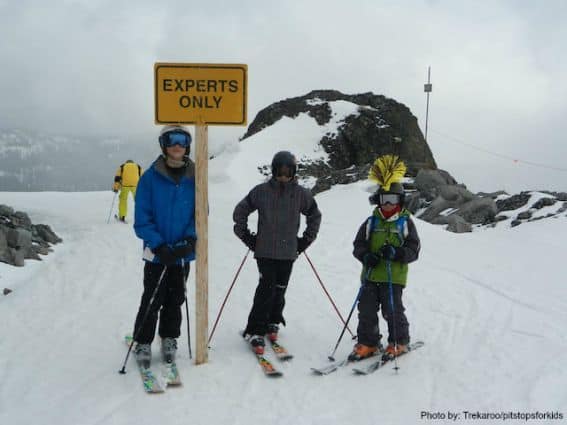 Spring activities at Squaw are all well and good, but you came for the skiing and snowboarding, right? Snow conditions vary, of course, but most years, Squaw still enjoys a solid base of the white stuff well into April, thanks to the signature 'Sierra Cement' snow pack. Keep an eye on the forecast and snow conditions before arriving, but generally-speaking, you can expect to ski in fewer layers, but also encounter some slush. Hey, it's a worthy payoff for some sun on your face, right? And that reminds me: pack the sunscreen!
During late March through April, the best snow conditions  for competent school-aged skiers and snowboarders is to start the day early when lifts turn at 9 am and ski through 1 pm. Once the slush sets in with the afternoon sun, hit the pool!
Our on-mountain picks for best lifts for intermediate to expert kid and teen skiers and snowboarders at Squaw:
1. Granite Chief chair
2. KT-22 chair (for experts)
3. Siberia Express chair
Our school-aged kids and teens also loved the small/medium terrain park located near the High Camp beginner and learning area.
For spring skiing at Squaw Valley, the Squaw conditions website is your new best friend. Check it before rolling out of bed on ski mornings to see which lifts will be operating. While Squaw keeps varied terrain open for as long as possible, you can expect some closures late in the spring season.
Where to stay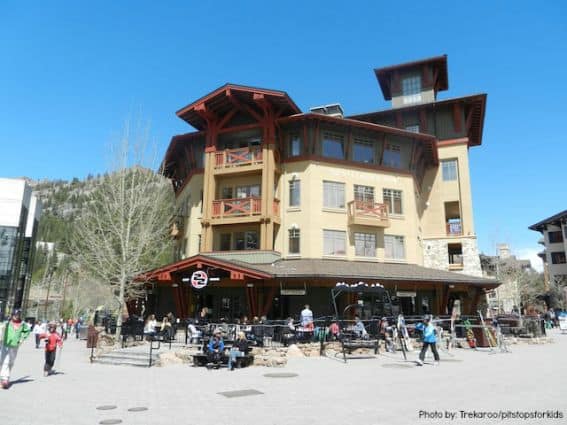 The area surrounding Squaw Valley offers a long list of lodging options, but in spring, when the snow outside your front door is just as likely to be mud or slush, some of those mountain cabins lose their luster. If possible, opt for Squaw Village lodging in spring. You'll be close to all the action, and the quaint cobbled streets of the village look lovely whether snow-covered, sun-baked, or just plain wet. In a village condo, you can walk virtually everywhere you need to be and dining is just steps away. Your leg muscles will work hard fighting the thicker snow of spring skiing. Give them a break with a short apres-ski commute.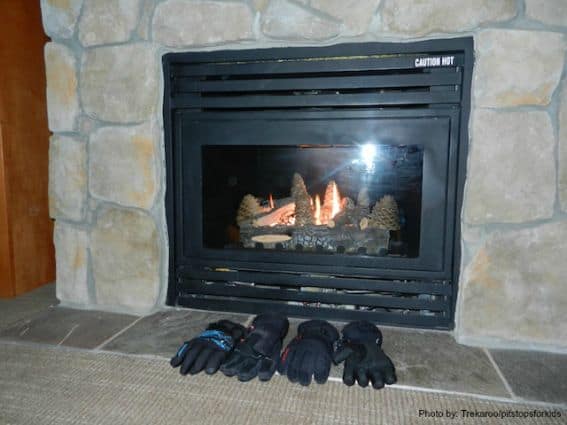 Our two-bedroom village condo included a full kitchen, which meant we could fall to sleep early (yes, even the teen was worn out!) after dinner in, and our fireplace was a welcome addition after the sun went down. Ski lockers and slope side access has certainly spoiled us for all other ski lodging!

Opting to visit in the heart of winter instead? Or traveling with toddlers and younger kids? Read more Squaw Valley reviews!