Welcome to
Last week, Southern California experienced the hottest day in recorded history.  113 is just not a temperature I ever thought I would see in LA, let alone in October!  Luckily, this week the temperatures dropped and we got our dose of cool, crisp, fall weather.  The chill in the air got my family excited for all the traditions that autumn holds, including picking apples.
Our tradition of going apple picking began when my children were only a few weeks old.  We headed up to Apple Hill in Placerville, just many Northern California families do every year.  My favorite orchard in the area is High Hill Ranch, because it offers everything an apple lover could want from cider to pie, and the view from the pond looking out at the Sierra's is absolutely incredible.  Liling, my fellow Trekaroo team member loves Rainbow Orchards:  She share that they "live in the bay area and sometimes we make the drive all the way up to Apple Hill about 2 hours east of San Francisco to visit Rainbow Orchards. There is apple picking, but even more divine are the apple cider donuts and homemade hand dipped corn dogs."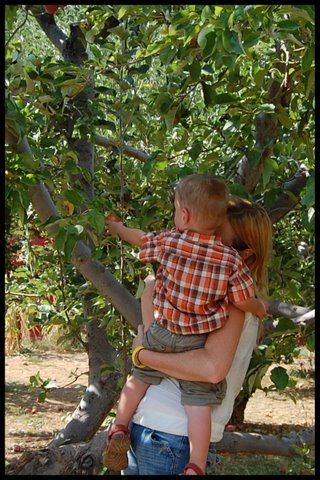 We continued to make our annual Apple Hill pilgrimage until we made the move to the southern half of the state a little less than two years ago.  Now, I am ready to find a new spot to keep our annual apple picking tradition alive.  I asked our readers to suggest their favorite apple picking spots across the country and, as always, they delivered.  Here are a few of their suggestions: 

"Last year we went to Raven Hill Orchard in Julian, CA. I liked the dwarf trees which made it easier for the younger kids in our group to pick apples without having to climb a ladder or use an apple picker stick."   bit_by_travel_bug
"Graves Mountain near Madison, Virginia. They actually have a big apple harvest festival in October complete with apple butter, vendors, Brunswick Stew, and Virginia vineyard tours." Chuck_Moss
frogsandladybug loves Sky Top Apple Orchard in Flat Rock, NC.  She notes that this orchard has "a pumpkin patch, playground, picnic tables and the best apple cider slushies ever! There are sheep and other small farm animals as well as a bamboo forest (my kids' favorite). If you don't feel like picking your own apples, you can buy ones ready to go, as well as apple butter, apple jelly, apple bread…"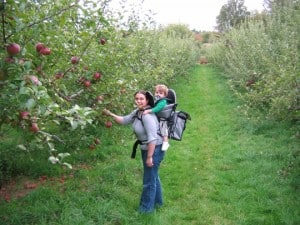 "Brookfield Orchards in North Brookfield, MA. The containers for picking are provided. They have apple dumplings, homemade ice cream, jams & jellies, cider, honey, crafts, antiques, collectibles, penny candy, and more!" bakool
"We live in Connecticut's Apple Capital…Southington Connecticut. We have 3 orchards here and our favorite Karabin Farms has already started picking the best apple Ginger Golds. Karabins has a hayride to the orchard for apple, pumpkins and Christmas trees. They have grown over the years but maintain a small family atmosphere and they remember you every year. They raised their children on the farm and therefore are very child friendly. There is a hothouse for flowers, a country store, a hot chocolate house and some animals to entertain the kids. We go every year for our apples, pumpkins and Christmas tree….The town hosts an annual Apple Harvest Festival over 2 weeks in October complete with a roadrace, parade, rides for the kids, baking contests, and of course the famous Apple Fritters from Zion church. We look forward to it every year!!!"  Meb123
"I love apple picking! Our favorite place to go here in NJ is Eastmont Orchards. They grow lots of different varieties, perfect for eating and baking…They also have peaches in the summer, pumpkins, and brussel sprouts." BAT
And finally, I think socalpocketmemories, mcfam, and I may all run into each other at Riley's Farm in Oak Glen, CA, this harvest season.  It appears to be THE place for LA metro families to visit for some apple picking fun.  I can't wait to check it out and write a review of my very own!
Help us build an amazing resource for families all around the country looking for special apple picking spots and write a review of your favorite spot.  Perhaps your review will help a family start a new tradition of their own!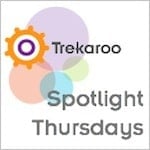 Do you have an outing that you would like to spotlight this week?
Perhaps its a post about a vacation you just took or a day trip that you think our readers should know about.  Or maybe its a post about the vacation you are currently planning and going to book through Trekaroo!  Link up something fresh from your blog using the Mr Linky below. 
PLEASE READ AND FOLLOW THE INSTRUCTIONS.

Step 1: Pick a recent post (past couple of days)
Step 2: Under "Name" write: "Title of your blog post (blog name)" – blog name in parenthesis
Under "url" paste: the link to your blog post (not your home page)
Step 3: Grab the Spotlight Thursday image and link to this post so your readers can see who else is playing along this week.
We want to be sure that everyone who participates in Spotlight Thursdays gets their moment in the spotlight so blogs that don't link back will unfortunately have to be removed.

– – – – – – – – – – – – – – –
Sharlene Earnshaw (aka doubleadventure) is Blogger-in-chief for Trekaroo and the blogger behind Double the Adventure.

Travel with kids to: CA | CO | DC | FL | HI | IL | MA | NC | NY | OR | PA | TN | TX | VA | WA