Welcome to
Thanksgiving is just around the corner and for most of us, its a time to gather with family and stuff ourselves full of food.  Its a time to cherish all that we are thankful for while remembering those brave and hearty Puritans who sailed across a vast ocean in search of a new life in the New World.  As much as I love and cherish my family's own holiday traditions, I have always wanted to head to the East Coast and have a Pilgrim Thanksgiving.  One filled with historic recipes and demonstrations by people in period costume.  I have known for years that the Plimoth Plantation in Massachusetts hosts a traditional Thanksgiving celebration but now, thanks to Lydie, Trekaroo's researcher and list maker extraordinaire, I have discovered that there are many great places on the East Coast to experience a Pilgrim Thanksgiving.  Here is a small sampling of what Lydie has discovered:
–  You can have Pilgrim Thanksgiving in New Hampshire at the Remick Country Doctor Musuem and Farm.   Parents can learn how to process a turkey while kids learn how to churn butter and whip cream.  Traditional Thanksgiving food from historic recipes is served and a special appearance by Abraham Lincoln is scheduled.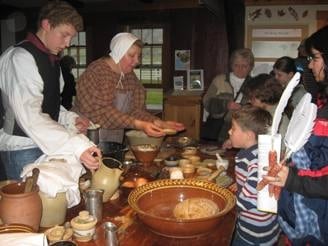 –  The "Food and Feasts of Colonial Virginia" takes place over Thanksgiving weekend at the Jamestown Settlement in Virginia.  Families can learn how the first feast was gathered, preserved, and prepared and then enjoy a Thanksgiving meal in the cafe.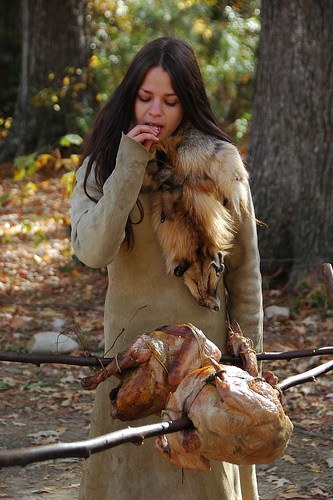 – The Annual America's Hometown Thanksgiving celebration will take place at Plymouth Harbor for the 15th year in a row this year on the weekend before Thanksgiving.  Three days of festivities include a parade that chronicles the Pilgrim legacy and showcases what family is all about.  A harvest festival and kid's activities are also planned.
Read about all the great places to have a Pilgrim's Thanksgiving here.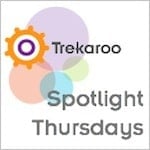 Do you have an outing that you would like to spotlight this week?
Perhaps its a post about a vacation you just took or a day trip that you think our readers should know about.  Or maybe its a post about the vacation you are currently planning and going to book through Trekaroo!  Link up something fresh from your blog using the Mr Linky below. 
PLEASE READ AND FOLLOW THE INSTRUCTIONS.

Step 1: Pick a recent post (past couple of days)
Step 2: Under "Name" write: "Title of your blog post (blog name)" – blog name in parenthesis
Under "url" paste: the link to your blog post (not your home page)
Step 3: Grab the Spotlight Thursday image and link to this post so your readers can see who else is playing along this week.
We want to be sure that everyone who participates in Spotlight Thursdays gets their moment in the spotlight so blogs that don't link back will unfortunately have to be removed.

– – – – – – – – – – – – – – –
Sharlene Earnshaw (aka doubleadventure) is Blogger-in-chief for Trekaroo and the blogger behind Double the Adventure.

Travel with kids to: CA | CO | DC | FL | HI | IL | MA | NC | NY | OR | PA | TN | TX | VA | WA