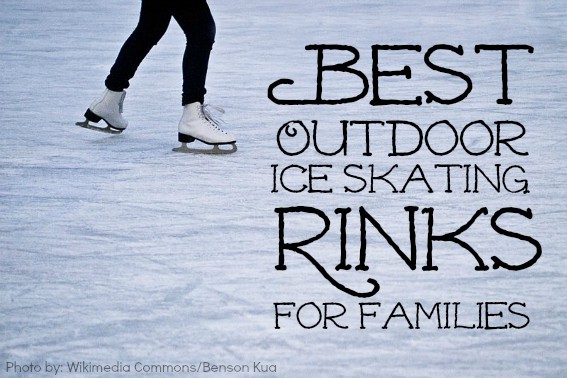 When I was a kid, I wanted to be an ice skater. Unfortunately for me, the nearest ice rink was 35 minutes away and my mom was not willing to shuttle me back and forth for lessons. On second thought, given my lack of coordination, it was probably a blessing in disguise. Nonetheless, I still love to skate and look forward to when my kids are old enough to take interest.
In my opinion, there is no better place to ice skate than out in the fresh air. After all, ice skating began on frozen ponds in Switzerland 5000 years ago! Modern times have traded in bone for steel and regions without frozen ponds now make due with artificial rinks, but the fun and exhilaration of gliding across the ice is still the same. So where can families find outdoor ice rinks? You are in luck. Check out these 10 Best Outdoor Ice Skating Rinks for Families.
Best Outdoor Ice Skating Rinks for Families
Rink at Curry Village, Yosemite National Park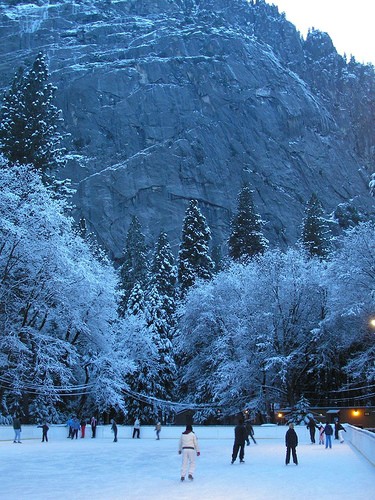 You must check out The Ice Skating Rink at Curry Village. I am definitely going to add this rink to my bucket list. Imagine skating in Yosemite Valley with views of Half Dome and El Capitan. It would be hard to find a more beautiful scene on the entire planet.
Millennium Park, Chicago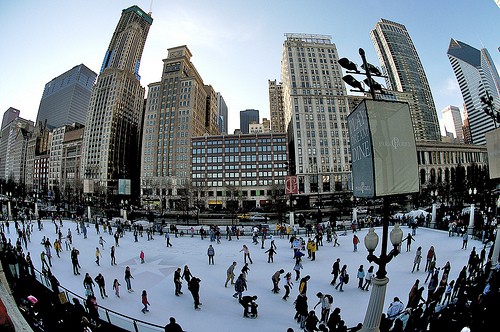 Home of the world famous "bean" sculpture and  spitting fountain, the Millennium Park in Chicago gives you free access to their ice skating rink, provided you bring your own skates (you can rent skates for $10). Practice your double axles with the Chicago skyline in view.
Squaw Valley USA, Lake Tahoe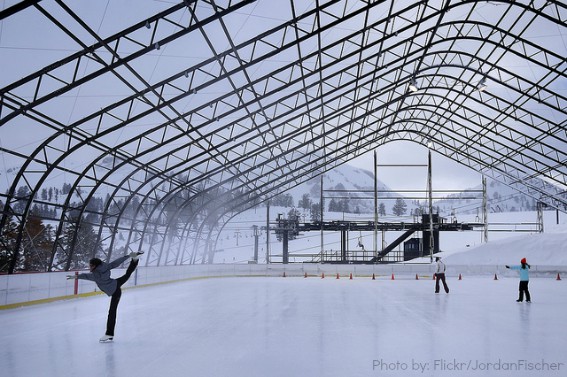 Just off the north shore of Lake Tahoe is the home of the 1960 Winter Olympics, Squaw Valley. Visitors can take an aerial tram up the slopes and skate on the Squaw Valley USA Olympic sized rink with incredible views of the Sierras.
Skating by the Sea at the Hotel del Coronado, San Diego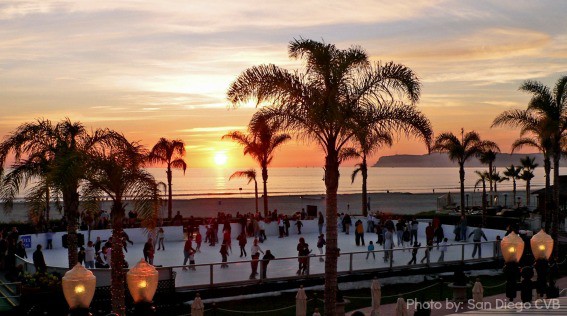 Skating by the sea at Hotel del Coronado is extra special because of the beautiful SoCal scenery. From ocean and sunset views to the lit up turrets of the famous Hotel del Coronado, built in 1888, this outdoor rink is a beauty. You can finish your skating session with a walk on the beach to collect shells.
Wollman Skating Rink, Central Park, NYC

What could be more beautiful than skating surrounded by Christmas lighted branches and the New York skyline? While in Central Park, be sure to visit the Wollman Skating Rink. Skating school is just right there if you need a little push.
Read about the other five rinks that made the list of the Best Outdoor Ice Skating Rinks for Families.
Do you know of an outdoor rink that you think Trekaroo families should visit? Then tell us about it by writing a review.