Welcome to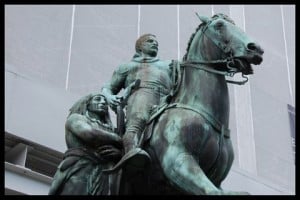 Last month when I was in New York City one of my major goals was to finally visit the American Museum of Natural History.  I set aside an entire morning to walk the halls of the museum that Ben Stiller, Theodore Roosevelt, and their rag tag team of characters brought to life on the big screen.  Well, that morning quickly turned into an all day event and I still didn't even come close to seeing it all!  The museum is HUGE and filled with so many types of exhibits that there truly is something for everyone.   If you only have a few hours and want to get a good glimpse at what the museum has to offer, here are some of my must sees:
Stand In In Awe The Hall of Biodiversity: Wow.  This was my absolute favorite part of the museum.  The Spectrum of Life dominates one wall of the hall and showcases 28 different groups, from butterflies to fungi.  Its a great way to see diversity in both size and adaptation, along with the true beauty of the natural world.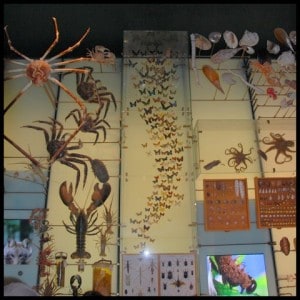 Visit Some Dioramas: Nothing says Natural History Museum quite like a hall filled with dioramas of stuffed mammals.  Kids love them because they can get up close and personal with animals that they are familiar with, and parents love them because they provide a nice sense of nostalgia.  I am always impressed at just how big some animals actually are.  The American Museum of Natural History offers African, Asian, and North American Halls of Mammals.
Learn About An Ancient Culture: An important part of natural history is the culture of our ancestors.  Not that long ago,  the world was a lot less homogenized and many communities lived in total isolation.  Learn about Native Americans, African, Asian, and South American peoples, or my favorite cultural exhibit: Margaret Mead's beloved Pacific Cultures.  Pick a hall and teach your children about a way of life that is vastly different from their own.
Hit Up The Planetarium: Space is such an abstract concept for so many of us.  We know its up there beyond the clouds, but its hard to imagine anything bigger than planet Earth.  A great way to experience outer space is by sitting in a planetarium and gazing up at the incredible beauty of a recreated universe.  The Hayden Planetarium is massive and dominates Rose Hall with its 4 million pound sphere. Buy a ticket and step inside a world that inspires children to dream of something bigger.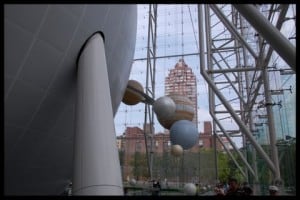 Walk with the Dinosaurs: My kids would never let me walk out of a natural history museum without visiting the dinosaurs.  I am not exactly sure what is so captivating about the skeletal remains of giant lizards, but they seem to be pretty much universally loved by kids.  The American Museum of Natural History has some excellent fossil displays including Tyrannosaurus, Apatosaurus, Stegosaurus, and a few "sauruses" that I have never even heard of.   Fossils of prehistoric mammals such as the mastodon are also represented, and guaranteed to excite you fossil loving little ones.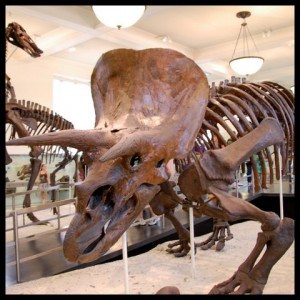 Do you have an outing that you would like to spotlight this week?
Perhaps its a post about a vacation you just took or a day trip that you think our readers should know about.  Or maybe its a post about the vacation you are currently planning and going to book through Trekaroo!  Link up something fresh from your blog using the Mr Linky below.  PLEASE READ AND FOLLOW THE INSTRUCTIONS.

Step 1: Pick a recent post (past couple of days)
Step 2: Under "Name" write: "Title of your blog post (blog name)" – blog name in parenthesis
Under "url" paste: the link to your blog post (not your home page)
Step 3: Grab the Spotlight Thursday image and link to this post so your readers can see who else is playing along this week.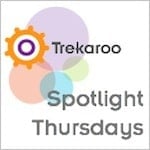 We want to be sure that everyone who participates in Spotlight Thursdays gets their moment in the spotlight so blogs that don't link back will unfortunately have to be removed.

– – – – – – – – – – – – – – –
Sharlene Earnshaw (aka doubleadventure) is Blogger-in-chief for Trekaroo and the blogger behind Double the Adventure.

Travel with kids to: CA |CO | DC | FL | HI | IL |MA | NC | NY | PA | TN | TX | VA | WA