Welcome to
Oregon is known for being, at times, a bit eccentric.  From the days of the early settling of the Oregon Territory, unique characters came out West in search of opportunity in logging, mining, and fishing jobs along the coast. Some of these folks settled in the remote parts of the Rogue River Canyon, and it wasn't the easiest area to access.  Well, the US Postal Service has always prided itself on its ability to deliver the mail, and they didn't want to make the Rogue River Canyon it's exception.  The solution?  Jet boats. Since 1895, there has been uninterrupted mail service up the Rogue River delivered via jet boats.  Right about now you might be thinking to yourself, sure, this is interesting, but why is it being discussed on a family travel website?  I will tell you why- because families can hop on board these mail boats and experience a wild river in a way like no other!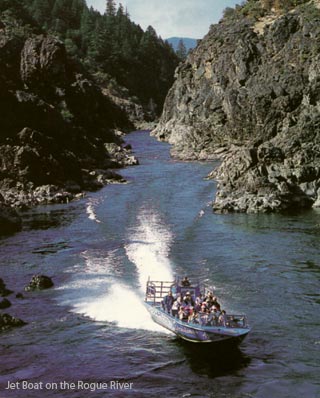 The Oregon coast has always been renowned for the dramatic beauty of its coast, and Gold Beach is a great place families to set as home base while they explore the southern reaches of the shoreline.  The mouth of the Rogue River happens to be located in Gold Beach, as well as Jerry's Rogue Jets, the people who deliver the mail upriver.  They have 64, 80, and 104 mile round trip excursions available that include lunch or dinner, depending on what time of day you take the excursion.  Normally, powered watercraft are not allowed on a federally designated Wild and Scenic River, but these special mail boats are the exception, and a great way for families see a truly wild river up close and personal. Wildlife is abundant in this area, and bear and bald eagle sightings are even possible!  This is truly one of those unique and memorable opportunities that shouldn't be passed up.
Note: I received no incentive to endorse the mail boat tours. I just remember them from when I was a kid traveling up the Oregon Coast and always thought it was such a cool experience that I thought I would share it with all of you!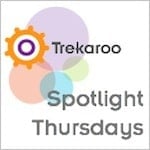 Do you have an outing that you would like to spotlight this week?
Perhaps its a post about a vacation you just took or a day trip that you think our readers should know about.  Or maybe its a post about the vacation you are currently planning and going to book through Trekaroo!  Link up something fresh from your blog using the Mr Linky below. 
PLEASE READ AND FOLLOW THE INSTRUCTIONS.

Step 1: Pick a recent post (past couple of days)
Step 2: Under "Name" write: "Title of your blog post (blog name)" – blog name in parenthesis
Under "url" paste: the link to your blog post (not your home page)
Step 3: Grab the Spotlight Thursday image and link to this post so your readers can see who else is playing along this week.
We want to be sure that everyone who participates in Spotlight Thursdays gets their moment in the spotlight so blogs that don't link back will unfortunately have to be removed.

– – – – – – – – – – – – – – –
Sharlene Earnshaw (aka doubleadventure) is Blogger-in-chief for Trekaroo and the blogger behind Double the Adventure.

Travel with kids to: CA | CO | DC | FL | HI | IL | MA | NC | NY | PA | TN | TX | VA | WA