Welcome to

Last year, my friend attended Spring Training for the first time. We headed out to Phoenix, AZ to watch the Angels play, and introduce our children to the fun of an afternoon at the ballgame.  Spring Training venues are much smaller than major league stadiums, and the casual atmosphere makes for an extremely family friendly experience.  Whether your family are baseball diehards or just casual fans, adding a few days of baseball to your Spring Break travel plans might lead to the start of a new travel tradition.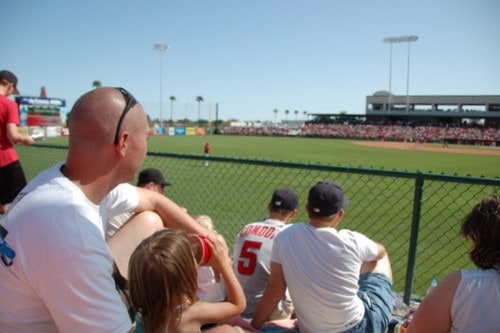 This year, fans of teams who play in the Grapefruit League have the opportunity to enjoy the ultimate Spring Training experience.  The Ritz-Carlton Palm Beach has partnered with Roger-Dean Stadium, the Spring Training home of the Florida Marlins and St Louis Cardinals, to put together an incredible package for families who love baseball.  The package is definitely a splurge (rates start at $799 per night based on double occupancy), but for super fans, it is an experience worth its weight in gold.
In addition to an amazing stay at the Ritz, the experience includes:
Four box seats to a Marlins or Cardinals game

Batting practice from the stands and on the field with home and visiting teams

"Behind the Scenes" Clubhouse tour and a tour of Roger Dean Stadium Sports Complex

Pre-game festivities and singing of the National Anthem on the field

Ceremonial first pitch for one guest of the group

Honorary Bat Kid with autograph and photo opportunities (inside the dugout) for children under 14 years

Run the bases and play catch in the outfield following the game

Media Stat Pack for all Ritz-Carlton guests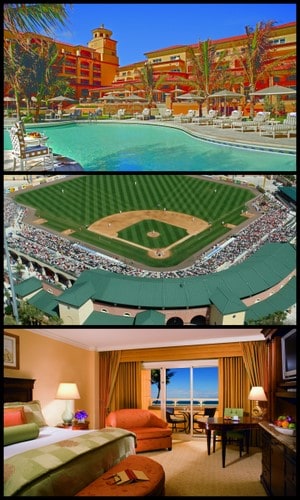 I imagine this package to be the ultimate gift for the obsessed little leaguer in your life or a husband whose life revolves around his team's playing schedule.  For more information, visit the Ritz's website.