Today Trekaroo would like to spotlight one of our members, Amy, of Pit Stops For Kids. Amy has been an active member of Trekaroo, contributing many great travel tips, activities, and hotel reviews all in the name of helping fellow families travel better. She has shared opinions and advice on a wide variety of places in the Pacific Northwest such as Powell's Books in Portland, the Olympic Game Farm in Washington, and the Sea Lion Caves of the Oregon Coast (you can view Amy's entire passport here).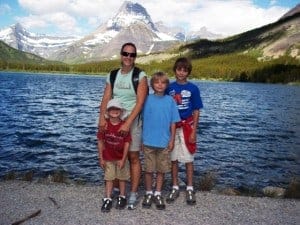 This month, Amy and her family are in the midst of a 22 day road trip across the Western United States. I have have really enjoyed following her family on their journey via her website, Pit Stops for Kids, and I think Trekaroo readers will too. Those who follow along also have a chance to win her giveaway! So far her family has traveled to some amazing places including Glacier National Park, the Big Sky Resort in MT, and Yellowstone National Park. Last summer my family took a similar road trip and while many of our stops may be similar, our experiences have been different. I think that is one of the many great things about family travel- the same road can take us on countless different adventures.
Where has the road taken you lately? Do you have an outing that you would like to spotlight this week? Perhaps it's a post about a vacation you just took or a day trip that you think our readers should know about. Spotlight your posts here by following the instructions here and filling out the Mr. Linky Form below.