Trekaroo knows how hard bloggers work at researching, composing and promoting their posts.  I am constantly finding new travel information and ideas on amazing blogs throughout the cyberworld.  In an effort to bring all this great information to our readers while providing bloggers with a new platform to show off their  work, we are launching Spotlight Thursdays.  We want people to link their travel or activity posts to the Trekaroo Blog once a week so our readers can get a chance to see what they are all about while discovering new ways  to spend their quality time with their children.  Posts can be about anything from a grand tour of Europe to a day at the local zoo.  Not a travel blogger?  No problem!  Just make sure your post is activity related and we are happy to have you join in the fun!  For more details on how to join in on the fun, click here.
And now, for our second Spotlight Thursday…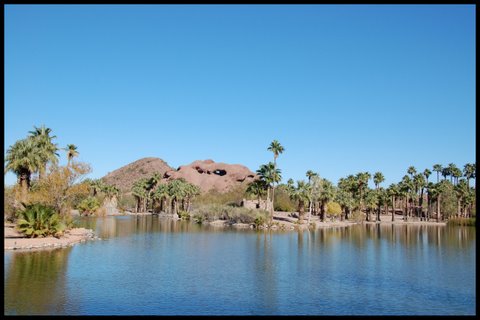 One of the things I love about visiting large cities is checking out their parks.  It is always so refreshing to find a large patch of green in a place so dominated by asphault.  San Francisco has Golden Gate Park and New York City has Central Park, but did you know that Phoenix has an amazing city park as well?  Its called Papago Park and it should be at the top of your list of places to visit next time you are in Phoenix with kids.
Papago Park is home to the Phoenix Zoo (you can read all about the Phoenix Zoo in our Best Zoos in the West post) as well as the Desert Botanical Gardens.  The gardens are a great place for children to discover desert flora at its finest and a great spot for families to stretch their legs as they stroll through 50 acres of Sonoran splendor.  There are great educational programs onsite for preschoolers, school age children and families.
The sandstone buttes that dominate the landscape of the park provide wonderful scenery and fun hiking opportunities.  One trail leads to Hole-in-the Rock, a great spot to take in views of Papago Park and the surrounding city.  Bike trails, fishing ponds, and even the pyramid shaped tomb of Arizona's first governor can also be found in Papago Park.  It truly is a great place to take the kids.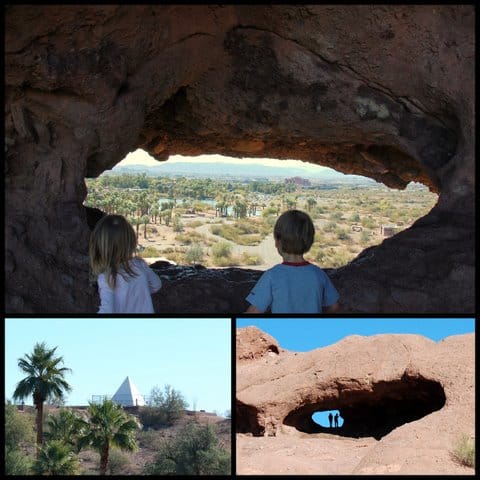 Do you have an outing that you would like to spotlight this week?  Perhaps its a post about a vacation you just took or a day trip that you think our readers should know about.  Or maybe its a post about the vacation you are currently planning and going to book through Trekaroo!  Spotlight your posts here by following the instructions here and filling out the Mr. Linky Form below.
Let's see where the spotlight shines this week!
–
Sharlene Earnshaw (aka doubleadventure) is Blogger-in-chief for Trekaroo and the blogger behind Double the Adventure.

Travel with kids to: CA | CO | DC | FL | HI | IL | MA | NC  | NY | PA | TN | TX | VA | WA