Welcome to
One of our nation's biggest Thanksgiving traditions takes place every year on the skyscraper lined streets of Manhattan.  For 84 years, the Macy's Thanksgiving Day Parade has delighted both young and old with floats, marching bands, and those world famous balloons.  For many of us, watching the parade has been  a part of our Thanksgiving Day for as long as we can remember.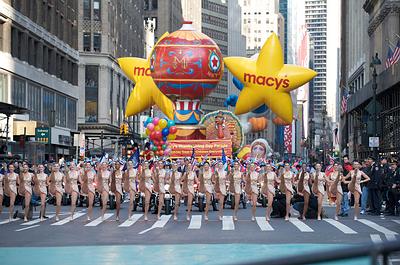 The parade first began as Christmas parade filled with employees of Macy's and animals from the Central Park Zoo.  The balloons made their first appearance three years later, and were released up into the air as a grand finale.  Much to the surprise of organizers, the balloons burst above the Manhattan skyline, so the balloons were improved and the nest year they included address labels so that anyone who found them could turn the giant balloons back in to Macy's for a prize.  Due to rubber and helium shortages, the parade was silenced during World War II.  650lbs of rubber from the deflated balloons were donated to the war effort.  The parade was televised nationally for the first time in 1947, starting a parade viewing tradition that has continued for generations.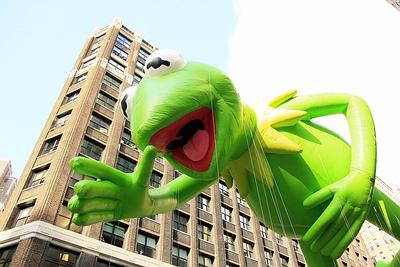 If you are attending the massive celebration for the first time, you may have some questions on how to "do" the Macy's Thanksgiving Day Parade right.  here are our tips on how to have a successful parade experience that will live on in the memories of your children forever.
What is the 2010 parade route? This year's parade begins at 77th street and Central Park West.  It heads south down Central Park West until reaching Central Park South. From there, it heads east until reaching 7th Avenue where it will once again head south.  Once the parade reaches 42nd Street, it will head east once again before heading south one final time on 6th Avenue.  When the procession approaches 34th Street, it will head west until reaching Herald's Square, home of the most famous Macy's on the planet.
How crowded will it be? Very crowded.  The parade brings out the masses so be prepared to share the streets with 3.5 million other parader-goers. Make sure sure to keep a firm grip on little ones' hands.  With everyone looking up at the balloons, it only takes a second to lose sight of a tyke wandering off.
Are there family friendly hotels along the route? Doubletree Times Square, Trump International Towers, Le Parker Meridien, and Marriott Marquis are among the Trekaroo member recommended hotels along the route.  Those who have attended the parade agree that a parade view room on one of the lower levels of the hotel is worth the splurge.
Can I watch the balloons being inflated? Yes you can and you should!  The balloons are inflated 77th and 81st Streets between Central Park West and Columbus Avenue from 3-10PM the day prior to the event.  There will still be crowds but your chances of getting up close to the balloons are much higher.
What time should we arrive for the parade? The Macy's official parade website says that people should start arriving at 7AM for a 9AM parade start.  Your best bet is to try to arrive between 6 and 7 and DON"T LEAVE, or else you will lose your spot to someone else.  Chairs are not recommended, but a thermos full of hot chocolate and plenty of warm clothes are.
Where is the best place to watch the parade from the ground? According to Trekaroo user Smithfamily " The best place for watching the whole parade is from Columbus Circle which is at the corner of Central Park South (CPS) and Central Park West (CPW). It's a fabulous location with easy access to subways and lots of great sites. You're also right on the doorstep of Central Park which is full of activities for your kids."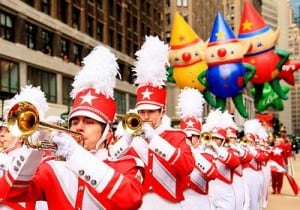 Related: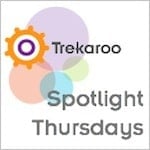 Do you have an outing that you would like to spotlight this week?
Perhaps its a post about a vacation you just took or a day trip that you think our readers should know about.  Or maybe its a post about the vacation you are currently planning and going to book through Trekaroo!  Link up something fresh from your blog using the Mr Linky below. 
PLEASE READ AND FOLLOW THE INSTRUCTIONS.

Step 1: Pick a recent post (past couple of days)
Step 2: Under "Name" write: "Title of your blog post (blog name)" – blog name in parenthesis
Under "url" paste: the link to your blog post (not your home page)
Step 3: Grab the Spotlight Thursday image and link to this post so your readers can see who else is playing along this week.
We want to be sure that everyone who participates in Spotlight Thursdays gets their moment in the spotlight so blogs that don't link back will unfortunately have to be removed.

– – – – – – – – – – – – – – –
Sharlene Earnshaw (aka doubleadventure) is Blogger-in-chief for Trekaroo and the blogger behind Double the Adventure.

Travel with kids to: CA | CO | DC | FL | HI | IL | MA | NC | NY | OR | PA | TN | TX | VA | WA
Comments
comments