From the first time I saw the GoHawaii.com commercial, I was obsessed.  I turned to my husband and exclaimed "I want to go there!".   After a Google search for Akaka Falls, I knew where I wanted to head.  Paradise was on the Hamakua Coast, just north of Hilo on he Big Island.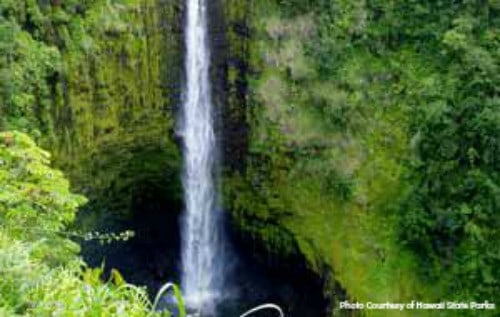 Sadly, we haven't had the chance to make it to the Big Island, let alone walk through lush rain forest filled with orchids and bamboo, but other Trekaroo families have.  They have raved about the majestic falls and the family friendly atmosphere.  One mother suggested to our readers that families leave the stroller in the car if they want to complete the entire loop due to some stairs on the way back.
After further exploration on Trekaroo, I now know to head to the Hilo Farmer's Market to pick up some goodies on our way up to the falls.  Chich declares "we're a pretty hardcore farmers' market family, and this is our favorite farmer's market that we've ever been to. they have lots of great tropic fruits — rambutan, lychees, mangoes and plenty of local fare like spam musubi".
I also now know to include a side trip to the  Hawaii Tropical Botanical Gardens while we are in the area. Trekaroo member Nene raved about them . She said "If this isn't the prettiest place on the planet, it's in the top twenty".
I may not be able to get to Akaka Falls State Park this summer but it will still be in my dreams.  Its nice to know that when we are ready to plan our trip,  we will have wonderful Trekaroo families to turn to for suggestions and advice.
Do you have an outing that you would like to spotlight this week?  Perhaps its a post about a vacation you just took or a day trip that you think our readers should know about.  Or maybe its a post about the vacation you are currently planning and going to book through Trekaroo!  Spotlight your posts here by following the instructions here and filling out the Mr. Linky Form below.
– – – – – – – – – – – – – – –
Travel with kids to: CA |CO | DC | FL | HI | IL |MA | NC | NY | PA | TN | TX | VA | WA