Welcome to
Last Thursday we highlighted parks in the Seattle area that are some of the regions best.  This week, we are traveling down the coast and visiting some of the best that San Francisco Bay area has to offer.  These are the kind of places residents hold dear and are willing to hop and in the car and brave bay area traffic for.  These are also the parks that parents should bookmark for their future Bay Area vacations because there is no better way to end a day of sightseeing than letting the kids run off their excess energy on at an amazing playground.  Here a few of my favorites from the list: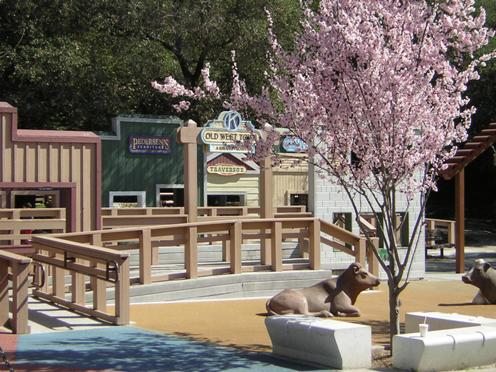 Pony rides, the train, and paddle boats  are all part of the fun at Howarth Park in Santa Rosa.  The playground is both unique and fun with its Land of Imagination theme.  The large playground is broken up into prehistoric, Native Americans, Rancho Santa Rosa, Old West settlers, and modern times sections. The dinosaur dig and water play areas are especially popular.   Read reviews on Howarth Park Playground here.
I could write an entire post touting the many great sections of Golden Gate Park (and probably will some day!) but we couldn't have a list of destination worthy playgrounds without including one of America's first.  Built in 1887, families have been visiting Koret's Children's Quarter (formerly known as Children's Playground) for generations.  There are play structures, swings, and sand boxes, but our favorite will always be the long cement slides.  Read reviews of Koret's Children Quarter here.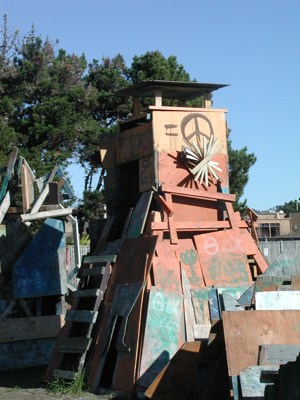 This amazing Berkeley playground is both fun and eco-friendly.   This playground will be permanently under construction and the visitors couldn't be more pleased.  Here kids and volunteers can build the playground using scrap wood, old nets, and lost of imagination. Work tools and safety gear are donned as kids hammer, sand and paint away.  In order to earn a tool to use, kids must pick up five pieces of trash.  Forts, tunnels, bridges, pirate coves, and towers all brought to you by the power of imagination- this is many kids' idea of what heaven must be like. Read reviews on Adventure Playground here.
I hope these three playgrounds perked your interest and that you will check out the other seven on the list.  If you know of some Bay Area playgrounds that you think the rest of us should be aware of, add a review!  Without your knowledge and insight, Trekaroo wouldn't exist.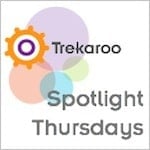 Do you have an outing that you would like to spotlight this week?
Perhaps its a post about a vacation you just took or a day trip that you think our readers should know about.  Or maybe its a post about the vacation you are currently planning and going to book through Trekaroo!  Link up something fresh from your blog using the Mr Linky below. 
PLEASE READ AND FOLLOW THE INSTRUCTIONS.

Step 1: Pick a recent post (past couple of days)
Step 2: Under "Name" write: "Title of your blog post (blog name)" – blog name in parenthesis
Under "url" paste: the link to your blog post (not your home page)
Step 3: Grab the Spotlight Thursday image and link to this post so your readers can see who else is playing along this week.
We want to be sure that everyone who participates in Spotlight Thursdays gets their moment in the spotlight so blogs that don't link back will unfortunately have to be removed.

– – – – – – – – – – – – – – –
Sharlene Earnshaw (aka doubleadventure) is Blogger-in-chief for Trekaroo and the blogger behind Double the Adventure.

Travel with kids to: CA | CO | DC | FL | HI | IL | MA | NC | NY | PA | TN | TX | VA | WA